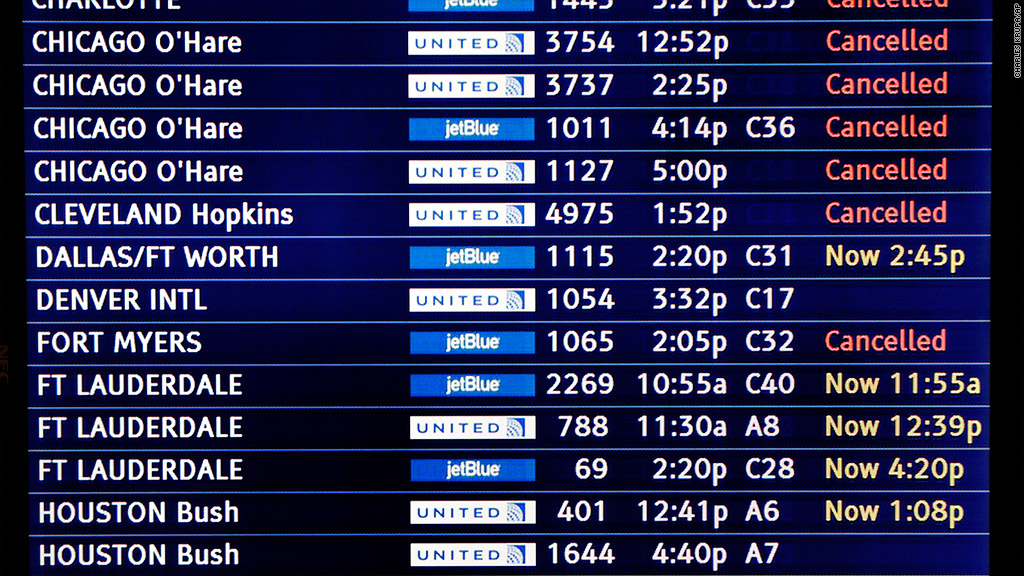 United Continental, the No. 2 airline in the world, was forced to cancel 22,500 flights in the first two months of this year due mostly to bad weather.
That was four times as many canceled flights for United as during the first two months of last year.
United disclosed the number of cancellations Thursday night and said its revenue would suffer as a result.
Shares of United Continental (UAL) were down 3% in premarket trading Friday.
Shares of Delta Air Lines (DAL) were also down -- Delta is the No. 3 airline behind American Airlines Group (AAL) and United.
Chicago-based United Continental was not the only airline with weather problems, but with major hubs in Chicago and Newark, it has been hit particularly hard.
Related: Honeymoon hotspots - splurges vs. steals
Through the first six weeks of the year, flight tracker masFlight estimates that there were 75,000 canceled flights at U.S. airlines, the largest number since U.S. airspace was shutdown following the Sept. 11 terrorist attack.
JetBlue Airways (JBLU), which operates 45% of its flights through New York or Boston, has also been hit hard. It warned in early January that 1,800 canceled flights the first week of the year would cost it $45 million in revenue and $30 million in profits.