Global markets fell sharply Monday as a crisis in Ukraine continued to unfold and tensions rose with neighboring Russia.
Concerns are mounting over the region's political and economic stability as Ukraine's new leaders accused Russia of declaring war.
Ian Bremmer of political risk firm Eurasia Group called the crisis "the most seismic geopolitical events since 9/11."
The conflict is prompting investors to react in a big way.
Russia's Micex index plummeted as much as 13% Monday, with the ruble also taking a major hit. In a surprise move, the central bank raised key interest rates in an attempt to insulate the country against inflation and market volatility.
Related story: 5 reasons by Ukraine matters to the world economy
"The threat of war, the central government in Kiev losing control over eastern regions, fear of imminent default -- these are all unnerving messages for markets," said IHS Global Insight's Lilit Gevorgyan. "Many investors do not have much faith that the country is going to quickly turn around from the double political and economic crisis."
Gevorgyan said stocks of Ukrainian companies and foreign firms with exposure to the country have already taken a hit.
Other international stocks also fell -- the major European stock markets were tumbling, with Germany's Dax down 3%. France's CAC 40 declining by 2.6% and London's FTSE 100 off by roughly 1.5%.
In Asia, Hong Kong's Hang Seng index closed 1.5% lower and Tokyo's Nikkei dropped 1.3%.
Related: See all the key commodity prices
Energy markets are also on tenterhooks as the political crisis fuels fears of a gas disruption. Natural gas prices were up by as much as 2% Monday and Brent crude prices were rising by over 2% to just above $111 per barrel.
Global grain prices were also rising over concerns that corn and wheat exports from Ukraine could be halted. The country is one of the world's top grain producers. The price of wheat was up by roughly 5% Monday.
Meanwhile, gold prices were rising as investors seek to move their money into perceived safe-haven assets.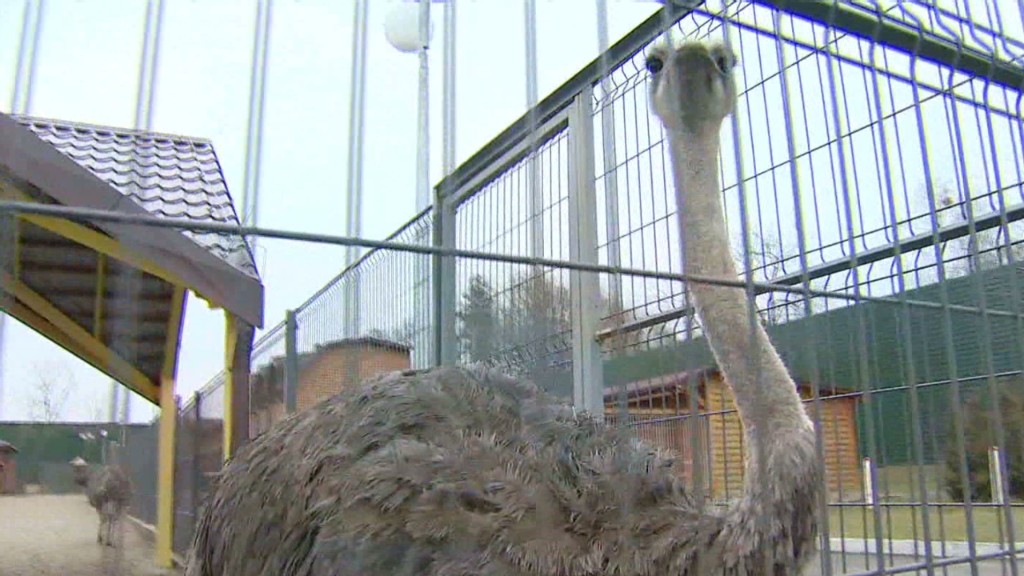 Ukraine's political catastrophe comes at a time when investors are already wary of emerging markets worldwide, which are seeing growth slow as the U.S. Federal Reserve eases its economic stimulus.
The country of 45 million has been in chaos since its president, Viktor Yanukovych, was ousted in February, following months of anti-government protests. Political unrest was originally sparked after Yanukovych spurned a deal with the EU, instead favoring closer ties with neighboring Russia.
The Ukrainian State Border Security Service said it is experiencing regular attacks along the border with Russia by men in unidentified camouflage uniforms. This comes after the Russian parliament unanimously approved the use of military force in Ukraine, despite threats of serious sanctions from the U.S. and Europe.
Interim prime minister Arseniy Yatsenyuk said Sunday that Ukraine is "on the brink of disaster."
But the country may find some economic relief soon, as the International Monetary Fund is slated to consider financial aid to Ukraine this week, according to a statement from G7 finance ministers.
--CNNMoney's Alanna Petroff contributed to this article.