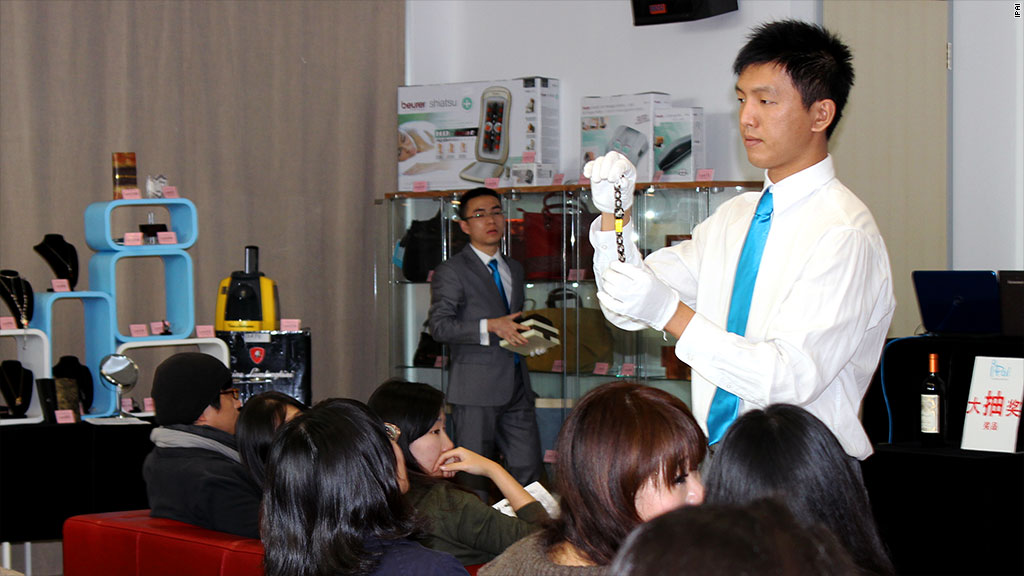 The Chinese market -- half a world away and with a completely different culture -- intimidates many small businesses.
And the fears aren't unfounded. It can cost upwards of $100,000 and take more than a year to get products into China.
"For small businesses, there's a lot of fear of exporting, period," said Brad McDearman, a fellow at the Brookings Institution. "Only 4% of small firms with employees are actively exporting, and most only to one country."
Limited financial resources, fear of products being copied and lack of knowledge about international markets can hold businesses back, said McDearman.
To help ease this transition, Deborah Weidenhamer founded iPai, a Shanghai-based auction company that helps international firms introduce their products to Chinese consumers.
Related: Made in America. Sold in China
Launched in 2012, iPai charges businesses $10,000 to $15,000 (as well as a 35% commission on each sale) and sells their products at live auctions at its Shanghai showroom, at local Chinese malls and online. The company also helps with logistics for subsequent sales: importing, registering trademarks and marketing.
"Our service lets small businesses test the Chinese market and understand consumer tastes before they make the big investment to enter China," said Weidenhamer, who's no stranger to the auction business. She founded Phoenix-based Auction Systems Auctioneers & Appraisers in 1995.
In 2013, iPai organized more than 100 auctions and introduced Chinese consumers to thousands of American products like California craft beer, deep fryers, cigars and nutritional supplements.
Products usually start at $80 but can be auctioned for as much as $23,000, Weidenhamer said. Watches and handbags have been particularly popular.
"Businesses need to know that if they have a good quality product, Chinese consumers are willing to pay for it," said Weidenhamer. "You could end up selling at a better price and higher quantities than in the U.S."
IPai has a sales force that looks for interesting small businesses to take on as clients, she said. It also has a review team that heavily screens the products and rejects those that don't meet their standards.
Because of this, she said products almost always resonate at auction. Less than 10% go unsold, in which case they're featured at another auction or returned to the consignor and iPai doesn't get paid.
Although iPai typically works with companies, it occasionally accepts independent entrepreneurs and inventors who want to discover if a product is right for China, said Weidenhamer.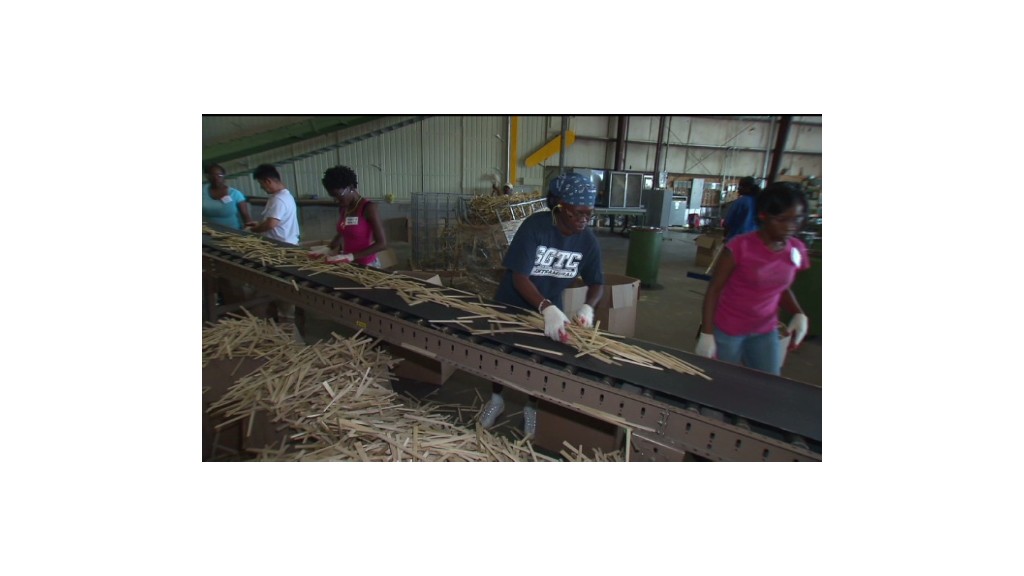 That's what happened with Sazerac's Fireball Cinnamon Whisky. Produced in Louisiana, the liquor is well-known to U.S. consumers but hasn't had a presence in China.
"Fireball's logo is a red and gold dragon. It's as if the product is perfect for China," said JP Neal, the brand manager for Fireball Whisky's Chinese distributor.
The challenge, however, was that cinnamon isn't a widely-used flavor in Chinese cuisine. So Neal, a consultant looking to bring popular American products into China, wanted to better understand how Chinese consumers would react to the liquor.
Neal independently hired iPai for $10,000 to help him test the market. Last fall, iPai auctioned off a case of the whisky. Some of the bottles sold for as high as $300 (in the States, a bottle goes for around $30). Neal also used the auction to poll attendees about the brand's packaging, taste and how they would drink it.
"I got exactly the type of feedback I wanted," said Neal. He then approached Sazerac and convinced the company to introduce the brand to China (which landed him his current job).
Neal said a container of 420 cases of Fireball (over 5,000 bottles) is set to arrive in China in April, and it's already presold. A second container of 900 cases will ship in June.
Related: Want to boost your sales? Start exporting
In the U.S., there's been a growing push to increase small business exports, as just about 300,000 small businesses currently take advantage of other markets. The government hopes to boost this by 50,000 by 2017.
Weidenhamer is poised to take advantage of that growth.
Currently, just 5% of iPai's clients are U.S.-based, but she significantly increase that number. And as business ramps up, she also hopes to expands iPai's services to other Chinese cities.
Brookings' McDearman said iPai's efforts could be promising.
"We are starting to see more private-sector initiatives like this come up to spur exports," he said. "It's happening because there aren't enough public-sector services available to provide resources and assistance here or on the ground in China."