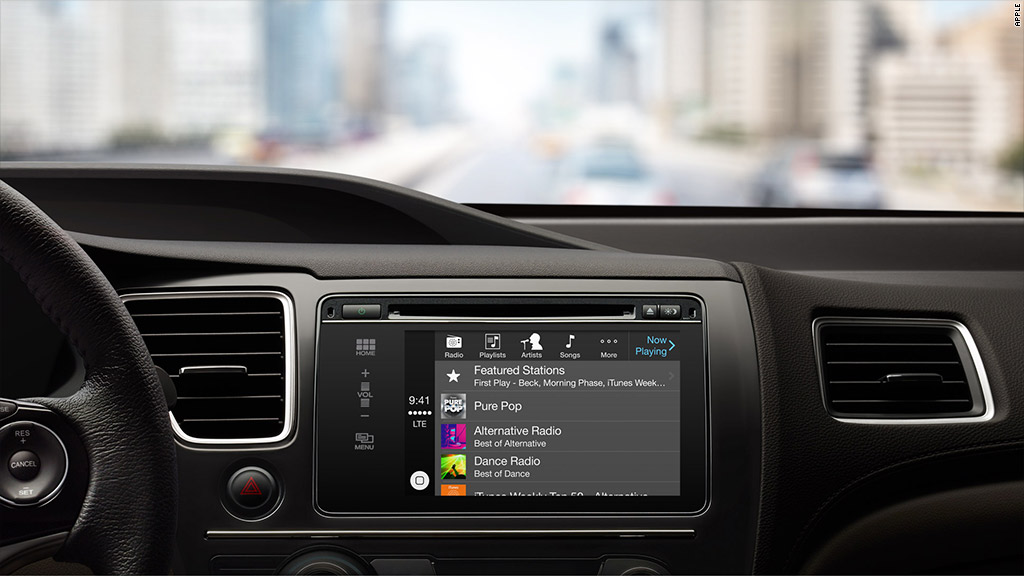 Siri is coming to your car.
Apple (AAPL) announced partnerships with a number of major automakers Monday on a new system that integrates the iPhone with in-car entertainment systems.
Known as CarPlay, the setup includes a console touchscreen as well as buttons on the steering wheel that activate Siri, Apple's voice command system. CarPlay allows drivers to make calls, listen to voicemails, hear and dictate text messages, get directions via Apple Maps and access Spotify and other music services.
The first vehicles featuring CarPlay will debut later this year from Volvo, Ferrari and Mercedes-Benz. It will be available "down the road" from automakers including BMW, Ford (F), GM (GM), Honda (HMC), Hyundai and Toyota (TM), Apple said.
Ferrari called CarPlay a "smarter, safer and more fun way to use iPhone in the car." Volvo said the partnership with Apple "promises to transform the in-car experience."
CarPlay users enable the system by connecting their iPhones to their cars using Apple's lightning charger cable. The system is only compatible with the iPhone 5, 5c and 5s.
Apple's announcement marks a push ahead of its tech-industry competitors working to integrate smartphone technology into cars.
Related: Blackberry stock rises on Ford tie-up reports
In January, Google announced a partnership with Audi, GM, Honda and Hyundai promising to bring its Android operating system to cars starting this year.
Greg Joswiak, Apple's vice president of iPhone and iOS product marketing, said CarPlay "lets drivers use their iPhone in the car with minimized distraction."
Cell-phone use is a leading contributor to "distracted driving" accidents, which killed 3,328 people and injured 421,000 in 2012, according to government statistics.
A number of states have enacted laws in recent years banning texting or talking on cell phones while driving. In 2009, President Obama issued an executive order prohibiting federal employees from doing so while on the job.
Part of the reason cell phone use is dangerous for drivers is because it can force them to take their eyes off the road and their hands off the steering wheel. But the National Safety Council warns that even hands-free cellphone use can significantly increase the potential for accidents.
"Talking on hands-free or handheld cell phones requires the brain to multitask -- a process it cannot do safely while driving," the NSC says. "A form of inattention blindness occurs, which results in drivers having difficulty monitoring their surroundings, seeking and identifying potential hazards, and responding to unexpected situations."