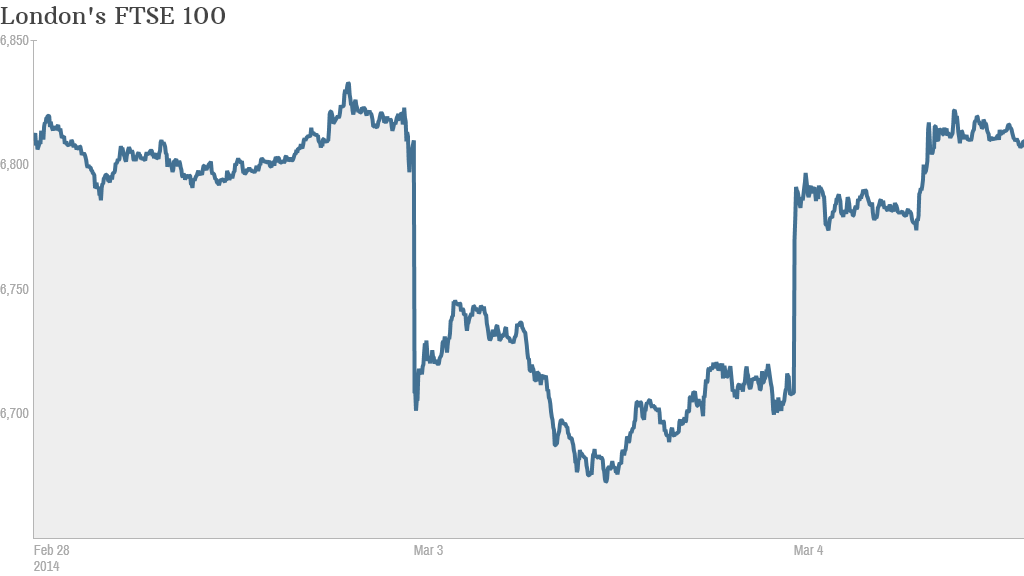 World markets rebounded Tuesday as fears over the Ukraine-Russia standoff eased slightly and investors felt that Russia was backing down from a potential large-scale military confrontation.
Russia's main stock index, the Micex, shot up by roughly 6% after plummeting by 11% Monday.
Some Russian troops had been conducting military exercises near the Ukrainian border but were ordered back to their bases early Tuesday.
Russian President Vladimir Putin said his country is not trying to lay claim to the Ukrainian region Crimea, adding that the people who live there can make that decision. The area is home to many ethnic Russians.
Major markets across Europe recovered, posting gains of roughly 2%. The Dax in Germany, which suffered a 3.4% tumble Monday, rose by just over 2%.
In Asia, most stocks closed with gains -- Hong Kong's Hang Seng index rose 0.7% and Japan's Nikkei added 0.5%. China's benchmark Shanghai Composite moved the other way, sliding 0.2%.
Related: What you need to know about the Russia-Ukraine standoff
Russia has boosted its military presence in Ukraine, specifically in Crimea, following the ouster of pro-Russian president Viktor Yanukovych and the installation of a new interim government. Ukraine's new leaders accused Russia of declaring war.
World leaders have reacted by threatening sanctions against Russia, calling the military moves an "act of aggression."
Kathleen Brooks, a research director at FOREX.com, said Putin's apparent backpedaling is restoring some calm in the markets.
"There has been a distinct change in the tone of the markets today as the Russian-Ukraine crisis stabilizes. The latest headlines suggest that Putin has had a change of heart," she said. "Putin is still trying to save some face after this situation dramatically backfired on him."
The U.S. has already suspended trade and investment talks with the Russian government, in the first of potentially many moves intended to force Russia to keep backing away from Ukraine.
But investors know the crisis is not over yet.
"The situation in Ukraine is far from off the radar and remains a potent wild card," said Ilya Spivak, a currency Analyst at DailyFX. "Deeper escalation of tensions remains a clear possibility."
Related: Russian markets slammed by Ukraine crisis
The Ukraine standoff and Russia's slowing economy led traders to pull out of the ruble, sending the currency down more than 10% so far this year. The currency mostly recovered Tuesday.
And while experts say Russia is unlikely to halt oil exports, since the country depends on the revenue, traders pushed global oil prices up by nearly $2 a barrel Monday. Oil prices cooled Tuesday.
Global grain prices have also increased over concerns that political turmoil could disrupt Ukraine's grain trade.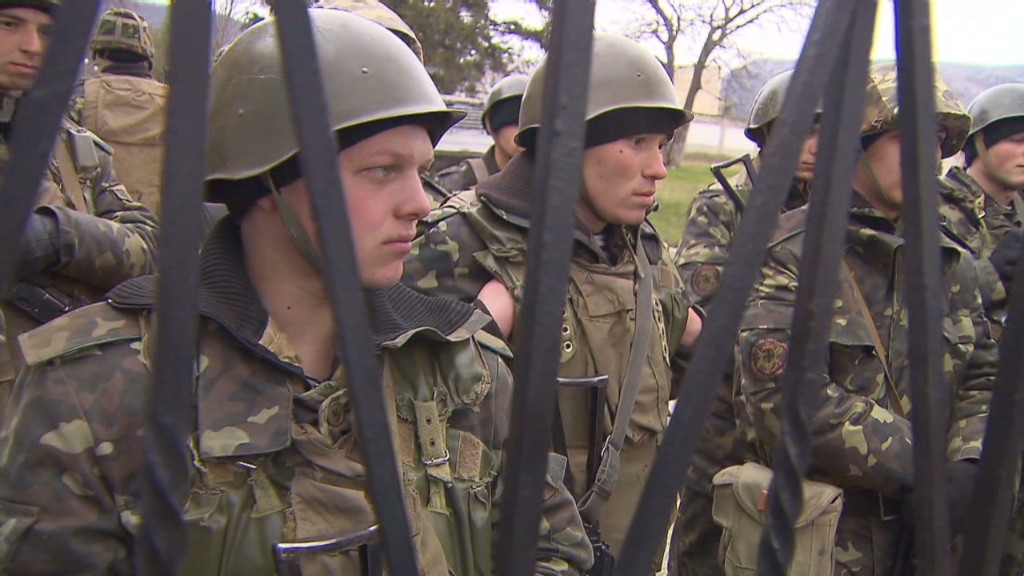 Stock market trading volume in Moscow on Monday was nearly four times higher than normal and foreign exchange trading volume was double the market's daily average, hitting 1.7 trillion rubles ($47 billion), according to the Moscow Stock Exchange.
Market volatility led Russia's central bank to hike interest rates Monday in an attempt to insulate the economy against inflation risks and further swings.