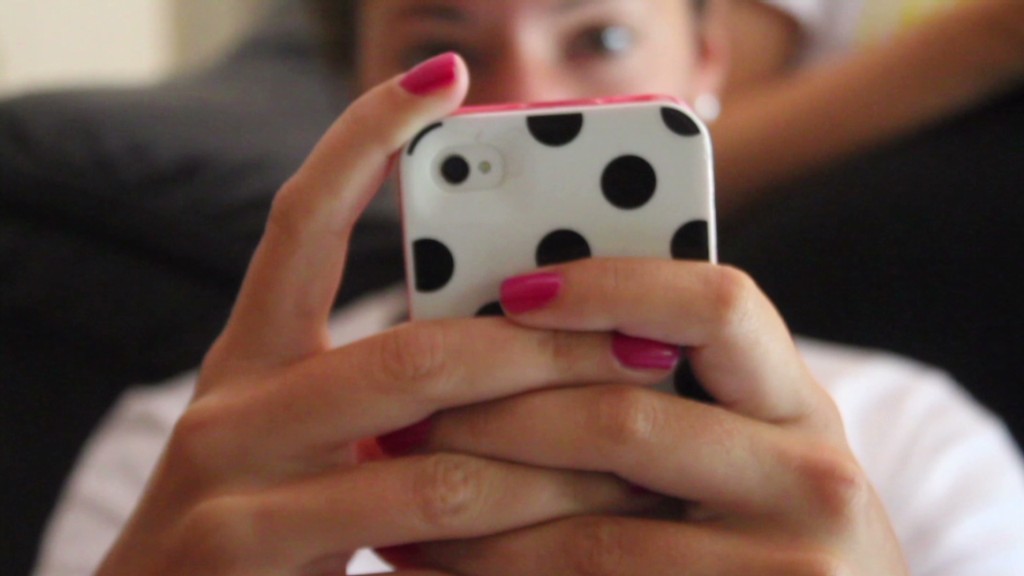 "Over-the-top is coming."
Lowell McAdam, Verizon's chief executive, could not have been more blunt in his comments Tuesday about the future of television.
But what exactly will that look like, and which company will get there first?
First, consider the situation today. Most Americans have a monthly cable or satellite subscription that comes with a set-top-box and a big bundle of channels. Internet streaming through services like Netflix (NFLX) and Hulu are still the exceptions to the rule.
The future looks like a mash-up of these two modes of viewing — a bundle of channels that are streamed via the Internet to any and every screen.
McAdam and others call the concept "over the top," and the idea came closer to fruition this week when The Walt Disney Company — the owner of ESPN and ABC — and Dish Network joined forces.
Related: 5 products pushing the boundaries of TV
Let me use my own experience to illustrate how it could all work.
I live in New York City in a building with two options for TV and Internet: Time Warner Cable (TWC) and Verizon FiOS.
I have Time Warner Cable, partly because my wife works for one of the company's local cable news channels, NY1.
Switching to FiOS would be costly and time-consuming. But if Dish (DISH) or another company sold a TV service Netflix-style, with an online sign-up sheet and a downloadable app, it would be easier to switch and give me (and all the other people in my building) more options.
Such a service would be easy to use, would work in or out of the home, and would work equally well on big-screen TVs and smart phones.
In this rosy scenario, I'd still have to subscribe to Time Warner Cable for my Internet service.
If lots of people dropped the TV subscription, Time Warner Cable (which is trying to merge with Comcast (CCV)) could respond in a few ways. It might raise prices on broadband to compensate. It could promote new discounts to keep me paying for both broadband and TV. Maybe it would sell its own "over the top" service, or try to distinguish itself with exclusive content.
Let's extend this thought experiment a little bit further. What if AT&T, my wireless provider, let me tack a cable-like bundle of TV channels to my monthly bill?
AT&T's No. 1 rival, Verizon (VZ), is openly contemplating such a thing. Right now Verizon's FiOS TV service is only available in one in seven American households. But the company would like to reach the other six out of seven households wirelessly.
In January, Verizon spent about $500 million to acquire the assets of Intel's Internet TV project, called OnCue, and on Tuesday McAdam said at an industry conference that "we think you could probably do a wireless over-the-top play."
How much would all this cost?
Bloomberg reported that Dish is "considering charging $20 to $30 a month," which is considerably less than what most households now pay for television. But Dish called the product a "personal subscription service," leading the BTIG Research analyst Richard Greenfield to predict that this would be a per-person charge, rather than a per-household charge.
A Dish spokesman declined to comment on when it might start to sell TV subscriptions via the Internet or on what form it might take. Dave Shull, Dish's chief commercial officer, told Bloomberg that the company wants to strike deals with other big channel owners before introducing anything. Having a deal with Disney (DIS) will likely help.
Although a number of hurdles still stand in the way, a cable-like offering without the physical cable pipe increasingly feels inevitable, in part because so many industry giants are pursuing it.
Along with Verizon and Sony, which have spoken publicly about their Internet TV ideas, Apple and Google have explored similar ideas privately.
If and when one such service launches, cable incumbents like Comcast and Time Warner Cable will almost certainly start their own.
On Thursday, Dish's main rival in the satellite TV business, DirecTV, indicated that it is also in talks with Disney about streaming rights.
Sony has also said it plans to start testing what it calls a "cloud-based TV service" later this year. There were news reports last summer about a tentative agreement between Sony and Viacom, the owner of channels like Nickelodeon and MTV.
All of these companies need cooperation from channel owners in the form of carriage rights — and that's the other reason why Dish's deal with Disney was so consequential. It marked the first time that a channel owner came out and said that it had sold "over the top" rights to a distributor. This is "groundbreaking," the Bernstein Research media analyst Todd Juenger wrote in a note to investors after the Monday night announcement.
Now that it's happened, Dish will probably have an easier time seeking equivalent rights from Disney's rivals like Comcast, which owns NBCUniversal channels like USA and Bravo, and Time Warner, the parent company of this Web site, which owns Turner Broadcasting channels like CNN and TNT.
Dish's rivals like Verizon and Sony will probably have an easier time with the channel owners, as well. "At the right price, Disney appears to be all ears," wrote the BTIG Research analyst Walt Piecyk in a blog post on Tuesday.
This week's announcement included a hint that Disney views Dish's streaming service idea as additive, not as a replacement for current subscribers.
"We are creating opportunities to add new subscribers and introducing the value of a multichannel subscription to a small subset of broadband-only consumers," John Skipper, the president of ESPN, said in a statement that accompanied the announcement.
Shull, in the interview with Bloomberg, similarly said Dish would seek to sign up people who don't currently subscribe to any form of cable or satellite: "We think there is a group of individuals, 18-to-34-year-olds, who would love to have a lower-cost product with some of the top content out there. That's who we'll be targeting."
Most importantly for the entrenched television industry, which depends on carriage fees for big packages of channels, the Disney-Dish deal ensures that the traditional cable bundle will remain at least partially intact in an Internet TV world. Dish specifically secured rights to ESPN, ESPN2, the Disney Channel, ABC Family, and ABC's local stations, so it would not be allowed to sell ESPN without ABC Family, for example.
That said, "there are several networks missing, including pieces of both the ESPN and kids' network families," like ESPNU and Disney XD, Juenger observed in his note to investors. So a theoretical Dish service could be a somewhat slimmed-down version of what current subscribers receive.
Now one of these distributors has to sign up some more channels, and actually launch.