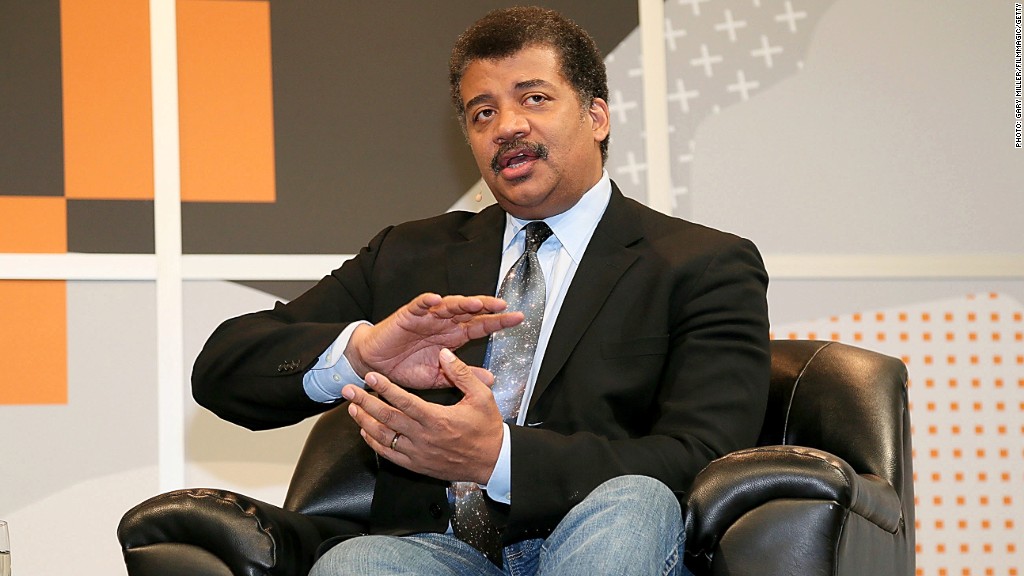 Starting Sunday, Fox's "Family Guy" will be followed by the unlikeliest of network television shows: an hour-long scientific exploration of the universe called "Cosmos: A Spacetime Odyssey."
The 13-week series is a reimagining of the 1980 PBS series "Cosmos: A Personal Voyage." Astrophysicist Neil deGrasse Tyson takes the place of the original host Carl Sagan, who died in 1996.
Science has "got to be mainstreamed in some way," Tyson said in an interview on CNN's "Reliable Sources." "Otherwise, people will view it as something to ignore or to step around."
What better way to mainstream it than a 9 p.m. time slot on the Fox network, usually taken up by animated comedies?
Tyson and the other proponents of the series -- like "Family Guy" executive producer Seth MacFarlane -- say they'll be able to reach people who aren't fans of PBS's "NOVA" or subscribers to Scientific American magazine.
There are people "who don't know that they like science," Tyson said. "They have a little flame inside of them of curiosity, and we're going to fan that flame."
"But then there's another category of people -- the people who know they don't like science. They've got no flame at all," he said. "So we're going to go in there and light it."
"Cosmos" represents a bet by the Fox network's parent company, 21st Century Fox (FOX), that Tyson and his producers can do just that.
Related: How a pot ad went up in smoke
The episodes take advantage of special effects technology and Tyson's accessible story-telling style to teach scientific concepts like evolution. Fox is promoting it as an adventure tale.
There was abundant surprise in 2011 when the network announced its interest in remaking "Cosmos."
For several years, Sagan's widow, Ann Druyan, and collaborator Steven Soter had been shopping the project around without success. Their luck began to turn when MacFarlane asked Tyson to lunch in 2009.
"He came to me, and I said sure. I didn't tell him that I had to move 30 things around to make the lunch," Tyson said.
At lunch, MacFarlane "asked me 30 questions about the Big Bang and cosmology," Tyson recalled. The conversation informed a future "Family Guy" episode, and more importantly, it got MacFarlane interested in the effort to reboot "Cosmos."
MacFarlane, who produces several successful comedies for Fox and thus has network executives on speed dial, later arranged a pitch meeting for Druyan. "We were sort of mutually incredulous at the beginning," Tyson said.
But Fox executives Kevin Reilly and Peter Rice "both liked the idea of doing something that no one had ever done before," MacFarlane told USA Today. So MacFarlane and Druyan's production companies got to work.
Related: Get ready for 'over the top' TV
The 13 episodes revive some storytelling tools from the original "Cosmos," like the Cosmic Calendar, and trot out new ones.
"The difference today is not only have visual effects advanced, but because this is airing on a major network, we had the resources -- we had access to people who have told these great dramatic stories on the big screen," Tyson said.
He described how the camera becomes "a participant in the storytelling" in ways not previously possible.
"So, yes, we go into a black hole," he said. "We dip down near the surface of the sun. And you feel it. I mean psychologically, you feel that it's there."
Admittedly, airing the series in prime time on a major network is a risk, MacFarlane added in his interview with USA Today. "There's really no way of telling how it's going to do. It could be a disaster or it could be a huge hit or somewhere in between," he said.
A disaster is unlikely, if only because the series is backed by a multi-million dollar marketing campaign and what 21st Century Fox calls a "multi-network launch event."
The first episode of "Cosmos" won't just be seen on the Fox broadcast network. It will be screened simultaneously on nine of the company's cable channels, including FX, Fox Sports 1 and the National Geographic Channel.
National Geographic Channel will also re-run episodes of "Cosmos" on Monday nights, one day after Fox. International distribution deals will beam the series to TV screens in 181 countries -- only one planet, though, at least for now.