Investors hit the sell button today as worries about global tensions and more bad news out of China overshadowed good news on the U.S. economy.
The Dow fell more than 230 points, or 1.4%. The S&P 500 and Nasdaq also were off by more than 1%. All three indexes were up in earlier trading.
Wall Street is waiting to see what happens in Sunday's Crimean referendum on joining the Russian Federation, and what that outcome may mean for markets.
In addition, China announced that retail sales and industrial production were both worse than expected and that helped add to worries that the story out of China won't be a good one for investors anytime soon.
European and Asian stock markets finished Thursday mostly lower due to the worries about a slowdown in China.
"For China, the question is whether the [government] authorities are in control of the slowdown, or if it starts controlling them," said Simon Smith, chief economist at FxPro.
The China and Ukraine concerns overshadowed a report by the U.S. government that retail sales in February were up 0.3%. This was the first increase in three months as consumers bought more autos and clothing. On the jobs front, initial unemployment claims fell by 9,000 to 315,000, a three month low.
Related: Fear & Greed Index moves back to neutral
But even with the broader market lower, several high-profile stocks gained ground.
Fuel cell maker Plug Power (PLUG) was sharply higher after releasing fourth quarter results. Although the company reported a loss, CEO Andy Marsh said he believes that orders for this year will be nearly four times 2013's total orders.
The stock has surged since disclosing a big order from Walmart last month. But it -- as well as rivals FuelCell Energy (FCEL) and Ballard Power Systems (BLDP) -- are highly speculative companies.
"$PLUG Be careful on this -- major bear flags all around. Retail may be propping this up, but institutions can take it down easily," said StockTwits user PowerKing
But danbetz didn't think the run in Plug Power was done yet. "$PLUG good news is we have great diversity of opinion here, this makes a market and plug stream proves the bull market is far from over," he wrote.
Amazon (AMZN) rose after saying that it would boost the annual cost of its Amazon Prime membership by $20 a year to $99. Investors seemed relieved that the price hike was not as steep as it said it could be just a month ago. The stock was the top gainer in CNNMoney's Tech 30 index Thursday.
But one trader thought the price increase was a bad move "$AMZN 20 bucks is a big hit! all hikes suck..subscriber growth @20 million..some will bail..incomes are down. not a good time," wrote Thorgood.
Herbalife (HLF)was sharply lower following a sell-off on Wednesday after the Federal Trade Commission said it's investigating the multi-level marketer. Shares are down nearly 27% so far this year. Hedge fund manager Bill Ackman has been a loud critic of the company, calling it a "pyramid scheme".
There was a sweet treat for owners of Krispy Kreme Doughnuts (KKD) this morning. The company reported a strong outlook for sales and earnings. Shares were up slightly today, and are up more than 30% over the past 12 months. Dunkin' Brands (DNKN) was lower Thursday, but the stock is up nearly 40% in the past year.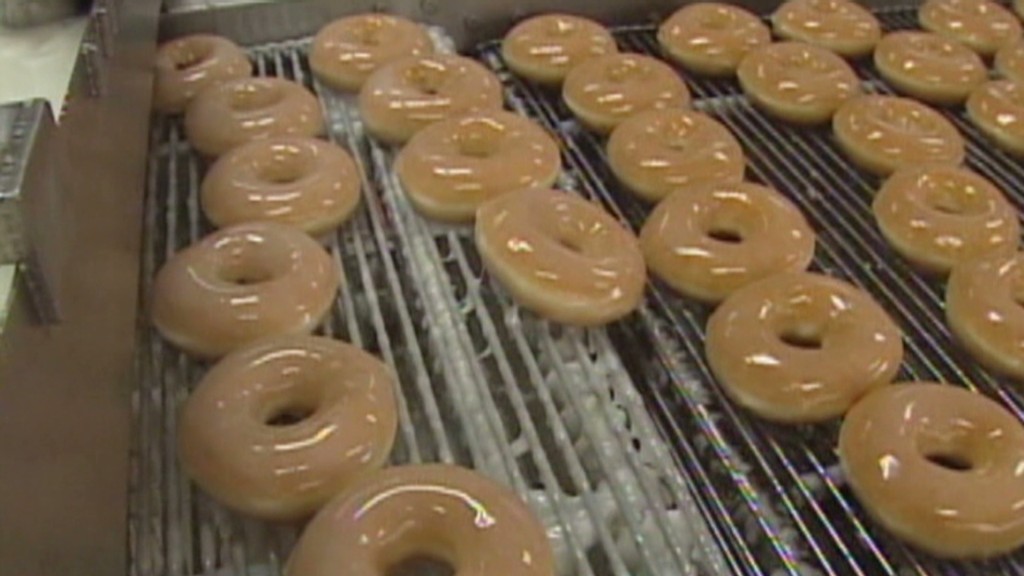 In-flight digital entertainment provider Gogo (GOGO) was down despite reporting a smaller than expected loss, and beating revenue estimates in the fourth quarter. But the stock still had some fans today.
"$GOGO Solid company, great growth potential, still ramping up revs. Those who sold will be sorry this time next month," said ajohnke on StockTwits.
Shares of discount retailer Dollar General (DG) shares were lower after reporting weaker than expected sales in the fourth quarter. Dollar General blamed the bad winter weather.