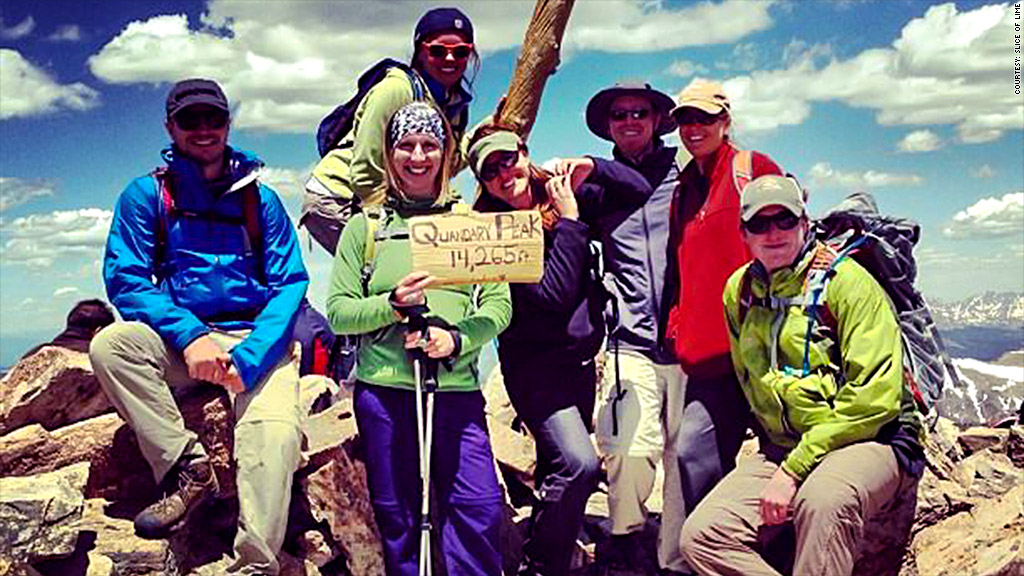 The job market is finally looking brighter: Recruiters are circling, pay is climbing and companies are scrambling to keep their best employees from leaving.
Tempted by the prospect of landing a better gig, 85% of the workforce is looking for a job or interested in talking with recruiters, according to a survey released Tuesday by LinkedIn. That even includes people who are "satisfied" with their jobs.
If you don't want to lose talented employees, here's how to keep them happy and engaged.
Give them a voice
As CEO of design firm Slice of Lime, Kevin Menzie knows competition for his employees is fierce. So Menzie ensures his 15 employees feel like they are the company, instituting monthly "retrospectives" to discuss what's working and what's not.
That can be tough at times, like when Menzie had to deny their request for gym memberships. But he left the topic open for future consideration. "I think it's riskier not to listen," he says.
Related: Why Big Ass Fans pays 30% above national average
Kathryn Minshew takes a similar approach as CEO of The Muse, a career website in New York. She promises transparency and answers her 15 employees' questions on fundraising, finances and hiring plans. This puts any frustration out in the open and boosts loyalty.
"Not every decision is made by consensus or democracy, but it leads to creativity and people being extremely invested in what they do," she says. Her firm has lost just one employee since 2012.
Check in often and say thanks
The traditional yearly review won't cut it in 2014, says Allyson Willoughby, a vice president at Glassdoor.com.
To ensure regular feedback, New York-based Quirky.com uses automated software called 15Five for weekly check-ins. All 189 workers get questions about what's going well, where they're stuck or how to improve their jobs. As a result, managers have time to think through challenges before one-on-one meetings, which can be spent brainstorming solutions, says Rochelle DiRe, a Quirky vice president.
"Plus, our CEO knows exactly what is going on with everyone and can shout out to people who are doing a good job," she says.
Related: Orange buttons boost online sales
That kind of recognition goes a long way. Jeremy Bloom, CEO of cloud software firm Integrate, sends thank you notes and bottles of Dom Perignon for a job well done. "Thoughtfulness," says Bloom, "is a key ingredient to building loyalty."
Offer professional -- and personal -- development
Lack of career growth is a big reason people leave their jobs, says Beth N. Carvin, CEO of exit interview firm Nobscot Corp. She's seeing more companies start mentoring programs to prevent that.
That includes Luggagefree, a New York-based luggage delivery service. President Jeff Boyd wanted a cost-effective way to boost personal development for his 15 employees. He settled on Everwise, which acts as a Match.com for mentors and protégés. For $1,500 per person, Boyd provide outside mentors who offer fresh ideas for career growth.
"My hope is that they'll be self-empowered and feel better about their colleagues, about our clients and about Luggagefree," he says.
Related: Could teaching employees to code be key to success?
Meanwhile, IdeaPaint, which makes dry erase paint for walls, wants to stimulate its 30 employees by turning its new downtown Boston office into a community center. Just this month, it started hosting speakers and roundtable discussions before and after work. Open to anyone, they've already boosted company morale.
Give them a break
Perks like gym memberships and free bagels are great, but sometimes just a break from the office can build morale and boost loyalty.
One of the most popular perks at Quirky is the week-long "company-wide black out" every quarter (which is on top of unlimited vacation time).
"Knowing you get this break gives you a sense that you're working towards something together," DeRe says.
Slice of Lime owner Menzie treats his employees to ski vacations and "creative experiences," like a recent trip to Universal Studios. People can propose their own "outties" on an online list.
Menzie also lets employees spend 20% of work hours on personal interests, and he keeps an open Amazon account for employees.
The perks, he says, cost far less than replacing an employee.
"You get that money back because they're staying, they're happy and they're doing great work," he says.