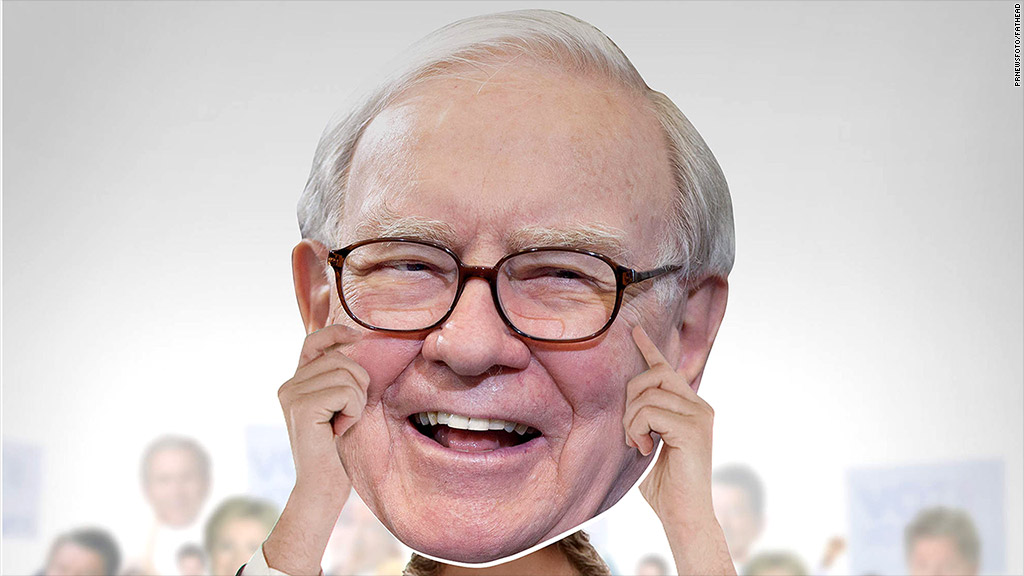 Investors have been known to pay $1 million for the chance to pick Warren Buffett's brain over lunch. Now they can get his entire head for only $29.99.
Fathead, which generally sells pictures of sports and movie stars like LeBron James or the "Hunger Games" cast, is selling an oversized picture of Buffett's face. The proceeds will go to charity.
The pictures were intended as a promotion for the $1 billion perfect NCAA bracket challenge from Quicken Loans and Yahoo Sports.
Buffett's Berkshire Hathaway (BRKA) wrote the insurance policy that would have paid big if anyone had correctly picked the outcome of every game of the NCAA tournament. But nobody made it out of the first round with a perfect bracket.
The Buffett Fathead (1 foot, 7 inches across by 2 feet tall) debuted when Buffett went on "Late Night with Seth Myers" to promote the NCAA challenge last week. He appeared with Dan Gilbert, who is founder and chairman of Quicken Loans as well as the owner of Fathead.
Buffett agreed to the sale of the Fatheads as long as the money went to charity. For his part, Gilbert is active in charitable work in Detroit, where his companies are based.
The two charities that will benefit from the sale are About Money Matters for Youth, which promotes financial literacy for Detroit youngsters; and Motor City Blight Busters, which works to demolish blighted houses and other abandoned structures in the city.
"I was flattered, and frankly surprised, that anyone would want to purchase a Big Head with my face on it," said Buffett.
Buffett's charitable efforts include an annual auction to a private lunch with him and a campaign to get other billionaires to pledge with him to donate their wealth.