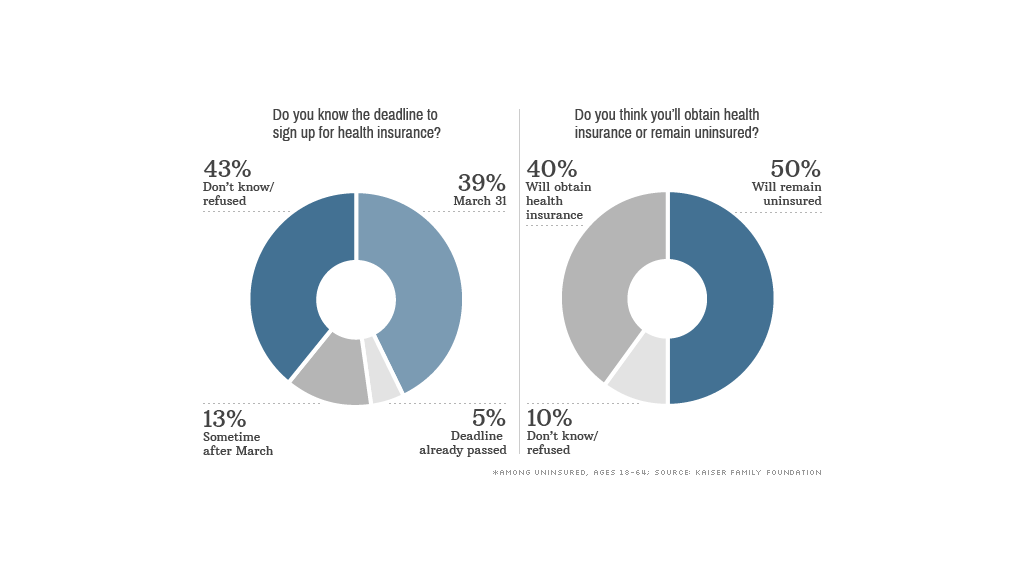 Americans have only a few days left to sign up on the Obamacare exchanges, yet most of the uninsured don't know the deadline.
Six in 10 uninsured adults are not aware that open enrollment ends March 31, according to a Kaiser Family Foundation tracking poll released Wednesday. Half of the uninsured surveyed said they will remain without coverage this year.
The survey results show that the massive outreach campaign undertaken by the Obama administration and its allies have not penetrated through the ranks of the American public.
More than 40% of those polled said they didn't know that federal subsidies were available to help cover premiums. More than half were not aware that the law expanded Medicaid. The uninsured often cite cost as the top reason why they don't obtain coverage.
The survey results come as the Obama administration agreed to give some applicants more time to complete the process. Traffic to the federal exchange site and call center, which are handling enrollment in 36 states, are approaching record levels, officials said. Some 1.2 million people visited healthcare.gov on Tuesday, and more than 500,000 called the help line the first two days of this week.
Those who start the sign-up process before March 31 but become stymied by technical difficulties can finish picking a plan after the deadline. They must attest on the application that they could not complete the process by the deadline, but officials will not double-check that these folks are indeed eligible to pick their plans after March 31.
"We won't close the door of those who tried to get covered and were unable to do so through no fault of their own," said Julie Bataille, a spokeswoman for the Centers for Medicare and Medicaid. "Those who were in line or had technical problems with the website can quickly come back and sign up as soon as possible."
Bataille would not specify how much time consumers will receive to complete the process, saying only that it may take a few days or a week or so.
Officials provided similar leeway to those signing up in late December who wanted coverage to begin on Jan. 1. At that time, 20,000 people took advantage of the extended enrollment period.
Several states running their own exchanges, including Nevada and Minnesota, have also said they will allow applicants to pick plans after March 31 as long as they've started the process before the deadline.
Americans who have life changes, such as the loss of a job, during the year will be able to obtain coverage even after open enrollment closes.
Those who remain uninsured in 2014 face a penalty of $95 or 1% of income, whichever is greater. Open enrollment for 2015 begins Nov. 15.