Who cares that 6 million people have signed up for Obamacare? That doesn't mean the program is a success.
No question it is a big rebound from the disastrous launch last October, though short of the initial projection of 7 million.
Still, experts say that the national figures aren't that important, be it overall enrollment or the share of young adults. Insurance is based on local markets, so what matters is how many enrollees sign up in each area and what share of them are healthy.
"There definitely is no magic number," said Drew Altman, chief executive of the Kaiser Family Foundation. "It will vary a lot around the country."
But there are ways to gauge how well the Affordable Care Act is doing, as the first open enrollment draws to a close. CNNMoney looks at three measures of Obamacare's success:
Insurers:
Despite the rough start, many insurers aren't complaining about Obamacare. That's important because 2015 premiums will be based in part on how well this year's enrollees track with insurers' projections.
Executives at WellPoint, the Blue Cross Blue Shield behemoth that is a big player in the exchanges, said this month that its enrollment is right where it expected, as is the age of those signing up and the types of plans they selected.
"I'm very optimistic as to where we are," Wellpoint executive Ken Goulet recently told investors.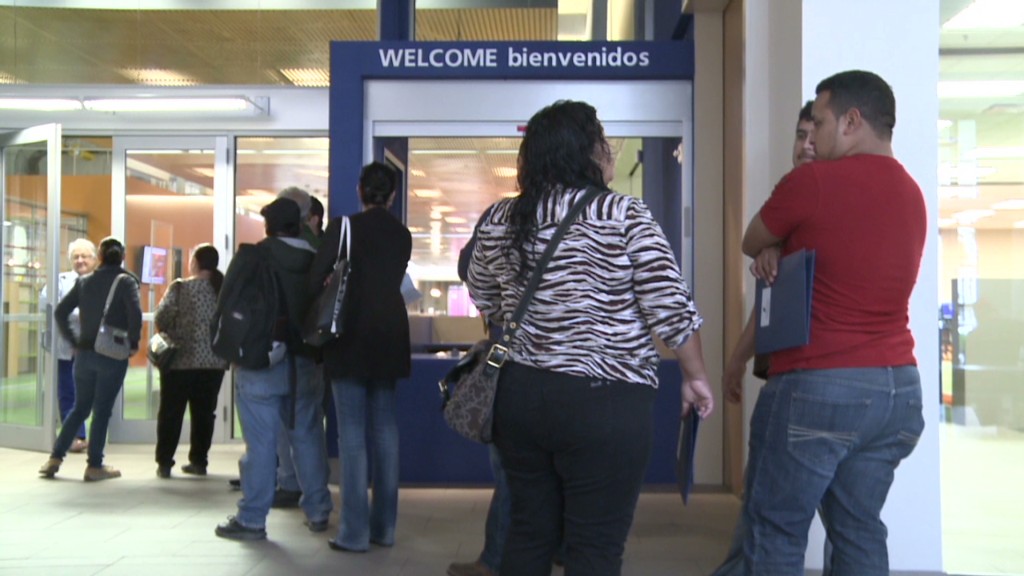 Other insurers also say enrollment is coming along as planned, though some are depending on the little-known off-exchange market to broaden their base.
CoOportunity Health, a new insurer operating in Iowa and Nebraska, has had 63,000 people sign up for its policies, more than it expected. But the applicants picking its individual policies outside of the exchanges and its group policies are younger than those signing up on the federal exchange, said Cliff Gold, CoOportunity's chief operating officer.
Young adults are considered a proxy for healthy consumers, who will balance out older, costlier policy holders.
In the case of CoOportunity, only 19% of Iowa exchange applicants and 30% of Nebraska ones are under age 30. But about 40% of enrollees in group and off-exchange policies are young adults.
"We're very glad we didn't rely exclusively on the exchanges," Gold said. "It would have skewed the business older and sicker and caused higher rate increases."
Related: Obamacare's amazing comeback
For Molina Healthcare, which is offering exchange policies in nine states, Obamacare signups are tracking fairly well with its projections. The company has seen a surge this month, with one-third of its exchange enrollment coming in March.
"We are pleased with how things have gone," said J. Mario Molina, chief executive of the Long Beach, Calif.-based insurer. "The big issue was would the websites work and would people sign up. The answer is yes. People signed up and the website problems are mostly behind us."
Consumers:
Some people love it. Some people hate it.
Initial reviews on Obamacare are mixed. Hundreds of people wrote to CNNMoney to relay their experiences using their new benefits.
Many people, particularly the uninsured who could not get coverage because of pre-existing conditions or outrageous premiums, are thankful for Obamacare.
A 56-year-old woman from Illinois who works three part-time jobs to make ends meet said she was able to get her first mammogram in five years.
A La Jolla, Calif., resident saw his monthly premiums drop to $105, from $1,100.
And a small business owner in Greenwood Village, Colo., is thrilled to be able to move to any state for work since she no longer has to worry she'll be rejected for her pre-existing hip condition.
But there are also loads of complaints.
A North Carolina resident said the deductibles are so high that his family won't be able to use the policy. "We are no better off than before," this person said. "We couldn't afford doctor visits then and we still can't."
In New York City, a woman who is nearly halfway through her pregnancy has yet to find an ob-gyn doctor who will accept her insurance plan. After calling numerous providers, she said she'd be better off had she and her husband put their $1,241 monthly premium in the bank since she's had to pay for care at an out-of-network provider.
And a resident of Bakersfield, Calif., writes that he's now paying $300 more a month for coverage, in part to pay for pediatric dental coverage, though his children are in their 30s, and for maternity benefits that his wife will never use.
Ultimately, what matters for Obamacare's long-term health is what Americans think of the plans on the exchanges, said Altman, of the Kaiser Family Foundation.
"Do people who get coverage think it's a good deal," he said. "More than anything else, that's the most important factor."
Share your story: Have you begun using your Obamacare benefits?
Society:
The real question is whether Obamacare will meet its overarching goal of reducing the number of uninsured in the United States.
No one knows how many people signing up on the exchanges lacked coverage in 2013 because the federal and most state exchanges don't ask enrollees about it.
In New York, one of the few that does, more than 70% of applicants did not have insurance last year, though the metric includes those signing up for Medicaid and the state exchange.
There are some early indications that Obamacare is chipping away at this problem. The uninsured rate fell to 15.6% in February, down from an all-time high of 18% in the third quarter of 2013, according to the Gallup-Healthways Well-Being Index.
McKinsey & Co. recently released a survey showing 27% of respondents who picked new individual plans were previously uninsured.
An initial official measure will likely come in the fall when the Centers for Disease Control and Prevention releases its National Health Interview Survey. The report will show how many Americans were uninsured in early 2014.
Even when Obamacare is in full swing in 2018, with 25 million people projected to obtain insurance through the exchanges and 55 million via Medicaid, there will still be 30 million Americans uninsured, according to the Congressional Budget Office. Many of these folks will be undocumented immigrants or low-income residents of states that did not expand Medicaid.