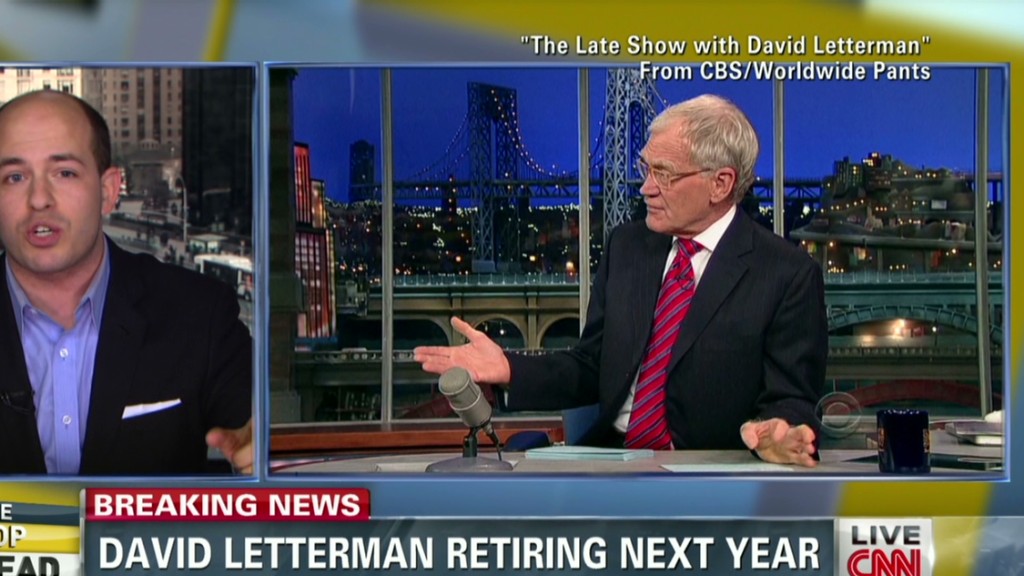 Late night television legend David Letterman will retire in 2015.
Letterman announced his retirement decision during a taping of "The Late Show" on Thursday afternoon. CBS (CBS) subsequently released a transcript of his remarks.
"We don't have the timetable for this precisely down," Letterman said. "I think it will be at least a year or so, but sometime in the not too distant future, 2015 for the love of God, in fact, Paul and I will be wrapping things up," he added, referring to his longtime band leader Paul Shaffer.
Letterman's announcement sparked a standing ovation from his much-surprised audience at the Ed Sullivan Theater in midtown Manhattan.
It also triggered immediate speculation about who might replace him on the iconic CBS program.
Letterman's announcement initially leaked out when a performer, Mike Mills, who was at the taping of "The Late Show" tweeted out the news. "Dave just announced his retirement," Mills wrote.
The news comes just weeks after Letterman's longtime rival, Jay Leno, retired from the NBC "Tonight Show." Leno was replaced by Jimmy Fallon.
Watch: Letterman's top 10 moments
Letterman has hosted "The Late Show" since 1993. Last fall, he extended his contract through 2015; news reports at the time said he gave no indication that it would be his last contract. But Letterman is known to be incredibly private, and on Thursday he quipped that he didn't give his parent network a heads-up about his decision.
"The man who owns this network, Leslie Moonves, he and I have had a relationship for years and years and years, and we have had this conversation in the past, and we agreed that we would work together on this circumstance and the timing of this circumstance. And I phoned him just before the program, and I said 'Leslie, it's been great, you've been great, and the network has been great, but I'm retiring,'" Letterman said in his monologue.
He added, "I just want to reiterate my thanks for the support from the network, all of the people who have worked here, all of the people in the theater, all the people on the staff, everybody at home, thank you very much. What this means now, is that Paul and I can be married."
Watch: Letterman announces his retirement
Moonves, the chief executive of CBS Corporation, quickly issued a statement on Thursday afternoon thanking Letterman for his years of service -- and silliness.
"For 21 years, David Letterman has graced our Network's air in late night with wit, gravitas and brilliance unique in the history of our medium," Moonves said. "During that time, Dave has given television audiences thousands of hours of comedic entertainment, the sharpest interviews in late night, and brilliant moments of candor and perspective around national events. He's also managed to keep many celebrities, politicians and executives on their toes -- including me."
"There is only one David Letterman," Moonves added. "His greatness will always be remembered here, and he will certainly sit among the pantheon of this business. On a personal note, it's been a privilege to get to know Dave and to enjoy a terrific relationship. It's going to be tough to say goodbye. Fortunately, we won't have to do that for another year or so. Until then, we look forward to celebrating Dave's remarkable show and incredible talents."
Other figures were quick to offer their congratulations.
Jimmy Kimmel, who anchors ABC's late-night show "Jimmy Kimmel Live," wrote Letterman "is the best there is and ever was."
And President Barack Obama referenced Letterman's famous top ten lists -- which the likes of Obama read as guests on the program.
"There are more than 10 reasons #DavidLetterman will be missed," said a post on Obama's Twitter account.
Related: Michael Strahan on verge of joining 'Good Morning America'
The show has been nominated for 72 Emmy Awards and has won nine.
Letterman began his television career in 1969 working as an announcer and weekend weatherman at WLWI (now WTHR), an ABC affiliate in Indianapolis, Indiana. He has been a staple of late night since 1982, when he began hosting the NBC show "Late Night with David Letterman."
After long-time Tonight Show host Johnny Carson announced his retirement in 1992, NBC chose Jay Leno as Carson's replacement. Letterman, in turn, started hosting CBS' "The Late Show" in 1993. Band leader Paul Shaffer followed Letterman from NBC to CBS.