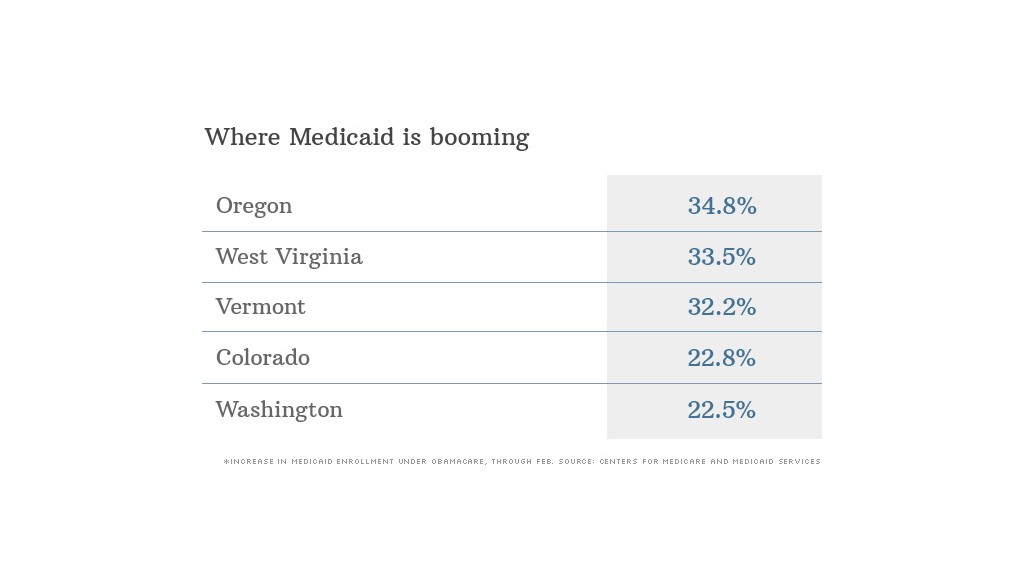 Three million people have enrolled in Medicaid since October, mainly in states expanding eligibility under Obamacare, according to federal data released Friday.
Some 61 million Americans were enrolled in Medicaid and CHIP, the Children's Health Insurance Program, in February. That's up 5.2% since the third quarter of 2013, according to the Centers for Medicare and Medicaid Services.
The number of new enrollees, however, is only a small fraction of the 11.7 million who are eligible for the program. What's the holdup? The federal exchange, healthcare.gov, has had technical problems transferring the files of those deemed eligible to the state Medicaid agencies for enrollment.
Officials also don't know how many of those folks were only now eligible for the program because of Obamacare. Some enrollees may have previously qualified but just signed up. Others may have already been on Medicaid and renewed.
The data comes with many caveats, since not all states reported their Medicaid rolls.
Still, the report shows that enrollment is booming in the states that have expanded Medicaid. One of the key provisions of Obamacare was to open up the government health insurance program for the low-income to all adults with incomes up to 138% of the poverty line. (That's $15,900 for an individual and $32,500 for a family of four.) Half of states, plus the District of Columbia, have expanded Medicaid.
Share your story: Have you begun using your Obamacare benefits?
Enrollment in states that have expanded Medicaid under Obamacare has jumped 8.3%, compared to a 1.6% increase in the remaining states. Oregon, West Virginia and Vermont led the way, increasing their Medicaid rolls by a third since October.
Certain states were more aggressive about reaching out to potential enrollees. Some, such as Oregon, contacted those eligible for food stamps and invited them to apply. Others, including Vermont, had existing health coverage for low-income residents and rolled over those now eligible for Medicaid into that program.
Even if they didn't expand Medicaid, some states saw participation grow. Florida, for instance, had an 8.2% increase, while Idaho saw a 6.6% jump.
It may take many months -- or even years -- before Medicaid expansion's impact is truly known, said Edwin Park, vice president for health policy at the Center on Budget and Policy Priorities. States will need time to tease out how many are newly eligible and how many could have signed up before.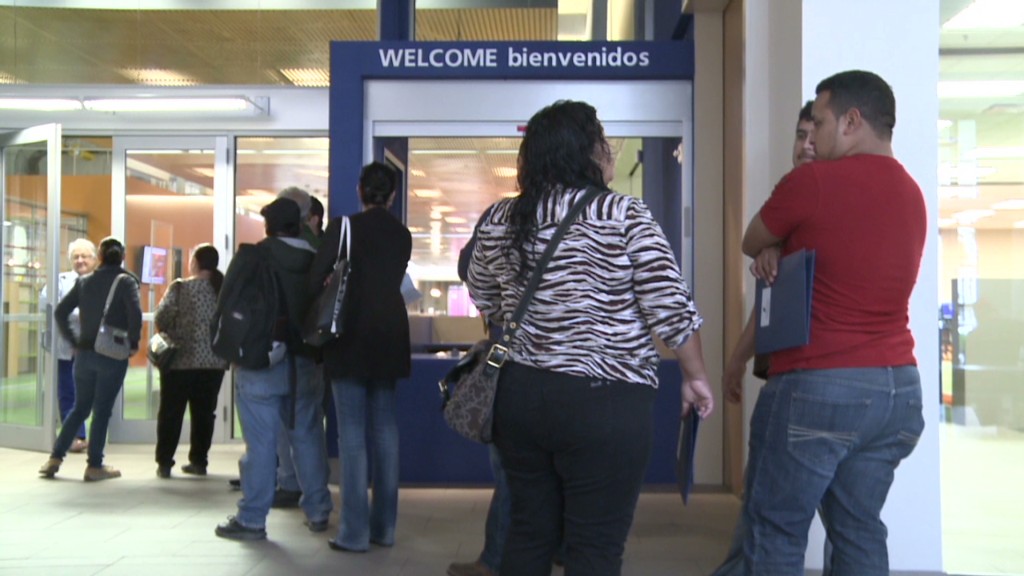 But the first priority, experts said, is to get those eligible and interested actually enrolled. It's hard for low-income people to apply through the federal exchange, and those that do may not be enrolled for months, experts said.
"It's going to be faster if you just apply for Medicaid directly in your state," said Matt Salo, executive director of the National Association of Medicaid Directors.
Americans can apply for Medicaid at any time, unlike those interested in enrolling in private insurance, who had to starting signing up by March 31.