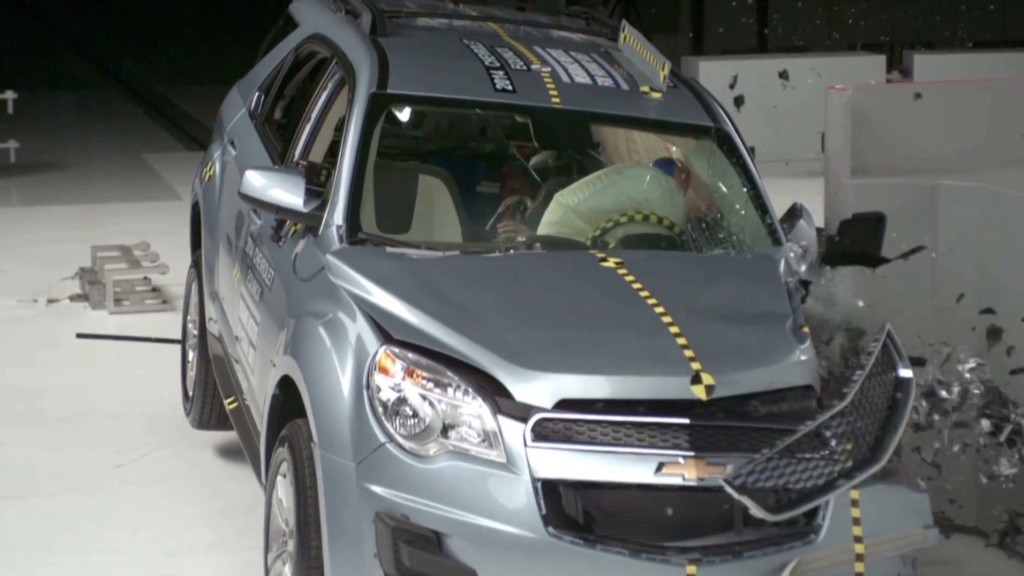 General Motors is having a bad year. But the automaker got some good news on Tuesday when two GM SUVs earned top ratings in a new crash test.
The Chevrolet Equinox and the GMC Terrain are the only two vehicles to earn the top rating from the Insurance Institute for Highway Safety, which conducted a challenging crash test on nine popular midsize SUVs.
The test replicates what happens when the front corner of a vehicle collides with another car, or with an object like a tree, at 40 miles per hour. It is more challenging than the institute's traditional frontal crash test and the head-on crash test that's performed by the government, said Russ Rader, senior vice president of communications.
The institute began this kind of test in 2012 after finding that one quarter of serious frontal crashes are caused by "small overlap" impacts, said Rader. It has already conducted the test on other vehicle groups like small cars and compact SUVs, but it is the first time it tested midsize SUVs in this capacity.
Related: GM's steps to a recall nightmare
The Equinox and Terrain have also been named Top Safety Picks Plus by the institute. That means the vehicles received good ratings on five other tests and are available with a front crash prevention system that alerts drivers of an impending collision.
The designation "speaks to GM's continued focus on improving our vehicles and keeping our customers safe," said Gay Kent, general director of GM's Vehicle Safety and Crashworthiness.
The Toyota Highlander, which received the institute's second-highest rating in the crash test, was also named a Top Safety Picks Plus.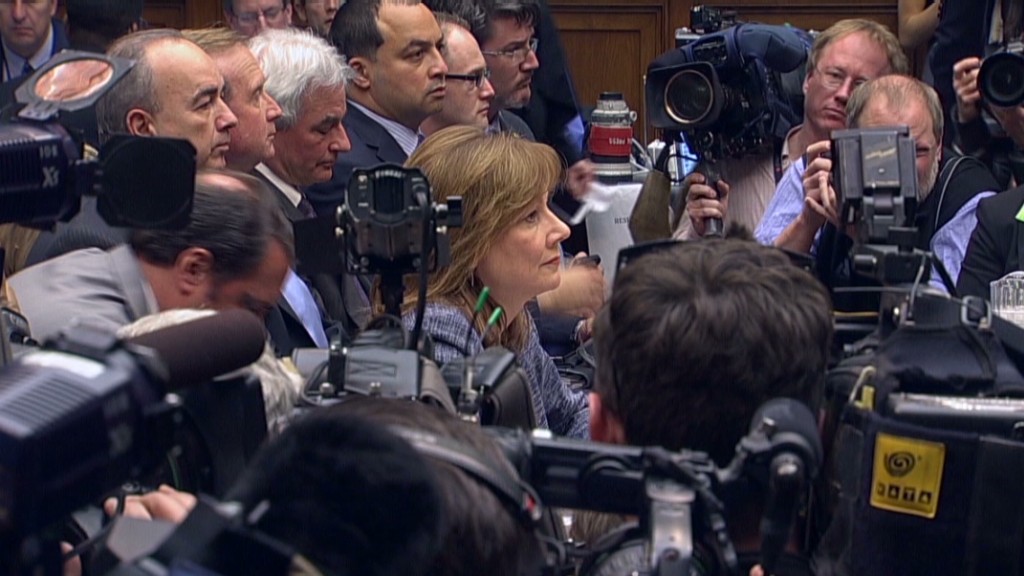 The Kia Sorento, Mazda CX-9, and Honda Pilot earned the worst rating in the small overlap crash test, despite doing well on traditional frontal and side impact tests. A statement from Honda said that the Institute named the 2013 Pilot, which has the same body structure as the 2014 model, a top safety pick last year. A Mazda spokeswoman said the CX-9 was designed before the Institute began its new crash test. Kia did not respond a request for comment.
The report comes about a week after GM (GM) CEO Mary Barra was grilled on Capitol Hill about the company's botched recall of 2.6 million vehicles for a defect linked to at least 13 deaths. That recall affects smaller cars that GM no longer makes, including the Chevrolet Cobalt and HHR, the Saturn Ion and Sky, and the Pontiac G5 and Solstice.
"When it comes to midsize SUVs, General Motors is showing the way forward," wrote David Zuby, the institute's chief research officer, in the report.