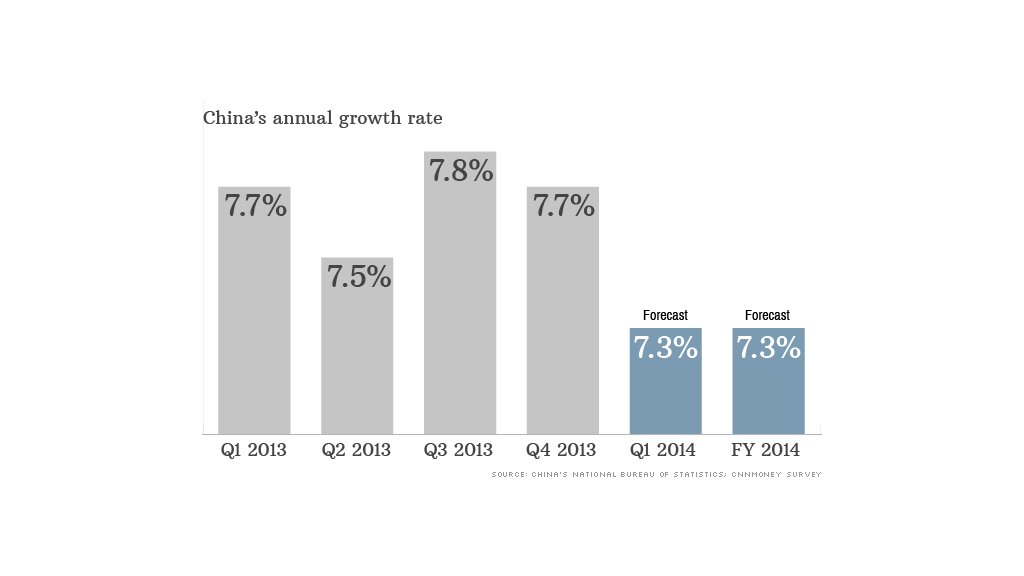 China's economy lost momentum in the first quarter and growth in 2014 could fall short of the government's official target, according to a CNNMoney survey of economists.
Gross domestic product is forecast to have grown by 7.3% in the first quarter, compared with the same period a year ago, according to the median of 12 estimates. Looking ahead, the economists surveyed also expect full-year growth to slow to 7.3%, below the official target of 7.5%.
The National Bureau of Statistics is expected to announce first quarter GDP figures next Wednesday. China's GDP growth is being closely watched as the government works to reform the world's second largest economy after years of runaway expansion.
A sluggish start to the year is typical, given the Lunar New Year holiday. But there's no denying the slowing trend -- China recorded GDP growth of 7.7% in the last two years, versus 9.3% in 2011 and 10.5% in 2010.
The government says it's comfortable with growth around 7.5%. Observers say Beijing's laser focus on economic expansion hasn't wavered.
"The government has underscored recently that it considers keeping growth going the most important economic objective, and has started to take some modest steps to support growth in response to current downward pressures," said RBS economist Louis Kuijs.
Related story: Chinese snap up fine art for use in laundering schemes
Those measures, announced last week, extended a tax break for small and mid-sized companies, accelerated financing for infrastructure projects in the pipeline, and pledged support for social housing construction.
Economists surveyed by CNNMoney say more intervention will be needed if the government has any hope of reaching its target.
"All things considered, we believe policymakers will have to consider further monetary easing in the second half of 2014," said Daiwa Capital Markets economists Kevin Lai and Junjie Tang.
For the third consecutive quarter, the majority of economists said credit growth remains the biggest risk to China's economy. This is the root cause of many current challenges -- including growing risks in shadow banking -- and debt has only continued to pile up.
Related story: Chinese tourists boost U.S. businesses
The government must rein in credit growth, even if that leads to less domestic investment, said Societe Generale's Wei Yao.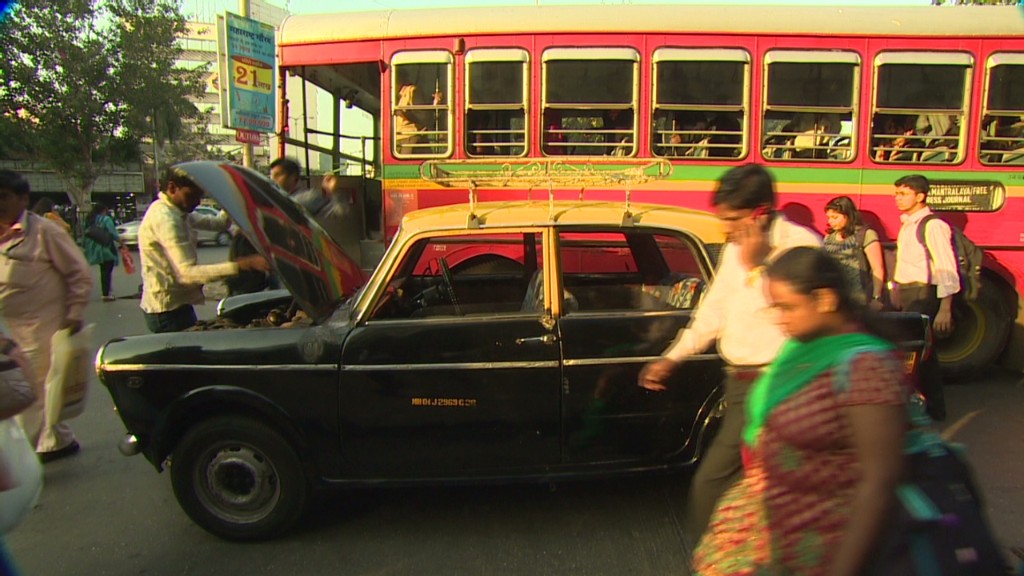 China recently experienced its first corporate default, when a small solar firm failed to make an interest payment to investors. Both the government and experts have indicated that more corporate defaults and bankruptcies are on their way, and could serve as a call to borrowers and lenders to be more responsible.
Although experts say such events don't pose a threat to the financial system, letting more companies fail is fraught with risk, as it could further slow China's economy and undermine social stability. A series of defaults could create market turmoil and anger investors who have been promised gains.
Other major headwinds include the overheating property market and increasing volatility in China's yuan, after the central bank allowed it to trade in a wider range in March.
"The bottom line is that there is no easy way out of the problems China is facing," said Daiwa's Lai and Tang.