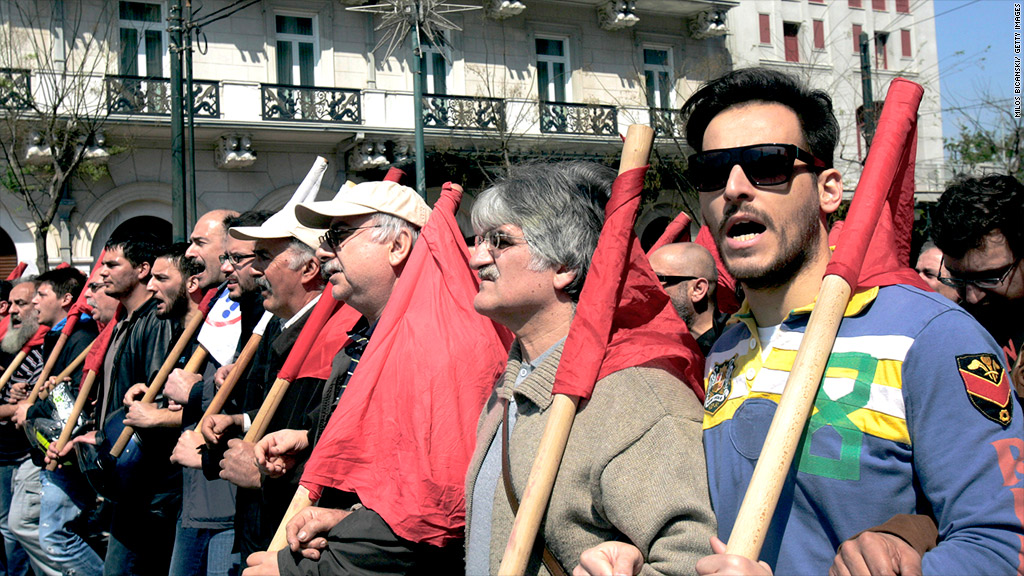 Yes, you read that right. Greece has sold new bonds to international investors for the first time since its economy collapsed four years ago.
The Greek Finance Ministry said Thursday that it raised €3 billion ($4.2 billion) by selling 5-year bonds, its first debt issue since the eurozone country received €240 billion of bailout loans from the European Union and International Monetary Fund.
Demand was robust. Investors were ready to buy as much as €20 billion, analysts said.
It's been a long and painful road to recovery for Greece. In a bid to stabilize its finances, the government has implemented deep spending cuts, sending unemployment rocketing to 27% -- nearly six in every 10 workers under the age of 24 are without a job.
Related: Greek bonds: Europe's hidden gem?
The economy has shrunk by more than a fifth since the crisis began, and prices are falling for a second year running.
Social and political tensions are still running high. Many workers took part in a nationwide strike Wednesday to protest against the austerity measures, and a car bomb exploded outside the country's central bank Thursday.
The tough approach will have to continue for years, given Greece's debt burden is expected to hit 175% of GDP this year. That's way above the level the IMF considers sustainable in the long term.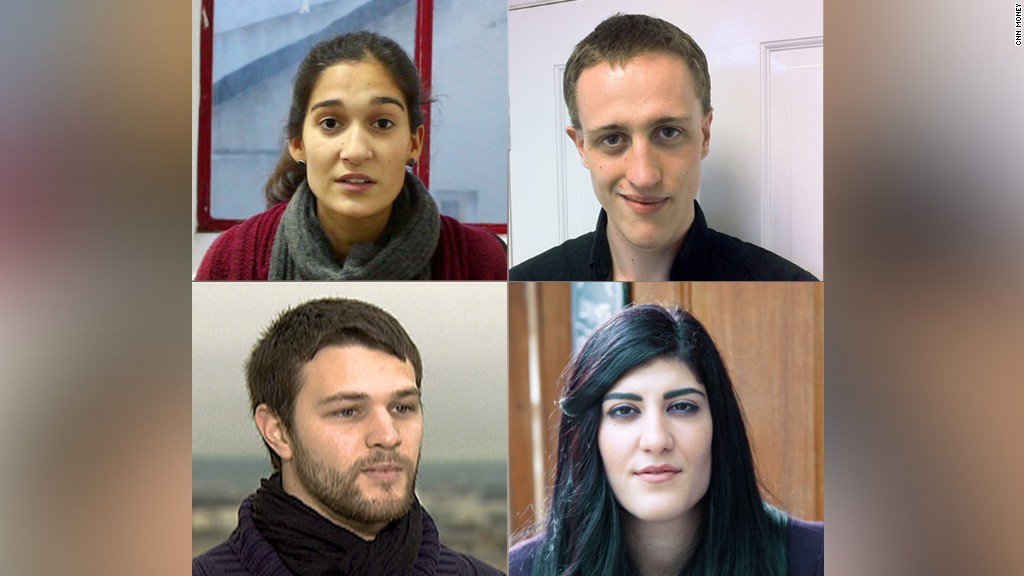 Still, the successful bond sale is the latest example of the dramatic change in fortune for Greece, and other weak eurozone economies, at least in the eyes of international investors.
Analysts said Greece had promised investors a return of 4.95% on the bonds sold Thursday, just a fraction of the peak yields seen during the crisis. Borrowing costs for Ireland, Portugal, Italy and Spain have also plummeted recently, slashing the premium they need to offer over 'core' eurozone countries, such as Germany.
Related: Europe sees first growth since 2011
Although Greece's sovereign debt rating is deep in junk territory, investors appear willing to buy the 5-year notes because they will mature way before any of the bailout loans start to come due, and also because there's much less risk of a repeat of 2012's haircut for investors.
Furthermore, the bonds also offer a decent yield in a low interest rate world.
"Central banks around the world have turned investors into desperate yield junkies, so 4.95% seems worth it," noted Kathleen Brooks, research director at Forex.com.
Ireland, which last December became the first eurozone country to exit its bailout program, sold €1 billion of 10-year bonds at a record low yield of 2.9%. Demand was nearly three times the amount offered.
National economic reforms, together with Europe's resolve to hold the single currency together and the European Central Bank's readiness to use Fed-style quantitative easing if necessary, have helped drive the sentiment turnaround.