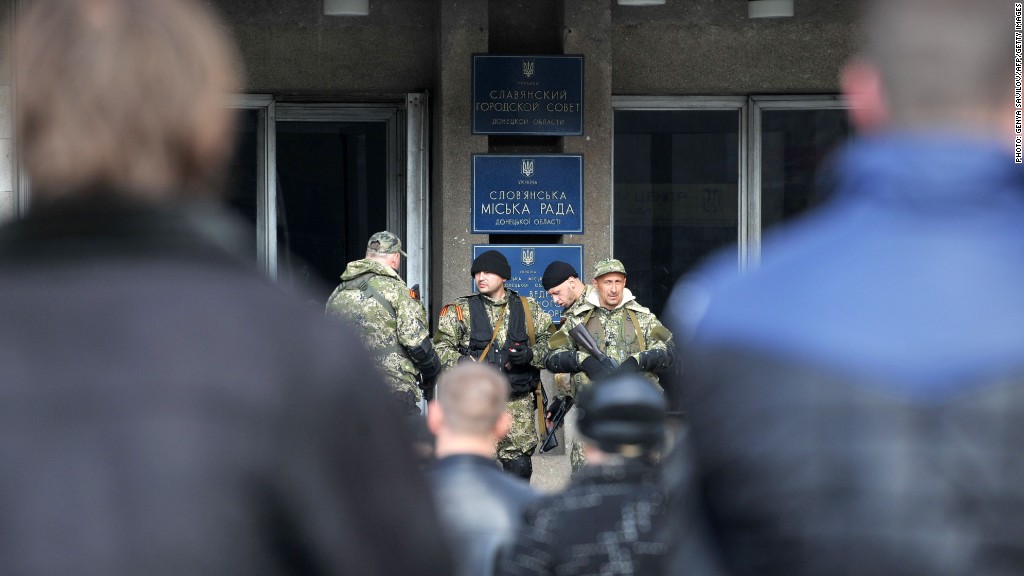 Ukraine's central bank has hiked its benchmark lending rate for the first time in eight months amid an escalating confrontation with pro-Russian activists.
The central bank raised the discount rate from 6.5% to 9.5% late Monday, a move that should help support the country's floundering currency and curb inflation.
Ukraine's currency, the hryvnia, has lost more than a third of its value against the U.S. dollar since Jan. 1, complicating efforts to stabilize the country's economy.
Exports have declined dramatically as the country's new government tries to avoid collapse, and foreign exchange reserves are down sharply.
The International Monetary Fund has approved an $18 billion loan for Ukraine, but it's not clear the action will calm investors unnerved by a widening conflict between Kiev and Moscow.
Related story: Russian ruble rattled by renewed Ukraine unrest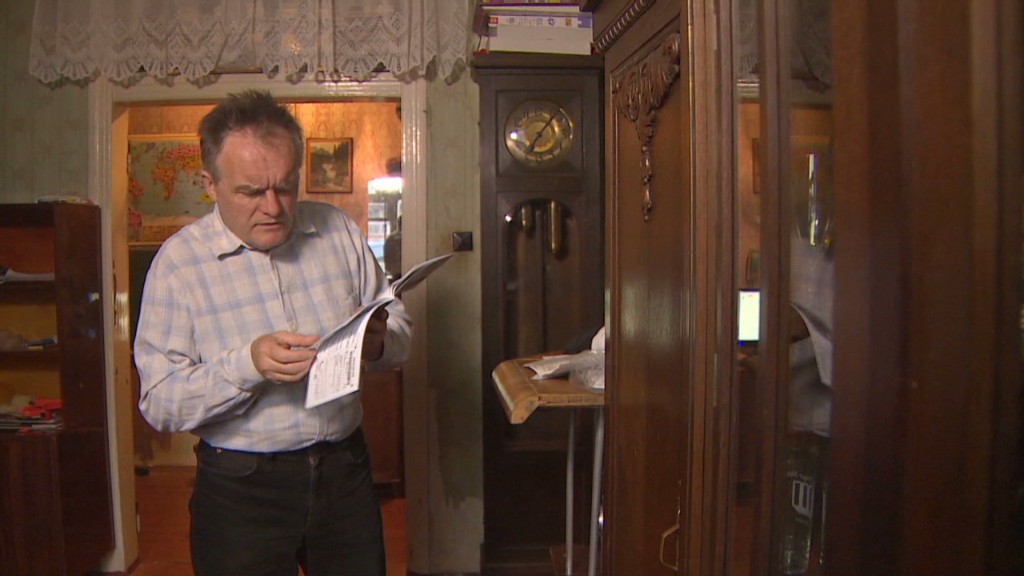 Ukraine and Western nations are accusing Russia of deliberately trying to destabilize parts of eastern Ukraine ahead of national elections in late May. Russia's foreign minister Sergey Lavrov has denied that Russian forces were active in the east.
Last month, Russia took control over Ukraine's Crimea region.
Related story: Investors dip a toe back in emerging markets
The central bank action to defend the economy came as Germany's RWE (RWEOY) said it was starting to pump natural gas to Ukraine via Poland.
Ukraine relies on Russian gas, but owes at least $2.2 billion in arrears. Last week, Russian President Vladimir Putin threatened to cut off gas exports to Ukraine.
"RWE believes that further significant volumes could be delivered to Ukraine if various transport restrictions at the Slovakian/Ukrainian border are politically and technically resolved within the next weeks or months," the company said in a statement.
Supplies from western Europe could ease the pressure on Kiev if Russia follows through with its threat.
Related: Germany outlook sours on Ukraine concerns
Western nations, in an attempt to protect Ukraine and punish Russia, have issued sanctions against some individuals and firms responsible for the unrest.
British foreign secretary William Hague said Monday that more sanctions may be needed.
"Further sanctions have to be the response to Russia's behavior," Hague said at a meeting of European Union foreign ministers.
Hague said the ministers would need to negotiate "much more far-reaching" punishments against Moscow.