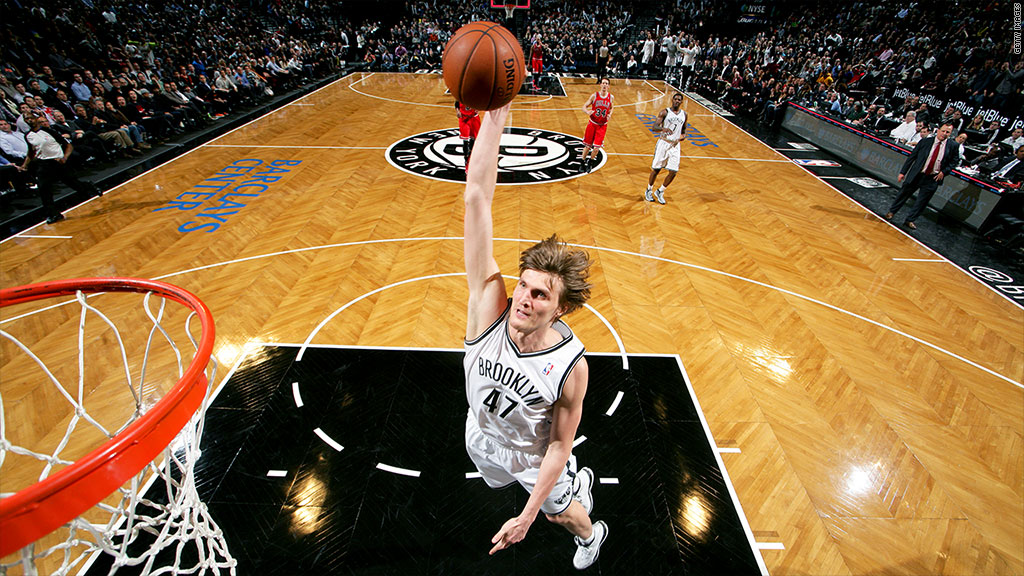 Andrei Kirilenko, the National Basketball Association player known as AK-47, plans to open five Hooters franchise restaurants in his native Russia.
Kirilenko, a player for the Brooklyn Nets, told CNNMoney his first restaurant will open in Moscow on April 26.
Russians are "very into sports," he said, but there aren't many affordable sports bars in the country -- they're typically expensive and cater only to wealthy customers. What's missing, according to Kirilenko, is a Hooters franchise.
"We want to see a good quality sports bar with good American flavor. It's definitely a good time," Kirilenko said. "Some people think it's a strip club, but it's not....You have a nice girl, she's bringing you food, obviously beer. It gets you in a good mood to watch the game."
Hooters spokeswoman Kelly Propst confirmed that the 6-foot-9 player is a franchisee, and his restaurant will be the first Hooters in Russia. After the Moscow debut, Kirilenko plans to open four more Hooters restaurants in Russia over the next three or four years, she said.
Related: Playing college sports a tough job with long hours
Kirilenko, 33, signed on with the Nets as a free agent last year and is now in a contract lasting through 2015. His nickname stems from his initials and the numeral 47 on his jersey.
The AK-47 is the well-known assault rifle invented in the former Soviet Union by Mikhail Kalashnikov, who died last year.
Hooters is an international chain of sports bar restaurants owned by Chanticleer Holdings (HOTR).
The chain is also known for the so-called Hooters Girl waitresses, who serve masculine-friendly fare like beer and wings while wearing skimpy orange shorts. As part of its aggressive branding, the company offers a calendar of Hooters Girls and once had an airline called Hooters Air.
Related video: From Hooters Girl to corner office
The company on its website says that it is proud of its 300,000-plus alumnae who graduated to become "mothers, wives, career-minded businesswomen and entrepreneurs, many becoming doctors, lawyers, authors, government officials and community leaders."
The chain originated in Clearwater, Fla., and has 430 restaurants located throughout the U.S. as well 27 other countries, including Mexico, China, Japan, Singapore and South Africa.