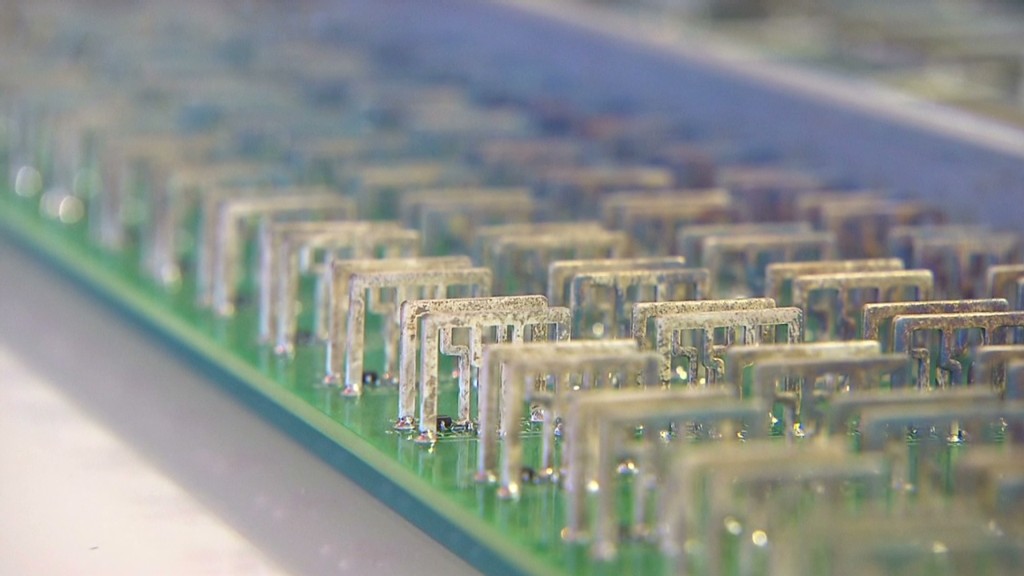 Aereo is a streaming video service that costs $8 a month. It is a new way to watch and record shows on local television stations.
Now Aereo's legality is before the Supreme Court. Is it, as Aereo argues, a legal and innovative way for consumers to get more control over how they watch TV? Or is it what some of the country's biggest broadcast networks say -- a business built on a blatant violation of copyright law?
How does it work? Using thousands of miniature TV antennas, Aereo scoops up the freely available signals of local stations. Then it delivers the signals to smart phones, tablets or computers via the Internet. Subscribers pick what to watch through a traditional on-screen guide. They can also record shows and stream them later.
Where is Aereo available? Aereo started in the New York City metropolitan area. It is now online in New York and 10 other markets, including Atlanta, Boston, Dallas, Detroit, and Miami.
What can you watch with it? Users can watch pretty much whatever is broadcast over the public airwaves in a given area. In New York, that includes major networks like ABC, CBS, Fox, NBC and Univision, as well as an assortment of public access programming. The service also includes one cable channel, Bloomberg TV.
What can't you watch with it? Anything on cable (with the exception of Bloomberg TV). Cable channels are not beamed across the public airwaves, so they are not available to Aereo. Some Aereo users also subscribe to video-on-demand services like Netflix to supplement what they can see through Aereo.
If you can't watch cable TV with Aereo, what's the point? Nielsen says the average American watches more than five hours of TV a day. Cable and satellite subscriptions make this easy to do.
Watch: Comcast's future for your TV
But for those who watch less and don't want to pay for a bundle of cable channels, Aereo may provide a useful alternative to cable or an antenna. The service also makes TV more portable: An Aereo subscriber can start watching a network TV morning show on a smart phone at home and keep watching on the way to work or school.
Who is using it? Aereo has never disclosed how many subscribers it has. That has spurred speculation it has a small user base, possibly in the tens of thousands. Right now, what Aereo represents is more important than what Aereo actually is.
Why are broadcasters trying to shut it down? Aereo undermines an important revenue stream for local stations: retransmission fees. Right now, cable and satellite companies pay stations for the right to retransmit their signals, even though the signals are available for free over the public airwaves. Aereo doesn't pay those fees.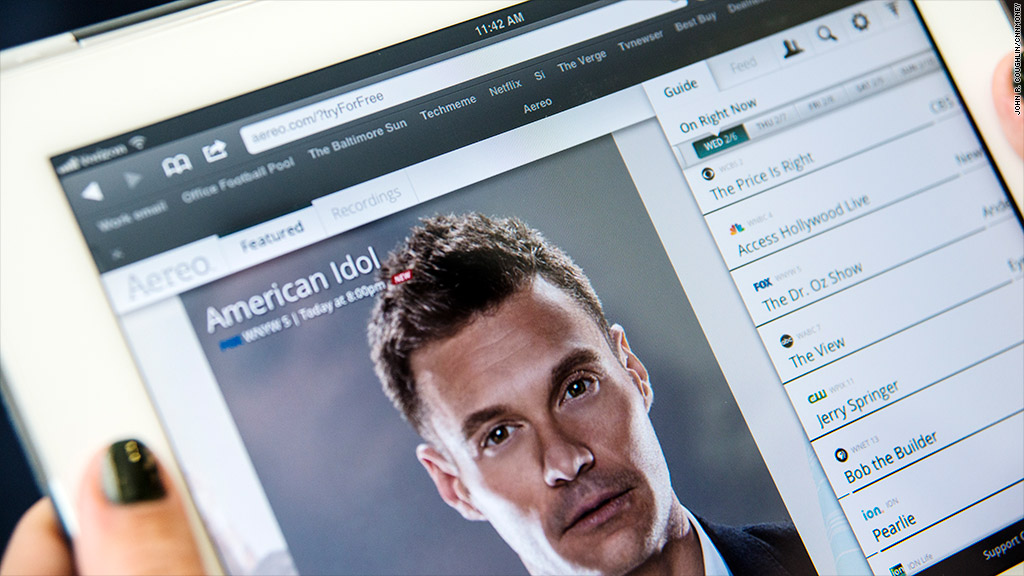 Broadcasters says Aereo is violating copyright law because it is publicly performing TV shows without the permission of the copyright holders. Aereo says its streams do not meet the legal definition of "public performances" because each user tunes an individual antenna. (Time Warner, the parent company of CNN and this website, has filed papers with the court siding with the broadcasters.)
Who's right? The Supreme Court will hear arguments in the case on Tuesday. The court is expected to rule sometime this summer.