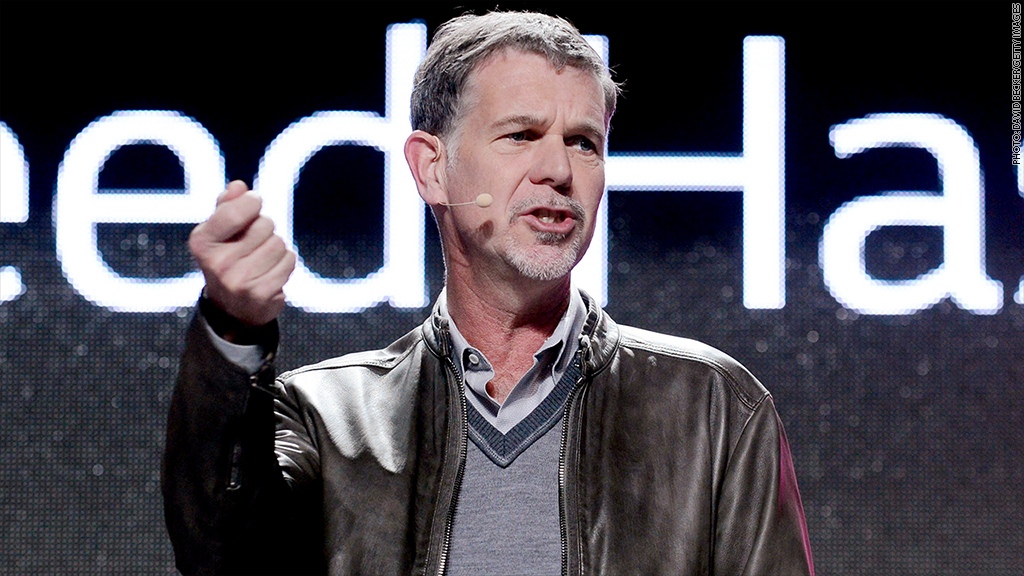 Netflix prices are going up.
The streaming video company said Monday that it planned to increase subscription prices for new customers by one or two dollars a month within the next few months. Existing subscribers will be able to continue at their current rate "for a generous time period," Netflix (NFLX) said.
U.S. streaming subscribers currently pay $7.99 a month, a plan introduced back in 2010. The company raised monthly fees for new subscribers in Ireland by one euro back in January, a change that it said had "limited impact."
Related: Supreme Court case could change how you watch TV
"If we want to continue to expand, to do more great original content... we have to eventually increase prices a little bit," Netflix (NFLX) CEO Reed Hastings said in a conference call with analysts Monday.
The news came as part of Netflix's first-quarter earnings announcement. Shares surged 6.6% in after-hours trading Monday, after another quarter of strong subscription growth and earnings that came in ahead of analyst expectations.
Netflix added 2.25 million new streaming subscribers in the first three months of the year, just a shade off pace from the fourth quarter of 2013, which was its best in three years. The service now has nearly 36 million subscribers in the U.S. and over 48 million globally.
Netflix has made a splash with its foray into original programming, led by "House of Cards', the second season of which debuted in February. Season 2 of another Netflix series, "Orange Is The New Black," is coming June 6.
The online video business is becoming increasingly competitive, however, with streaming services like Hulu, HBO Go and Amazon's (AMZN) Prime Instant Video. Questioned about this competition Monday, Hastings said that he was a Prime subscriber, and that he viewed it and similar services as "complementary to Netflix."
"We're building this ecosystem together that's about Internet video," Hastings said. "The more players there are in Internet video, the bigger that ecosystem gets.... and we're all participating in that transformation."
Related: Your Internet security relies on a few volunteers
Netflix has also been in the headlines because of a public spat with Internet service providers including Comcast (CMCSA), Verizon (VZ) and AT&T (T) over flagging streaming speeds.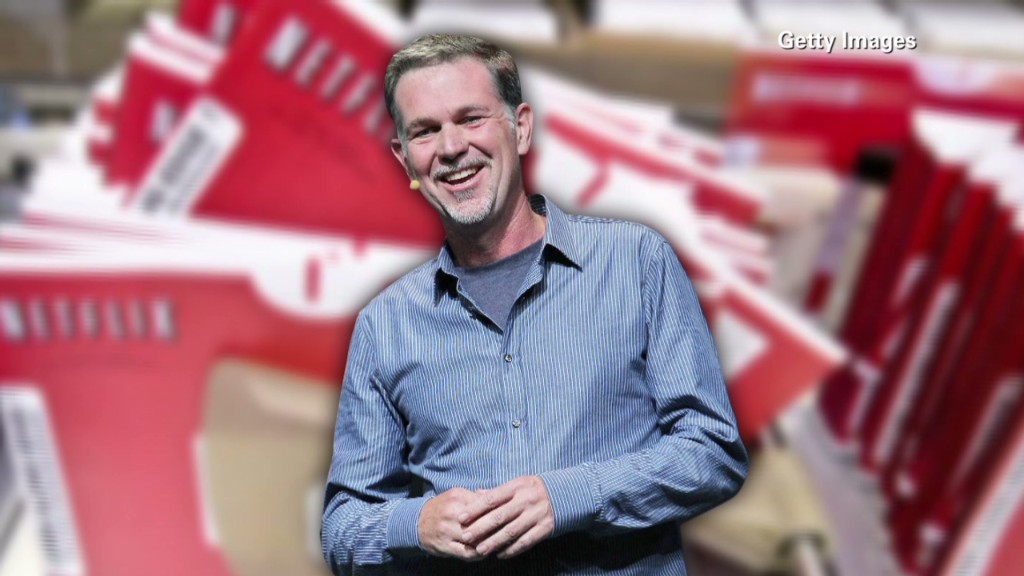 The ISPs want Netflix to help bear the cost of delivering its data-heavy content by paying a fee to connect directly to their networks; Netflix says that responsibility belongs with the ISPs, though it reluctantly agreed to a connection deal with Comcast earlier this year.
In the letter to shareholders released Monday, Hastings and Netflix CFO David Wells returned to this dispute, accusing ISPs of "driving up profits for themselves and costs for everyone else." The Netflix executives came out strongly against the pending merger of Comcast and Time Warner Cable (TWC), which would unite the nation's two largest cable companies.
"Comcast is already dominant enough to be able to capture unprecedented fees from... services such as Netflix," Wells and Hastings wrote. "The combined company would possess even more anti-competitive leverage."
Comcast responded that Netflix's position "is based on inaccurate claims and arguments."
"Netflix should be transparent that its opinion is not about protecting the consumer or about net neutrality," Comcast vice president Jennifer Khoury said in a statement. "Rather, it's about improving Netflix's business model by shifting costs that it has always borne to all users of the Internet and not just to Netflix customers."