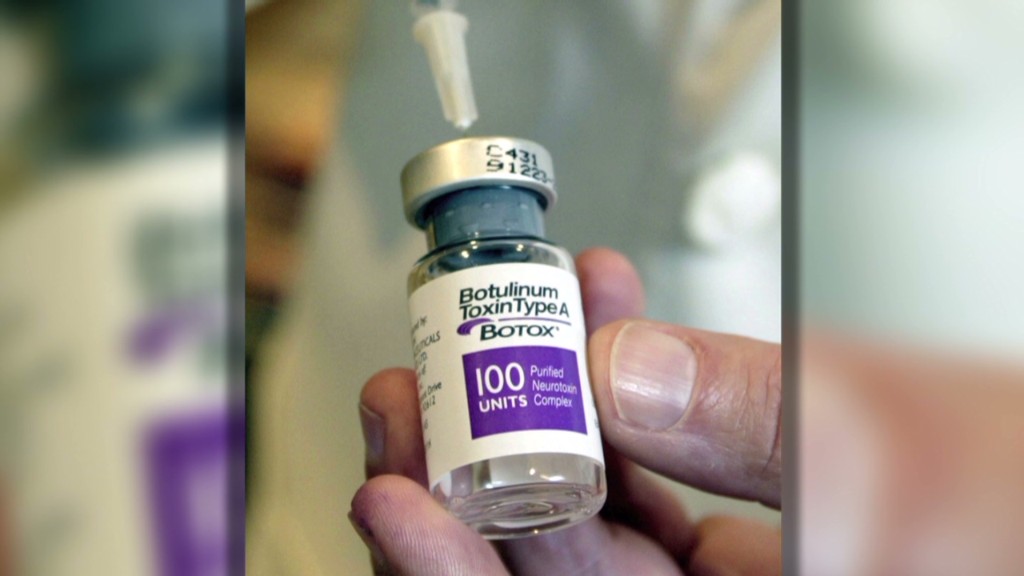 Valeant Pharmaceuticals has teamed up with Bill Ackman to make a multi-billion dollar offer for Botox-maker Allergan as mergers return to drive up shares in the sector.
The cash and stock offer from Canada's Valeant Pharmaceuticals (VRX) is worth roughly $153 per Allergan (AGN) share -- or at least $46 billion in total -- based on Monday's closing price.
Valeant said the deal would create a company with an unrivaled portfolio of opthamology, dermatology and beauty products. The bid has the support of Allergan's largest shareholder, activist investor Ackman and his hedge fund Pershing Square.
Ackman made headlines recently by accusing Herbalife (HLF) of operating a pyramid scheme, and betting big that the company's stock would fall.
"The combination of Valeant and Allergan represents the most strategic and value-creating transaction I have ever analyzed," Ackman said in a statement.
Allergan shares shot up by roughly 15% Tuesday morning in reaction to the bid. Shares surged 6% Monday.
Related: Biotech booms on Wall Street
"Pharmaceuticals have suddenly become interesting instead of boring," said Michael Hewson, the chief market strategist at CMC Markets, noting that there had been a lull in big pharma deals over the last few years.
The offer is part of a renewed rush of M&A activity in the health care sector, with executives pursuing blockbuster deals inspired by increasingly positive investor sentiment and huge reserves of cash.
In Europe, GlaxoSmithKline (GLAXF) and Novartis (NVS) announced a deal Tuesday that will see the firms swap assets worth billions of dollars and combine their consumer health businesses.
Shares in each firm jumped as investors welcomed the news, with the asset trades allowing Glaxo to focus on vaccines while Novartis will specialize in oncology.
AstraZeneca (AZN) shares were also spiking Tuesday in London, responding to reports that Pfizer (PFE) had looked at buying the company for £60 billion ($100 billion). Some think an offer may yet come.
The latest flurry of M&A activity is also inspired by the expectation that low interest rates are not going to last for much longer, said Hewson.
"If you take the position that the era of low interest rates is going to come to an end... then the best time to raise money or raise debt to fund an acquisition is probably now," he said.
Valeant said it was borrowing $15.5 billion from Barclays and RBC Capital Markets to help fund the Allergan takeover.
As the U.S. economic recovery gathers pace, the Federal Reserve is winding down measures that are designed to stimulate the economy by holding borrowing costs low.