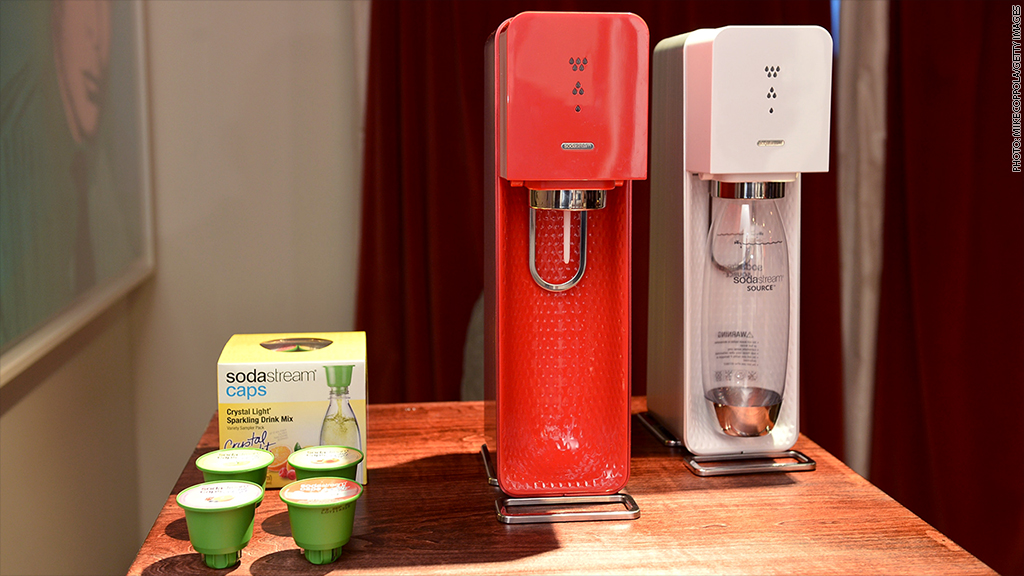 Investors guzzled down shares of SodaStream International on Wednesday amid speculation the Israeli company could sell a stake to coffee giant Starbucks.
The stock popped 14%. It's the latest in a series of rallies fueled by reports the household soda-machine maker could team up with a power player in the beverage businesses.
Coca-Cola (KO) took a 10% stake in rival Kuerig Green Mountain Coffee (GMCR) earlier this year, adding to the speculation.
Israeli business publication Globes said that Starbucks (SBUX) is in "advanced talks" to buy a 10% stake in SodaStream (SODA) that would value the company at $1.1 billion. That represents a 30% premium on SodaStream's market cap of $844 million as of Tuesday's market close.
Spokespeople from both Starbucks and SodaStream declined to comment on "rumors or speculation."
Investors should note that SodaStream's shares have previously enjoyed fleeting rallies in response to reports about a tie-up with a beverage maker.
SodaStream rallied double-digit percentages last week after a different Israeli newspaper said the company was meeting with large soft drink makers. The newspaper said possible buyers include PepsiCo (PEP), Dr. Pepper Snapple Group (DPS) and Starbucks.
Despite the recent bounces, SodaStream's stock is still down over 7% this year.
Last year there were reports that PepsiCo was considering buying SodaStream outright for more than $2 billion.
Coca-Cola's decision to take a 10% stake in SodaStream rival Keurig Green Mountain Coffee in February has shaken up the beverage industry and sparked expectations of follow-up deals.