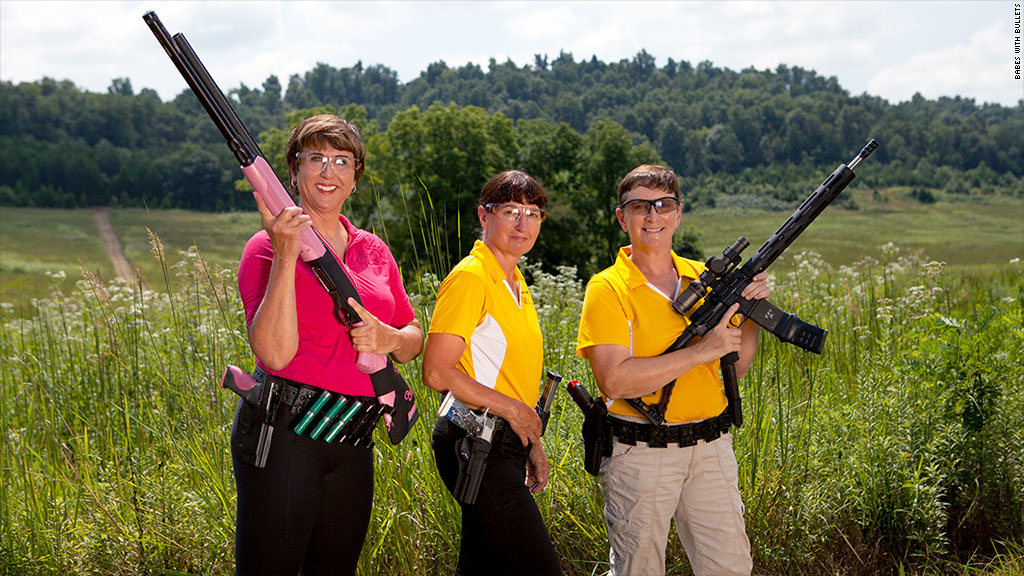 If you're a woman, and you're licensed to shoot, then your skills are in hot demand.
The market for female gun instructors is booming as more women want to learn to shoot -- both for self defense and for sport, said Tina Wilson-Cohen, who owns She Can Shoot, an all-women firearm and self-defense training business in Fairfax, Va.
"When I started training women in 2007, there weren't many female instructors," she said. "Now you're not the only name in town."
The National Rifle Association, noting the burgeoning market opportunity, is trying to boost its ranks of 8,000 NRA-certified female instructors, said spokesman Andrew Arulanandam.
In 2009, the NRA organized 280 "Women On Target" training clinics nationwide, and 8,000 women signed up. In 2013, the group held 450 clinics for 12,000 women.
While Arulanandam said self protection is still the primary reason women take up gun training, he said they're increasingly realizing "that they'd like to pursue it for activities like target shooting or skeet shooting."
Related: For the gun industry, women are next big thing
Alecs Dean offers several NRA-certified courses at his range in Fort Myers, Fla. In the last two years, two-thirds of his clients have been women compared to just a third five years ago.
Since 2012, Dean has offered a 50% discount to women who enroll in his instructor training course.
"We need more women instructors," said Dean. "They bring a perspective that men don't have when it comes to their self defense. It could be something simple like knowing which side a woman typically carries her purse."
And the perspective is appreciated by his male students as well -- many even prefer a female instructor.
But many of the female-oriented shooting groups use a women-training-women model.
"There's no ego involved," said Deb Ferns, a co-founder of Babes with Bullets. "Women instructors demystify the language, they're more patient and more nurturing."
The company, which offers training camps across the country, was started in 2004, but its popularity has recently exploded, said Ferns.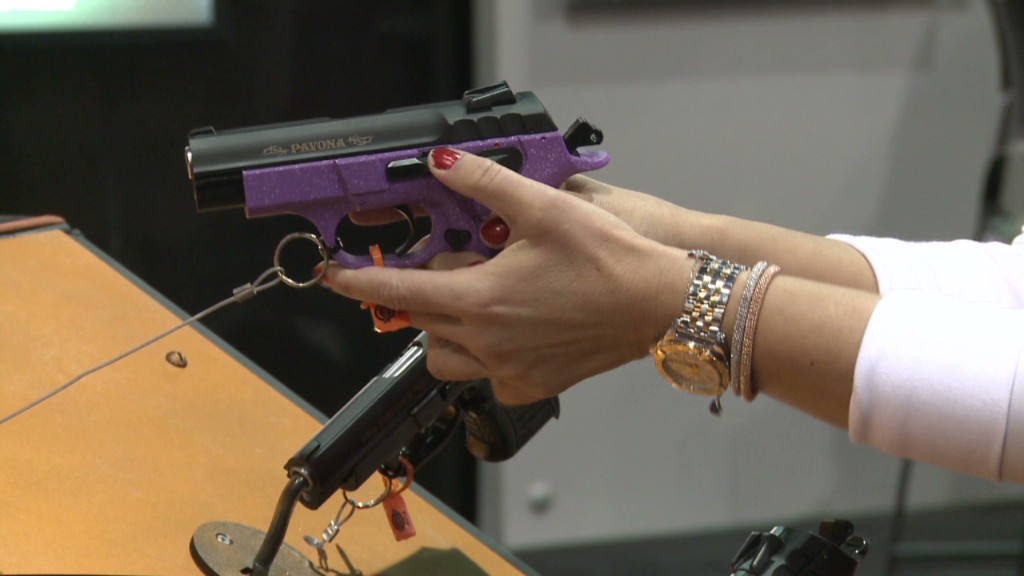 "Since 2011, we started getting so many inquiries that we had to hire someone just to keep up with the demand," she said.
While she's now a competitive shooter, Ferns, 59, didn't pick up a gun until she was 45 and her daughters left for college.
"I wanted to take up something that my husband and I could do together," she said. "I wanted ballroom dancing, he wanted shooting sports."
Now, Babes with Bullets conducts 24 camps a year (a mix of three-day intensives and one-day sessions), and has over 4,000 alumni ranging from 24 to 74 years old. "80% of them have never touched a gun," said Ferns. "They're professional women, real estate agents, nurses and young divorcees."
In many states, the three-day camp (which costs $750) certifies participants for a conceal-carry permit.
Last month, Babes with Bullets held two camps for female oil workers and residents in Minot, N.D., a small town that's seen a surge in its population because of the oil boom. Ferns said 24 women attended the camps.
"When you get a lot of oil money to a tiny town and the population explodes, it also brings with it a sudden increase in crime," said Ferns.
Wilson-Cohen has also seen a huge spike in demand since launching She Can Shoot in 2010.
"I advertised it on social media. Within 24 hours I had 99 inquiries," said Wilson-Cohen, who had spent 22 years in law enforcement. In just four years, her business has ballooned into a franchise in 12 states with 4,000 alumni.
She estimates a 20% increase last year in the number of women who trained with her group.
"More women are financially independent now and they're staying single longer," said Cohen-Wilson. "They're not relying on a man in the house for protection."