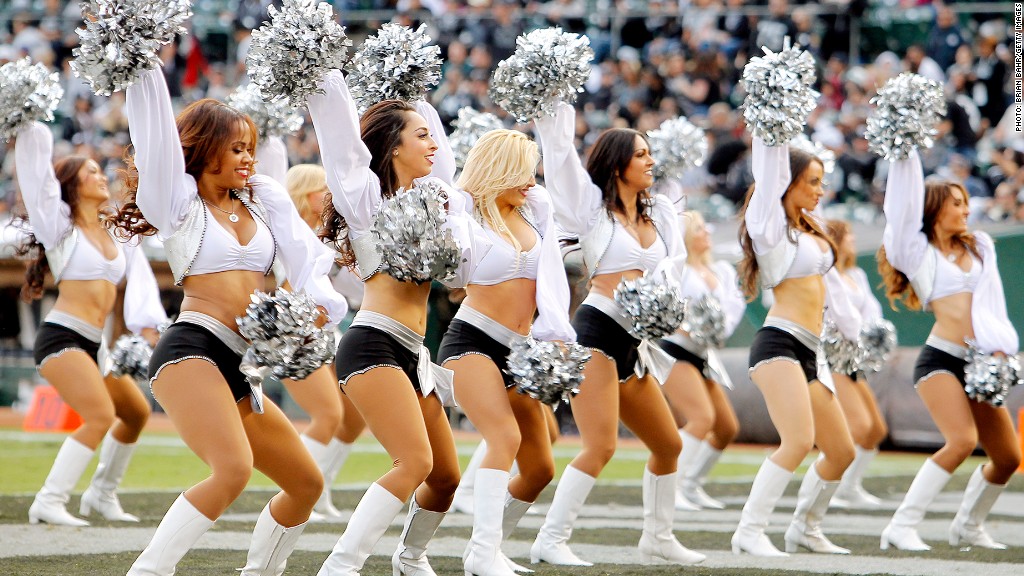 Cheerleading isn't as glamorous as one might think.
Several current and former cheerleaders are suing their NFL employers over pay.
Three separate suits filed against the Oakland Raiders, Buffalo Bills and Cincinnati Bengals describe contracts that don't guarantee the minimum wage and claim the cheerleaders are vastly underpaid.
The suits say cheerleaders also aren't compensated for equipment they must buy, practices they must attend and community appearances they must make. Cheerleaders must meet exacting hair, makeup and uniform standards set by the team and keep up with physical fitness requirements, according to court documents.
One former cheerleader for the Cincinnati Bengals, Alexa Brenneman, said she was paid no more than $90 for each game and worked 10 games. Including $75 for a public appearance, she said she was paid $855 for the 2013 season and worked "well over 300 hours a year."
Including the games, practices and other events, she calculated her hourly wage at $2.85.
Team spokesman Jack Brennan responded, "The Ben-Gals cheerleading program has long been a program run by former cheerleaders and has enjoyed broad support in the community and by members of the squad." The team's attorneys filed documents in federal court which argued Brenneman "has been paid all wages allegedly due" under state and federal law.
The case against the Raiders, which was filed in January, is tied up in court over a stipulation in the cheerleading contract that disputes be settled in arbitration, said attorney Sharon Vinick, who represents a former Raiders cheerleader named Lacy T.
Related: Cheerleader sues Oakland Raiders over wages
"This is our dream job, we work extremely hard to be on this team and to maintain our spot on this team," Lacy T., who is suing the Raiders, told CNN. The team declined to comment when the suit was filed and didn't respond to a new request for comment last week.
The lawsuit against the Bills, filed by five former members of its cheerleading organization the "Jills," said "each individual Jill provides approximately 20 hours of unpaid labor per week ... This equals 840 hours of unpaid work per woman, per year."
They claimed they were paid only a few hundred dollars for an entire season, which includes about eight regular season games, plus some preseason play.
A spokesman for the Bills said the team was aware of the lawsuit but would not comment on it publicly.
Related: FCC considers scrapping 'blackout rule'
The central legal question in the disputes is if the cheerleaders were properly categorized as independent contractors, who aren't subject to certain regulations like minimum wage, or should have been considered employees.
Several experts said it's likely the cheerleaders weren't paid fairly.
"If it had been my client, I never would have told them to make (the cheerleaders) independent contractors," said Deborah Kelly, a partner at Dickstein Shapiro a law firm that typically represents companies in employment disputes.
"Cheerleaders are certainly employees," said Justin Swartz of Outten & Golden. "They're providing a benefit that directly entertains the fans, just like the players," Swartz, who typically represents people who sue their employers, said.
Stewart Schwab, a dean and professor at Cornell, said the distinction between an employee and contractor is the amount of supervision and direction that the employer provides.
"The more they're required to do and the more they're required to show up at particular times and work with others in a coordinated fashion and listen to a boss, the more they're sounding like employees," Schwab said. "I think there's quite a bit to that suit."
Even if the cheerleaders should have been considered employees, there are are some narrow exceptions to the federal minimum wage, such as for seasonal employees and small businesses.