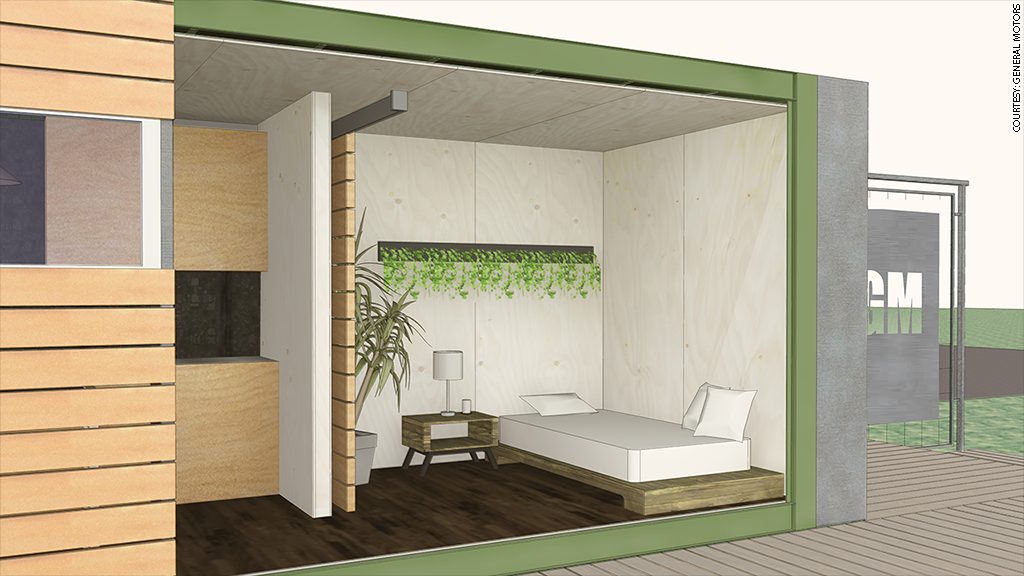 From shipping container to cozy two bedroom.
GM (GM) has teamed up with a sustainable agriculture group to build what it calls "the first shipping container homestead" in Detroit, complete with a working farm.
But it's far from a "Little House on the Prairie."
This home is made from a shipping container donated by the Michigan Urban Farming Initiative, GM's partner in the project, while the bulk of the building supplies will be supplied by the automaker.
In fact, 85% of the home's materials will come from scraps collected at GM plants. For instance, it will be insulated with sound-proof car insulation, while plywood from large shipping crates will be used on the interior walls and Chevrolet battery cases will be repurposed as bird houses and planter boxes.
Related: How Chevy Volts are made
"The idea is to show that a container can be turned into a home. It's also about taking an area that had urban blight and making it into productive farmland," said Dave Darovitz , a GM spokesman at the Detroit-Hamtramck GM plant.
The Hamtramck plant makes the Chevy Volt, Cadillac ELR, Opel Ampera, Chevy Malibu, and Chevy Impala models.
The recycled home will be about 40 feet long, eight feet wide and 10 feet tall, and will feature 320 square feet of living space with two bedrooms, a bathroom and kitchen.
When it's finished this spring, a university student will live in the home year-round and manage the farm while conducting agricultural research.
Related: GM: Steps to a recall nightmare
The effort is the sort of good news that has been short supply for GM lately as it battles its ignition switch recall crisis.
Last week the automaker said that virtually all of its first-quarter profits were wiped out by the $1.3 billion it had to take for the recall.
CEO Mary Barra recently announced that the automaker created a new global product integrity unit to ensure that a "situation like the ignition-switch recall doesn't happen again."
GM's faulty ignition switch has been tied to at least 13 deaths.