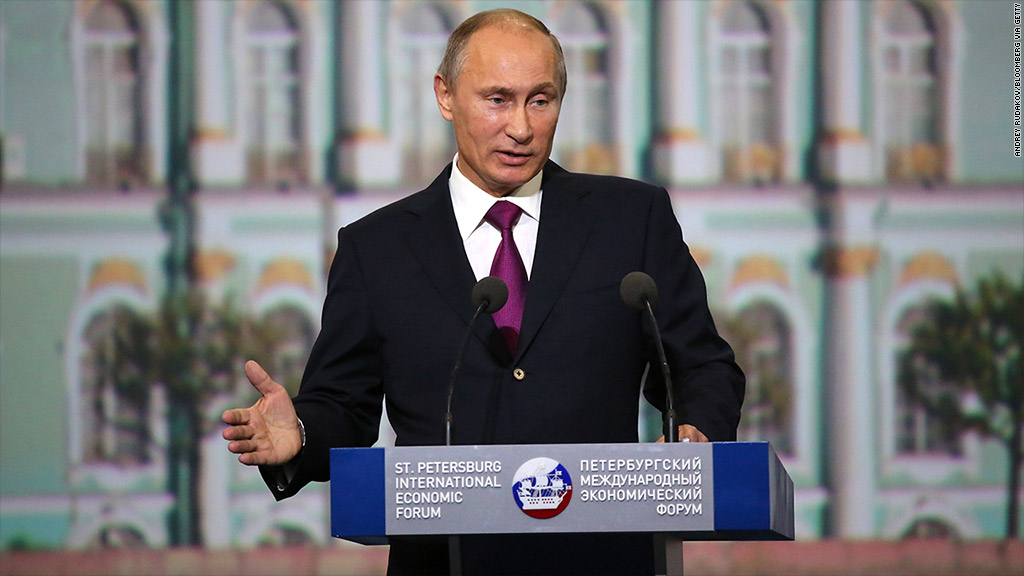 American chief executives are being urged by the White House to stay away from Russia's annual economic showcase.
Hosted by President Vladimir Putin in St. Petersburg -- the former capital of imperial Russia -- the event typically draws 100 global CEOs eager to network with officials, party with clients, do deals with oligarchs or just enjoy a night at the ballet.
The St. Petersburg International Economic Forum, which runs for three days starting May 22, has been compared to the annual January gathering of world leaders and executives in the Swiss resort of Davos. This year will be a much more subdued affair, however.
The West has slapped sanctions on dozens of Russian officials over the crisis in Ukraine, including some members of Putin's inner circle.
The United States has also targeted 18 Russian companies with sanctions, and warned of tougher measures aimed at critical sectors of the economy if Moscow fails to use its influence to reduce separatist violence in eastern Ukraine.
Related: Sanctions-lite won't move Russia
White House spokesman Jay Carney said the U.S. administration was making clear in conversations with American firms that it would be inappropriate for senior executives to make the trip to St. Petersburg.
And Laura Lucas Magnuson, a spokeswoman for the National Security Council, said "senior business executives traveling to Russia to make high profile appearances with Russian government officials at events such as this would send an inappropriate message, given Russia's behavior."
GE (GE) CEO Jeff Immelt won't be going, unlike last year. A spokesman said this is because he is due to give a speech in Florida earlier that week.
Citigroup (C) CEO Michael Corbat, who also went last year, has withdrawn. "While our CEO is not able to attend SPIEF this year, Citi will have several representatives at the forum," said spokesman Mark Costiglio.
Similarly, Alcoa (AA) CEO Klaus Kleinfeld has also dropped plans to attend, but the company will participate, said spokeswoman Monica Orbe.
"In light of the U.S. government's requirements, Alcoa has adjusted its attendance at the St. Petersburg International Forum and will participate via its most senior Russian executives," Orbe said.
According to a list of participants on the forum's website, the CEOs of Goldman Sachs (GS) and Morgan Stanley (MS) still plan to go. Both banks declined to comment. But a person familiar with the situation said Goldman's Lloyd Blankfein was "unlikely to attend."
Related: Full coverage of Ukraine crisis
"We regret the refusals by CEOs of some American companies to participate ... owing to the unprecedented pressure that the U.S. administration is exerting on business," said Sergey Belyakov, Russia's deputy minister of economic development and one of the forum's organizers.
Belyakov said the withdrawals would not affect the quality of the forum, nor Russia's dealings with the companies concerned.
Caterpillar (CAT) and Boston Consulting Group said their top executives would go but the companies are monitoring the situation closely.
Some U.S. companies may be getting cold feet about attending, but there's no evidence that European executives are prepared to miss the economic event of the year in an important growth market for their exports. For them it appears to be business as usual.
"Unless Russian troops cross the [Ukrainian] border, we are not making contingency plans for the Europeans," said a source familiar with the forum's program and organization.
Related: Europe leans more heavily on Russian gas
German energy group E.ON (EONGY) is sending its chief executive, as are French engineering firm Alstom (ALSMY) and Dutch electronics and healthcare company Philips (PHG).
"Dialogue with all our stakeholders and customers across the globe is crucial, and in addition, Philips has been active in the Russian market since the end of the 19th century," said Philips spokeswoman Eeva Raaijmakers, adding the company was closely monitoring the situation.
Danish brewer Carlsberg (CABGY) plans to send its CEO, a spokesman confirmed.
BP (BP), which owns a big stake in Russian oil giant Rosneft, declined to comment, as did Shell (RDSA). Finnish energy company Fortum also declined to comment.
The executives that do make it to St. Petersburg will find it much harder to do business there than last year. Fear that the Ukraine crisis could escalate, leading to a more serious trade war and even deeper isolation for Moscow, has sparked a flight of capital from Russia, tipping the already slowing economy into recession.
-- CNNMoney's Alanna Petroff contributed to this article.