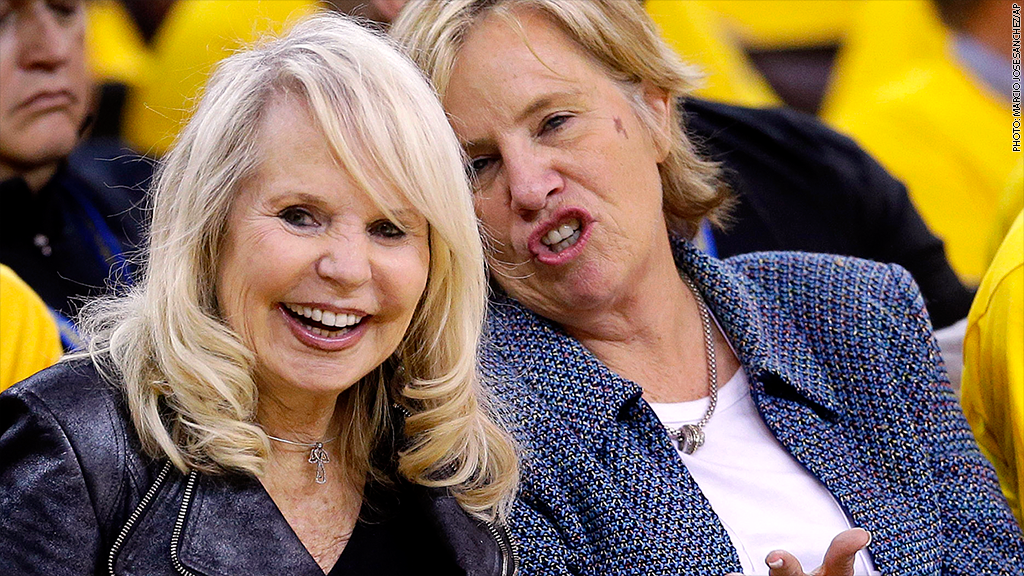 Shelly Sterling, the estranged wife of L.A. Clippers owner Donald Sterling, is in talks with the National Basketball Association about retaining her 50% ownership in the team.
Pierce O'Donnell, the attorney for Sterling, told CNN that she wants to retain her interest in the team, even though her husband is being forced out. O'Donnell said she is not interested in taking an active role in managing the team, nor would she participate in decisions over trading players.
"(Donald Sterling)'s out of the team, has nothing to do with it. And she's the owner in charge," O'Donnell said.
NBA Commissioner Adam Silver on April 29 imposed a lifetime ban on Donald Sterling, fining him $2.5 million and asked the league's other owners to force Sterling to sell the team after he was recorded making racist comments to his girlfriend. But Silver said at that time that the punishment did not apply to Sterling's family members.
"This ruling applies specifically to Donald Sterling and Donald Sterling's conduct only," he said at the press conference.
Related: Clippers sale will bring many bidders, huge payday
Since Silver's announcement, several high profile bidders for the team have emerged. A spokeswoman for Oprah Winfrey said she had been in contact with media mogul David Geffen and Oracle (ORCL)CEO Larry Ellison about a joint bid. Geffen's spokesman also confirmed his interest. Retired boxer Oscar De La Hoya has also said he wants to make a bid.
Sterling reportedly bought the team for only $12 million in 1981. Its current value is estimated at $575 million by Forbes, which tracks team valuations. But Patrick Rishe, a professor of sports business at Webster University, said the team is worth at least $750 million, and that a bidding war could take the sales price up to $1 billion or more.
O'Donnell said Shelly owns half the team through a family trust with Donald Sterling. He said they have not lived together for more than a year.
"Mrs. Sterling has denounced in the strongest terms possible her husband's racist comments," he said.
Related: What Sterling ban means for Clippers' finances
So far the NBA has declined to comment on reports about Shelly Sterling's interest in hanging on to a stake in the team.
O'Donnell also denies allegations made in depositions in a housing discrimination case brought against both Sterlings that charged that she has made racist comments of her own.
"Those are depositions. They're one sided. No one has asked for her position," he said "I will state it categorically. She has never ever engaged in discrimination."
She and her husband, who made their fortune in real estate, were both named as defendants in a housing discrimination case brought by the Justice Department in 2006. Donald Sterling settled the case in 2009 with a record $2.8 million fine, but with no admission of guilt.