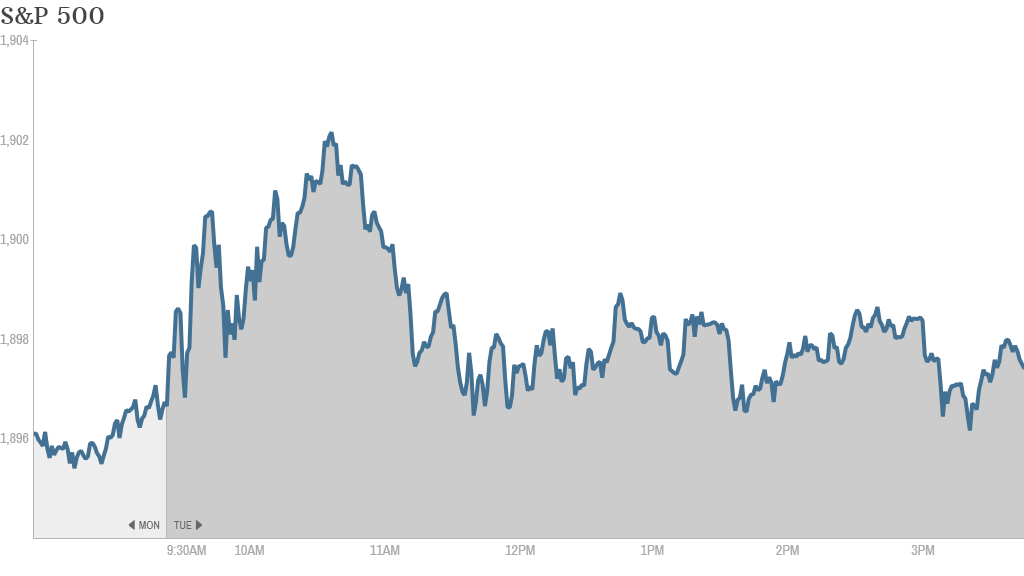 Another day, another record for stock prices.
The S&P 500 touched 1,900 for the first time ever on Tuesday, although the index closed just below that threshold, and the Nasdaq lost some ground.
This marked the third consecutive record close for the Dow Jones industrial average (16,715) and S&P 500 (1,897), while the Nasdaq continues to underperform its peers this year amid a rotation away from momentum stocks, especially in tech.
The S&P 500 has achieved recent milestones at a very fast pace.
After first crossing over the 1,500 line in March 2000, it took the S&P 500 13 years to eclipse the 1,600 mark, according to S&P Dow Jones Indices. But the broad index then logged the next four round number milestones all in the past year.
Related: CNNMoney's Fear & Greed Index back to neutral
There was very little volatility on Tuesday, as evidenced by the Dow's extremely tight trading range of less than 40 points.
The early enthusiasm in the market was muted a bit by an economic report that showed consumer spending slowed in April. Despite warmer weather in the spring, consumers didn't open up their wallets as much as Wall Street hoped. U.S. retail sales inched up just 0.1% last month, trailing forecasts for a 0.4% rise.
In response to the disappointing data, consumer discretionary stocks were among the weakest performers on Tuesday.
Investors shed exposure to a number of retail stocks, including Dollar Tree (DLTR) and Target (TGT). Earnings reports from J.C. Penney (JCP) and Nordstrom (JWN) are due out later this week.
Related: Caution! Avoid J.C. Penney stock
The government also said electronics and appliance store sales slid 2.3% last month, driving shares of Whirlpool (WHR) almost 3% into the red.
Consumer financial stocks ran into resistance after a new Fed report showed the amount of credit-card debt outstanding dropped in the first quarter to the lowest level on record going back to 2003. Discover Financial (DFS) and American Express (AXP) both closed lower.
Investors continue to see many power plays at the stock level. They guzzled down shares of Keurig Green Mountain (GMCR), which soared over 7.5% after Coca-Cola (KO) announced plans to boost its stake in the company to 16%. The move represents a vote of confidence from the world's largest beverage maker and follows an initial 10% stake acquired in February.
StockTwits user KidDynamiteBlog said: "if $KO wanted to buy $GMCR couldn't they have done it cheaper by bidding all at once? ie - they're running up their own eventual cost?"
Related: Wall Street 'experts' pick loser stocks
Elizabeth Arden (RDEN) plummeted almost 23% after disclosing a 20% sales tumble and a surprise loss amid weak store traffic. The cosmetics company also tapped Goldman Sachs to explore a possible sale or other options.
DirecTV (DTV) reversed course and ended in the red despite reports indicating AT&T (T) could quickly clinch a $50 billion bid to buy the satellite TV company. Rival Dish Network (DISH) pared early losses and closed narrowly higher.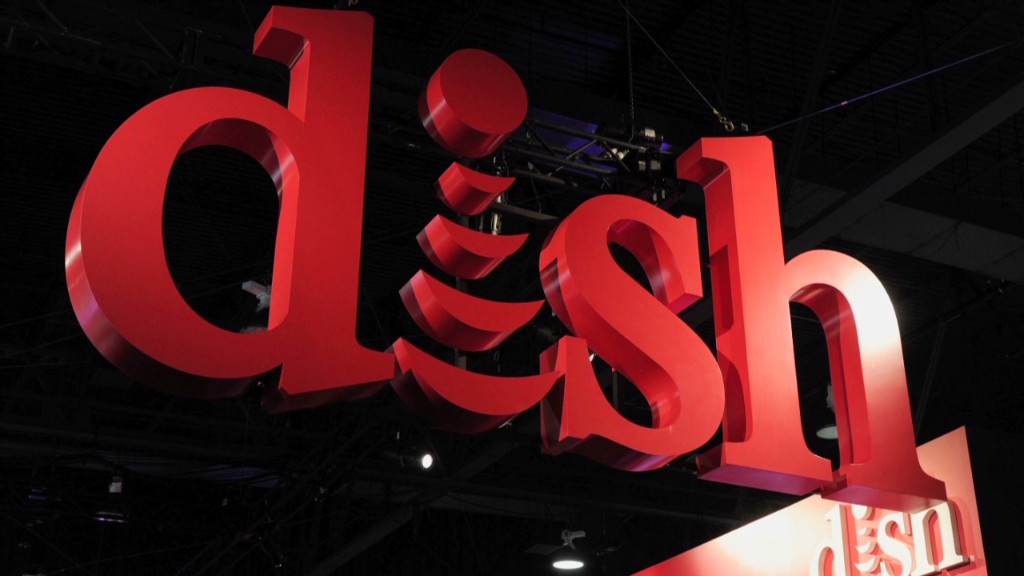 Other Nasdaq stocks struggling include Vodafone (VOD) and TripAdvisor (TRIP).
Mergers and acquisitions continue to drive a lot of the upbeat mood on Wall Street. Valeant Pharmaceuticals (VRX) signaled plans to raise its $46 billion offer to acquire Allergan (AGN), which the Botox maker formally rejected on Monday.
Investors will also be focusing on developments in the pharmaceutical industry. The American drug maker Pfizer (PFE) wants to buy Britain's AstraZeneca (AZN) and both CEOs will appear before a U.K. parliamentary committee to answer questions about the potential takeover.
The earnings front was largely quiet, but Fossil (FOSL) and Take-Two Interactive (TTWO) are on tap to report results after the closing bell.
European markets ended mostly higher after reports that Germany's central bank supports additional stimulus measures from the European Central Bank. Germany's Dax index advanced 0.5%.
In Asia, India's benchmark Mumbai Sensex index surged to a record high Tuesday after election exit polls indicated that voters will deliver a mandate to Narendra Modi and the pro-business Bharatiya Janata Party.
Most other regional markets ended with gains. The Nikkei in Japan jumped by 2%.