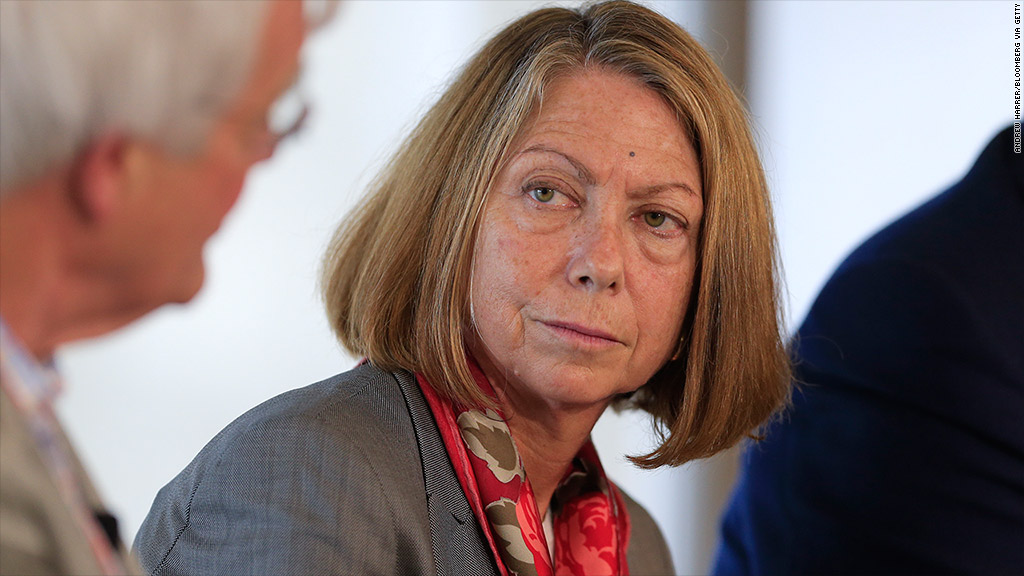 In a move that stunned the media world, the New York Times announced Wednesday that it was replacing executive editor Jill Abramson with her No. 2 in the newsroom, Dean Baquet.
Abramson was named executive editor about three years ago. New York Times (NYT) publisher Arthur Sulzberger, Jr. told employees at a staff meeting that he chose a new editor "because I believe that new leadership will improve some aspects of the management of the newsroom," according to his prepared remarks, which were provided by a spokeswoman.
Sulzberger said his decision to replace Abramson was "not about the quality of our journalism" or "any disagreement over the direction of our digital future."
He said he and Abramson "agreed fundamentally" about the need to expand more online and through mobile apps. What they disagreed about was left unmentioned.
Sulzberger went on to say "that there is nothing more I am going to say about this, but I want to assure all of you that there is nothing more at issue here."
The spokeswoman confirmed that Abramson will not remain at the newspaper. Baquet, who has been Abramson's deputy since 2011, will become executive editor immediately.
At the hastily-called staff meeting, Sulzberger quoted Abramson's predecessor, Bill Keller, who once said of Baquet that he possessed "infectious enthusiasm and aggressive intelligence."
"I agree," Sulzberger said. "Combine that with a passion for journalism, investigative and otherwise; a fierce loyalty to the editors and reporters he leads; and a competitive spirit that inspires all around him to do better. That's Dean Baquet, the executive editor of The New York Times."
Abramson was the first female executive editor of The New York Times. Baquet is its first African American editor.
(Disclosure: I was a media reporter for The New York Times until last November, so I know Sulzberger, Abramson and Baquet.)
Baquet was the Washington bureau chief for The New York Times before he moved to New York to become Abramson's deputy. He joined the paper after being forced out at The Los Angeles Times, where he was editor, in 2006. Baquet had told the publisher of that newspaper that he would not make further cuts to the newsroom staff.
According to staff members who attended Wednesday's announcement in The New York Times newsroom, Baquet said he would be a "hands-on" executive editor who would walk the aisles and talk with reporters and editors.
But the news of his promotion was initially overshadowed by Abramson's exit.
In a statement provided by The New York Times, Abramson said she had loved her time there.
"We successfully blazed trails on the digital frontier and we have come so far in inventing new forms of story-telling," she said.
"Our masthead became half female for the first time and so many great women hold important newsroom positions. Dean has been my partner in all this and he will be a great executive editor. I thank Arthur, who has been a steadfast protector of our journalism, for the chance to serve," Abramson added.