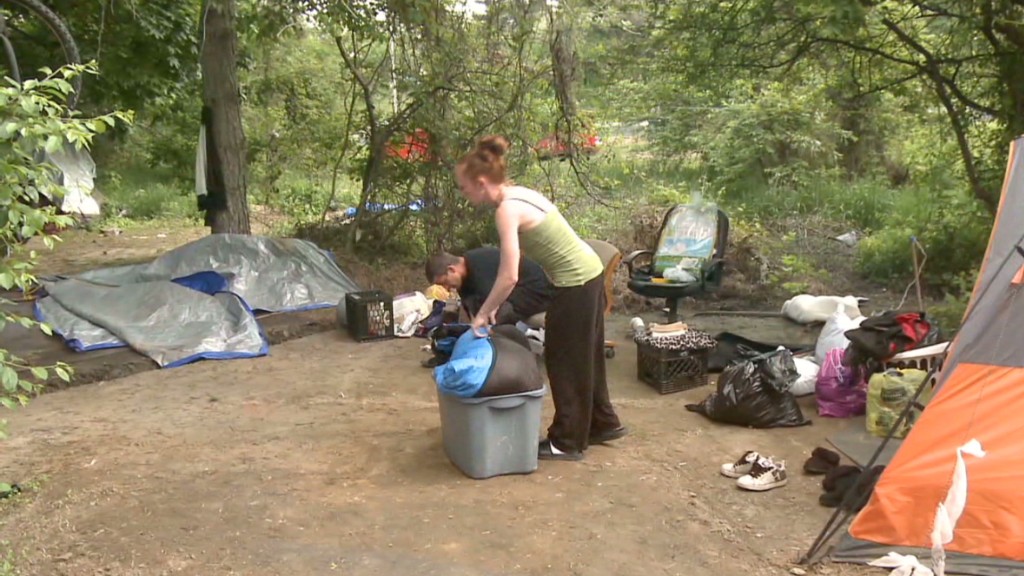 For Michael Powell, a 53-year-old ex-convict, his tent off the highway in Camden, N.J., is what he has called home for nearly a decade.
But on Tuesday, he and dozens of others living in homeless encampments known as "tent cities" throughout Camden were forced out -- leaving many of them homeless all over again.
The eviction was conducted by the state of New Jersey, as well as Camden county and city, for health and safety reasons.
Hazmat teams showed up at the camps in the early morning to search for syringes. A drug-sniffing dog followed a police officer around the area. And bulldozers tossed trash and discarded belongings into dumpsters before razing the premises.
Over the past few weeks, flyers had warned people in the tent cities that this was going to happen. Yet it still seemed surreal to many of them that their communities were about to be demolished for good. And now, many say they have nowhere to go.
Watch: Braving the cold in a Camden tent city
"We're screwed," said Todd, 46, who had been living in a tent for eight months and had no idea where he would be sleeping that night.
Jaki Ross lived with her husband in one of the tent cities and is now worried about becoming a victim of violence or sexual assault on the streets of Camden. "They're taking people out of their safe zone," she said.
Javier Nunez, 48, was packing up his tent around 6:45 a.m., trying to beat the bulldozers.
Trash, old food and dirty clothes were strewn all about as Nunez shoveled a few clothes and toiletries into a plastic tub. Everything else he had acquired over the past two years would have to be left behind. Nunez said he and his girlfriend will likely sleep on the streets.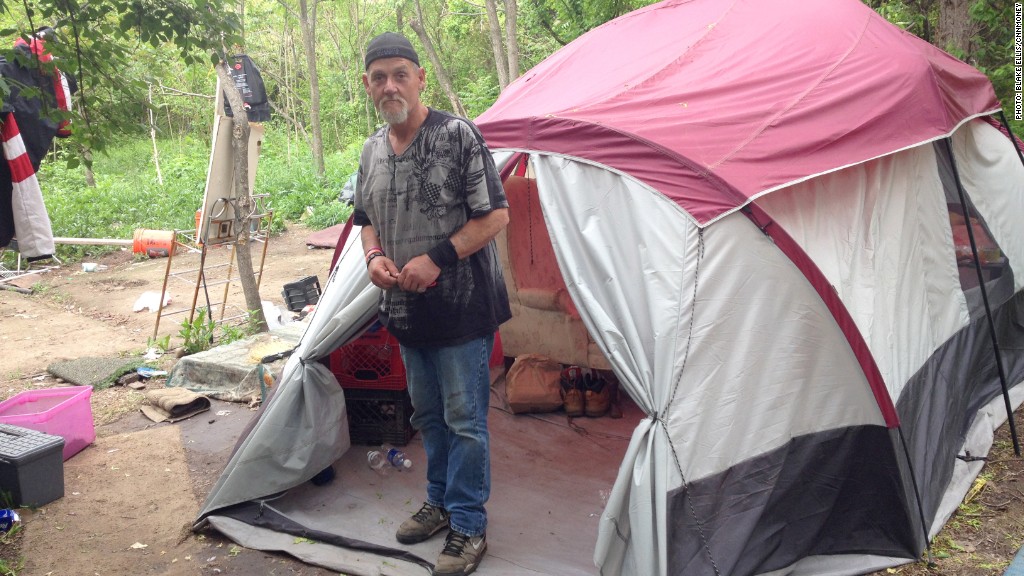 More homeless than shelter beds: Amid the commotion on Tuesday, Gino Lewis, director of housing at the Camden County Improvement Authority, assured people that the county would work to find housing and services.
At one point, a van from a local aid organization, Volunteers of America, pulled up and took three people to its offices to try to figure out options.
But there just aren't enough spaces in Camden's shelters. Plus, some people living in tent cities, because of prior incarceration for certain crimes and other reasons, don't qualify for the subsidies they need to stay in shelters.
Four of the biggest shelters all said they are at capacity most nights. But because of the eviction on Tuesday, Volunteers of America is setting aside extra beds in its three shelters for those who are eligible for subsidies. Those who aren't eligible will be given a "courtesy stay" of a night or so.
Aaron Howe, the "mayor" of a tent city that had 12 tents the night before eviction day, said he had called every shelter in town and not a single place had room for him and his girlfriend.
"There's no available spots, and the city is saying if we pitch a tent somewhere else they're gonna rip it down," he said. "It's not gonna look good when there's a bunch of homeless on the streets."
Lewis, the county official, said Camden is reaching out to shelters in nearby counties to see if they have room. He said couples are often the hardest to place because family shelters in Camden typically only allow couples to stay together if they have a child.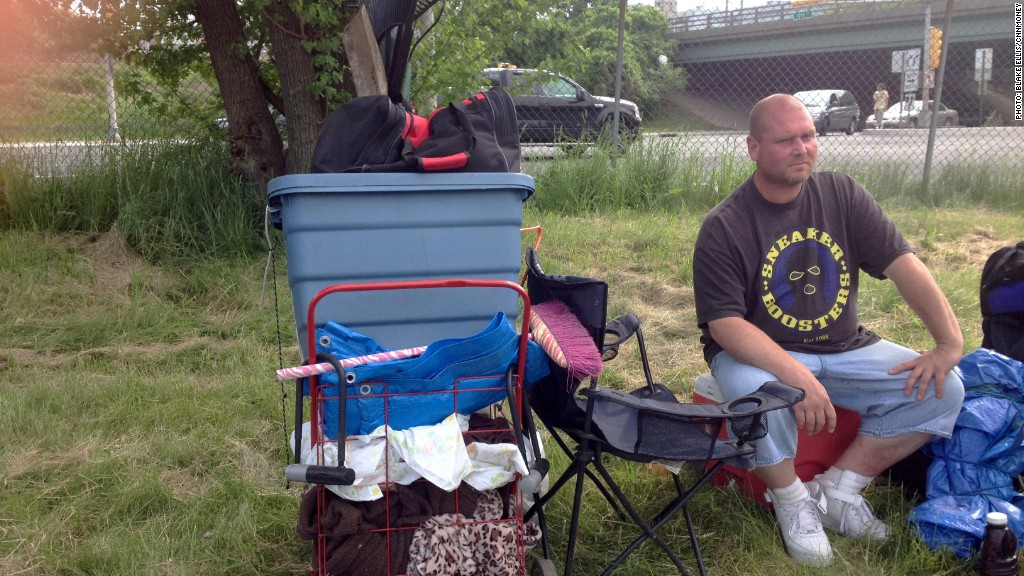 'We want to get them out of tents and into beds': Camden officials said they had no choice but to tear down the tent cities -- not only for the health and safety of the people living in them, but for the surrounding communities.
Piles of trash, stray syringes, rodent and bug infestations, built-up human waste -- all of it on state land neighboring local communities.
Some of the tent communities have also become drug "havens," where even people who don't live there will stop by to use, said Dan Keashen, a Camden County spokesman.
"We want to get them out of tents and into beds, and we have a responsibility to the overall residents of Camden to take away these havens of drug use," said Keashen.
One of the biggest tent cities was located near a neighborhood park, where children have been taught to look for syringes before playing each day.
"We have to be vigilant before a kid can even play in a dirt mound," said Bryan Morton, the president of the North Camden Little League.
Related: Counting the homeless in America's poorest city
But many of the serious drug users don't want help, whether it's substance abuse counseling or shelter.
"The large majority are not in a tent city because they can't be somewhere else -- it's because they don't want to go somewhere else," said Rebecca Fuller of Volunteers of America. "So it's not as easy a fix as moving them in somewhere."
Until mental health or addiction problems are addressed, Fuller said, finding someone a bed doesn't go very far.
After so many years in a tent city, Powell, the ex-convict, said he intends to be an exception. The eviction is "the push I needed to get off my ass and do right," he said.
Powell recently learned he qualifies for public assistance, so he plans to go to a government office this week and get housing. And he's convinced that once he has housing, he can kick his drug problem.
But he'll still miss his tent.
"I've been up since 3:30 this morning, sitting on my chair looking out the window," he said. "It's so peaceful, so quiet, so beautiful here. But you gotta move on."