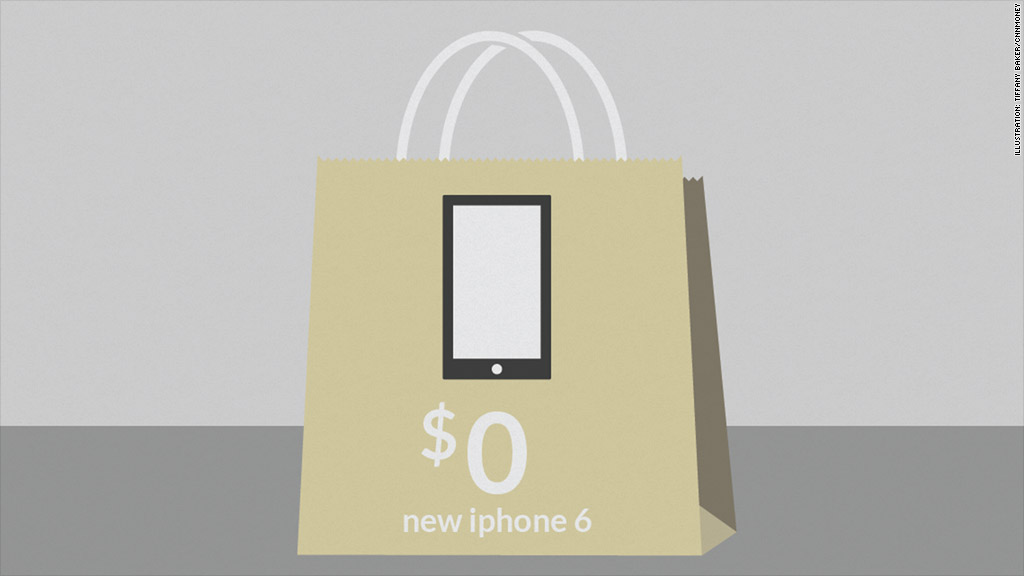 Thinking about buying an iPhone 6 once it comes out later this year? Be prepared to figure out brand new purchase plans -- and possibly pay more overall.
Until recently, wireless carriers typically subsidized the price of your device. They would charge you $200 as a down payment, and then locked you into a two-year contract.
That's changing.
Depending which carrier you go with, you'll either pay nothing upfront and face a higher monthly bill. Or you will have to pick up the full cost of around $650, in exchange for a slightly lower bill.
Last year, T-Mobile (TMUS) became the first major U.S. carrier to drop wireless service contracts. The other major carriers are starting to experiment.
Related: Choosing the cheapest cell phone plan is a headache
Though you can still get a $200 phone with a contract through AT&T (T) and Sprint (S) they don't advertise the plans, and it's difficult to sign-up on their websites. Verizon (VZ) still has the subsidized plan as a standard offering.
Expect more changes when the iPhone 6 is released. Apple's new smartphone is rumored to be making its debut this August, and it's sure to spark a marketing frenzy.
Should you foot the bill for the entire cost of a new IPhone or get a deal with no money down?
Either way, you'll pay more than you're used to.
When you pay the full price for an unsubsidized phone, carriers will typically knock about $10 off the monthly wireless service plan. But the total cost of an iPhone ($650 for a 16 GB version) more than offsets the savings.
The average monthly cost of a no-subsidy plan with zero down is $28 more than if you pay $200 up front.
Over the course of a year, that unsubsidized plan will set you back about $75 more than the old-fashioned two-year contract plan, according to estimates from Macquarie Securities analyst Kevin Smithen.
Related: iPhone bug leaves emails vulnerable
That's why it's no surprise that cell phone companies are pushing their new no-contract plans. In addition to taking more of your money, it also means an end to the hefty upfront subsidies they were paying to companies like Apple (AAPL) and Samsung (SSNLF).
By the end of the year, roughly 41% of all smartphone activations will be unsubsidized, according to Smithen. That includes three-quarters of T-Mobile's subscribers and roughly a third of the customers of Verizon, AT&T and Sprint.
That percentage will likely be much higher for the heavily promoted iPhone 6.
So you might want to ask your carrier for an old-fashioned $200 plan with a two-year contract if you want to buy an iPhone 6. If your cell phone company is pushing a different kind of plan with the promise of big savings, remember that there's more in it for them than you.