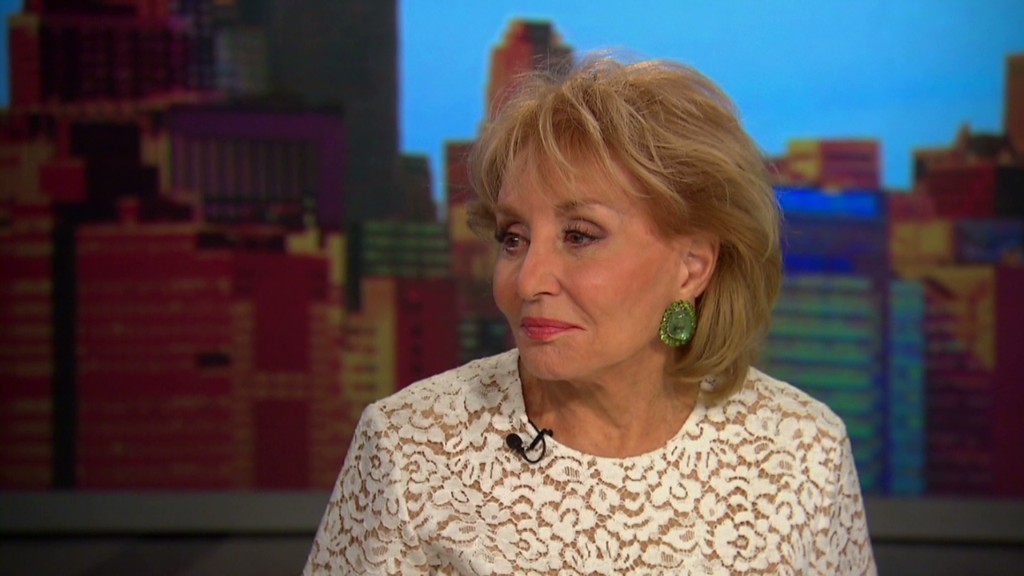 Let's state the obvious: Barbara Walters is not fully retiring.
ABC has orchestrated a week-long celebration of her career, which culminates on Friday with her final episode of "The View" and a two-hour prime time special.
But Walters will remain under contract to ABC for some time, and she will continue to pursue big-ticket interviews. In interviews, she has hinted that her future plans could involve creating new shows, maybe outside ABC.
"I knew it was time," Walters said in one of those interviews, with CNN's Chris Cuomo on "New Day." "I like all the celebration, that's great, but in my heart, I thought, 'I want to walk away while I'm still doing good work.' So I will."
Cuomo asked, "Why leave now? Just to make it easier for us?"
She answered, "You have to leave sometime, don't you?"
Does she? Walters has emphasized in interviews that no one is pushing her out. She told the New York Post that "I'm not looking for another job, but there are other things I might want to do. ... I have other ideas of other shows I might want to create, not necessarily for ABC and maybe not necessarily at all. But I like that process of creating."
Related: Networks seek add $ in 'upfronts'
In a speech on Wednesday night at a party ABC held in her honor, Walters asked the same question others have asked her: "I've had the most amazing career. How do I just walk away and say goodbye?"
"Well," she said, "I will put it this way. From the bottom of my heart, to all of you with whom I've worked -- to all of you who have watched and been at my side for so many years -- to the wonderful producers I've worked with and production assistants, everybody up and down the line, I can say: 'Thank you, thank you, thank you.'
"But ... but ..." she added playfully, "who knows what the future brings!"
There was a loud, knowing laugh from the anchors and executives assembled at the party.
Before the party, Walters had taped an interview with David Letterman for CBS's "Late Show." In her speech, she said Letterman "whispered to me, 'I don't really want to leave. I said, 'I don't really want to leave.'"
Instead of saying goodbye in her speech, she said "à bientôt," which she said is French for "see you later." Some linguists, though, say it's French for "see you soon."