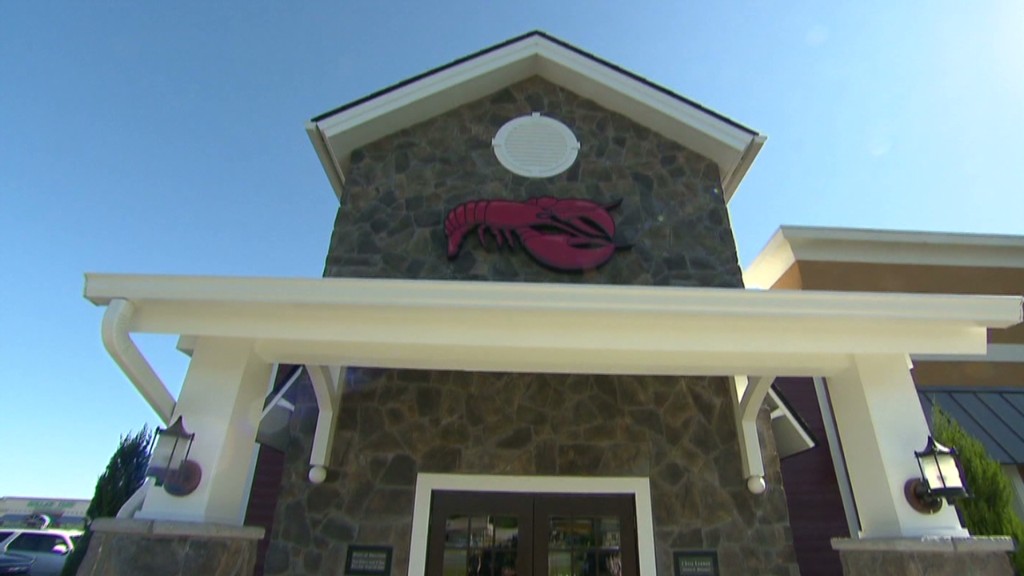 Darden Restaurants inked a $2.1 billion deal on Friday to unload its struggling Red Lobster business to Golden Gate Capital.
Golden Gate may be able to inject some new life into Red Lobster, but the deal is likely to rile up Darden (DRI) investors. The company's shares fell 4%.
Some hedge funds have criticized Darden for how it is handling Red Lobster. Darden originally planned to spin-off the seafood restaurant chain as a separate publicly traded company before deciding to sell Red Lobster to Golden Gate. The sale is not subject to shareholder approval, Darden said.
Starboard, which owns 5.5% of Darden, said the sale to Golden Gate "woefully undervalues Red Lobster and its real estate assets." Starboard CEO Jeffrey Smith said it's "truly unbelievable" that Darden directors have the "audacity" to negotiate a sale in spite of shareholder opposition.
"Our suspicions all along have now unfortunately been confirmed -- this sale is the wrong transaction, at the wrong time, for the wrong reasons," Smith said.
Another hedge fund, Barington Capital, had been pushing to break Darden into two separate companies -- one with the mature Olive Garden and Red Lobster brands and the other with faster-growing chains like LongHorn Steakhouse. Barington also wanted Darden to retain control of Red Lobster's valuable real-estate assets.
Barington CEO James Mitarotonda said it is "unconscionable" for Darden to agree to sell Red Lobster for what amounts to a "fire sale price" in the face of shareholder demands for a say on a transaction.
Darden expects the sale to Golden Gate Capital will generate $1.6 billion after taxes and transaction costs, money the company plans to deploy to pay down debt, buy back stock and continue paying its dividend.
Red Lobster's new private equity overlords will face a tough task as they attempt to revitalize the business. But because Red Lobster won't be publicly traded anymore, Golden Gate can avoid harsh scrutiny from Wall Street. One person familiar with the deal noted that a Red Lobster spin-off would have been a hard sell to investors.
"The reality is this business is declining pretty rapidly. That's a tough story as a public company," the source said.
Related: Fast-food workers go on strike across the country
Red Lobster's same-store sales in the U.S. tumbled 8.8% during the first three months of 2014, worse than the 5.4% drop at Olive Garden.
But Josh Olshansky, managing director at Golden Gate Capital, said in a statement that "Red Lobster is an exceptionally strong brand with an unparalleled market position in seafood casual dining."
Golden Gate did not announce plans to close any of Red Lobster's 700 stores and the private equity firm declined to comment on the matter. However, the person familiar with the matter said store closures are likely, though not at a "dramatic" scale.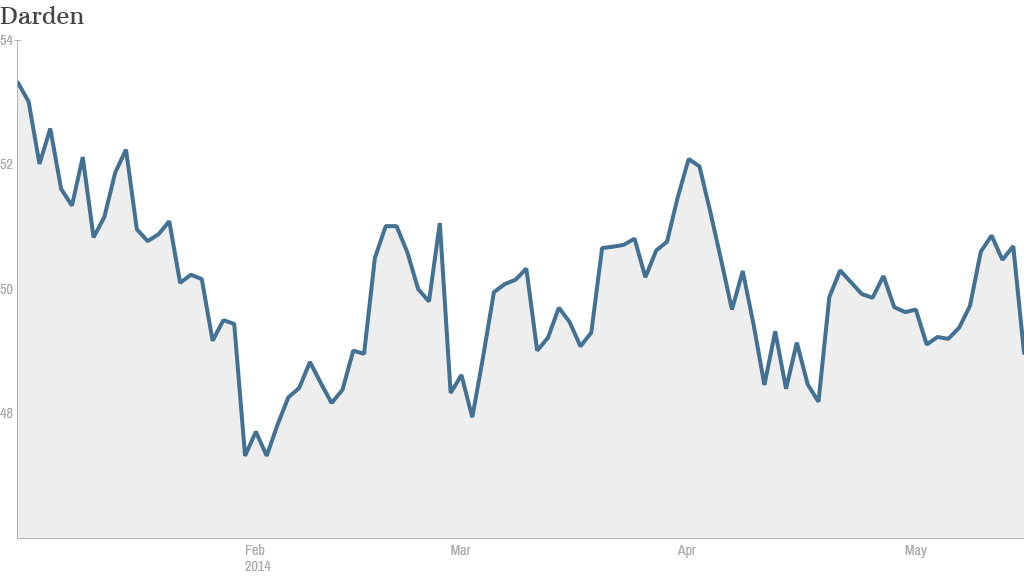 By cutting Red Lobster loose, Darden will now be able to zero in on fixing Olive Garden.
"All of the turnaround focus can be 100% on Olive Garden rather than fighting a war on multiple fronts," said the person familiar with the matter.
To pay for the acquisition of Red Lobster, Golden Gate received an undisclosed amount of financing from Deutsche Bank, Jefferies and GE Capital. It also did a $1.5 billion sale-leaseback deal with American Realty Capital Properties (ARCP) for more than 500 Red Lobster properties.
Darden said it contacted about 70 possible strategic and financial suitors for Red Lobster beginning in December. The company said it also contacted about 25 potential real estate buyers