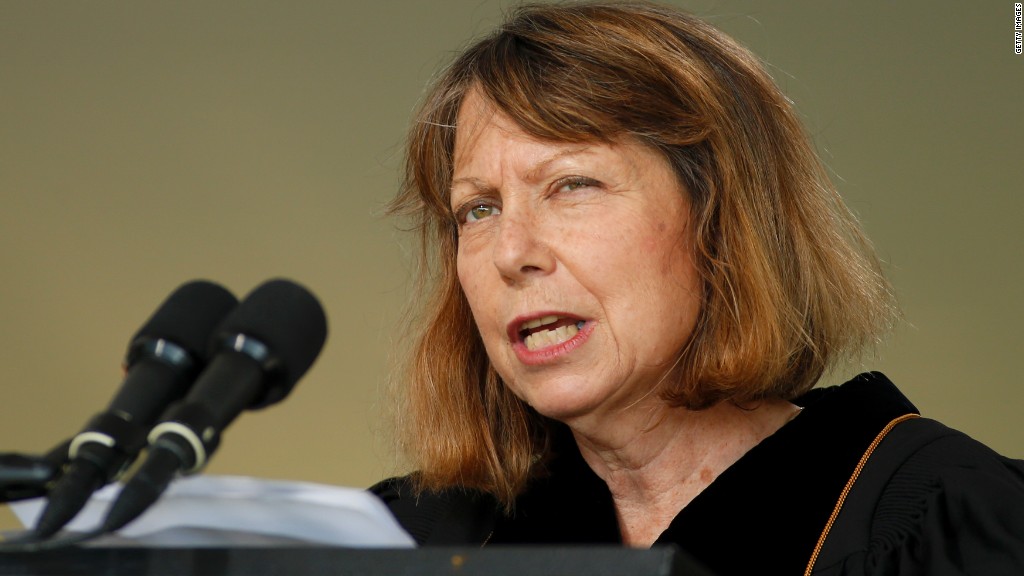 Jill Abramson, who was fired as executive editor of The New York Times last week, doesn't know what she'll do next. But she knows she won't be getting her tattoo of the newspaper's logo removed.
Abramson spoke for the first time about her abrupt dismissal during a commencement address at Wake Forest University Monday morning.
She joked about the timing of the address. "I think the only real news here today is your graduation from this great university!" she told the graduates. She then spoke at length about the topic of resilience, citing her own experiences at The New York Times.
Abramson did not speak an ill word about The New York Times or its publisher, Arthur Sulzberger, Jr., who forced her out after fewer than three years as executive editor. She praised the newspaper and said "it was the honor of my life to lead the newsroom."
There has been widespread speculation in media circles about where Abramson will work next.
"What's next for me? I don't know," she told the assembled college students. "So I'm in exactly the same boat as many of you!"
Related: Sulzberger gives more details about Abramson's firing
In recent days there have also been some suggestions that she might decide to sue The New York Times (NYT), given news accounts that she was paid less than her male predecessor, Bill Keller.
Sulzberger and The Times have denied that was the case. In a statement on Saturday, Sulzberger said Abramson's total compensation was "was comparable with Bill Keller's; in fact, by her last full year as executive editor, it was more than 10% higher than his."
He went on to say that Abramson was dismissed because "she had lost the support" of her colleagues and could not get it back.
Related: Why did the New York Times really sack its editor?
Abramson sidestepped questions about her management style, but acknowledged that losing her job "hurts." She made light of the fact that she has a tattoo in the shape of the newspaper's famous T logo. When a Wake Forest student asked her if she might have it removed, she said "not a chance!"
Praising several former colleagues by name, Abramson spoke about the importance of the hard-hitting journalism produced by The New York Times and other institutions, and said "this is the work I will remain very much a part of."
Playfully, she addressed students in the crowd who'd been dumped or "not gotten the job you really wanted."
"You know the sting of losing. Or not getting something you badly want. When that happens, show what you are made of," she said.
--CNNMoney's Gregory Wallace contributed to this report.