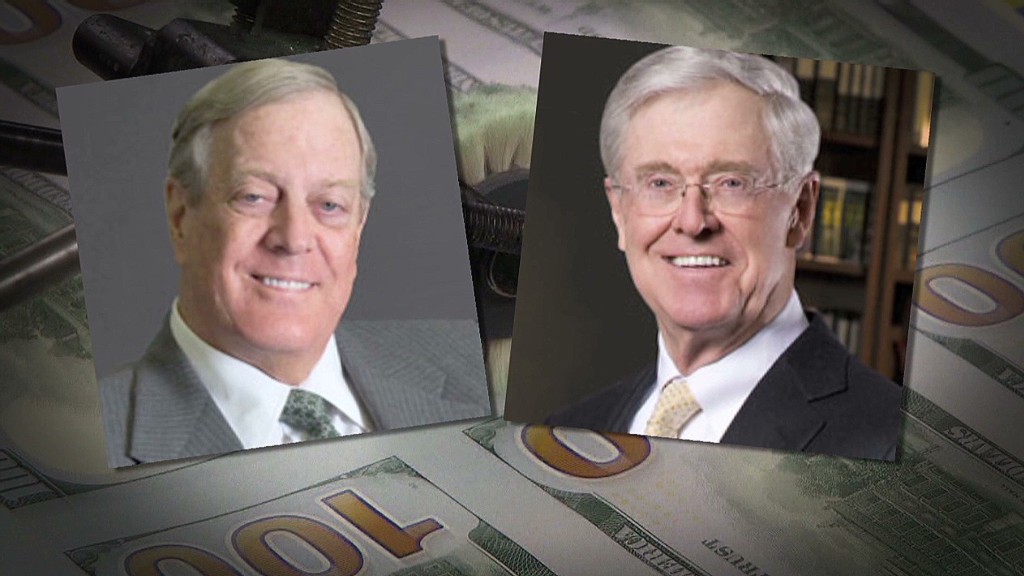 Billionaires Charles and David Koch appear to be set against the state of Michigan helping out the bankrupt city of Detroit.
A political group backed by the Koch brothers wants to stop the state from providing $195 million in aid. The money would be used to limit deep cuts to retirees' pensions and avoid selling off the artwork in the city-owned museum.
If the state chapter of Americans for Prosperity (AFP) is successful, it would derail a series of deals that would allow Detroit to emerge from the nation's largest municipal bankruptcy case later this year.
The group is writing letters to legislators vowing to campaign against those who vote yes. A vote on the package could come as soon as this week or early next week.
Scott Hagerstrom, Michigan director of Americans for Prosperity (AFP), said his group wants Detroit to sell its artwork and other assets, and dump traditional defined benefit pension plans in favor of 401(k) type of plans.
"Detroit has behaved like this for 30 years," Hagerstrom said. "Politicians there won't change their behavior if they keep getting bailouts from the hardworking taxpayers of Michigan."
Related: Detroit bankruptcy vote - Key to comeback
The package of bills has the support of leadership of the Republican-controlled Michigan legislature, as well as Republican Gov. Rick Snyder.
"This is a settlement. This not a bailout," said Snyder. "And I want to be very, very clear about that."
Snyder and other supporters insist that Michigan would be better off with the legislation because it reduces the risk that the state could eventually be on the hook for billions in benefits promised by Detroit's underfunded pension plans.
Related: Democrats vs. the Koch brothers
"Drawn-out bankruptcy litigation would have dire consequences for Michigan taxpayers, from years of costly, prolonged lawsuits to uncertainty on the part of investors and job providers," Jase Bolger, speaker of the Michigan House, said earlier this month when the legislation was introduced.
The Koch brothers have become major forces in American politics. An official with AFP's national office told CNN that it is on course to spend $125 million in this year's mid-term congressional, state and local elections.
Hagerstrom said his group will look at the full range of ways to take targeted action against supporters of the package, including television, radio and billboard ads as well as direct mail campaigns.
"You have people on the record for smaller government," he said about the Republican support for the package. "The people in Michigan and this country just want to hold their legislators accountable and have them do what they say they're going to do."
Bill Nowling, spokesman for Detroit Emergency Manager Kevyn Orr, the man overseeing the city's bankruptcy reorganization, had no comment on the Koch brothers' efforts to derail the state's rescue package.
Ari Adler, Bolger's spokesman, said that the leadership is still confident it can find the votes to pass the package despite the AFP threat .But he admits it will be a close vote.
"We have Democrats on the far left and Republicans on the far right who are opposed for very different reasons," he said. "But we have a growing majority of members in both caucuses that understand how doing nothing now could cost Michigan taxpayers dearly later."