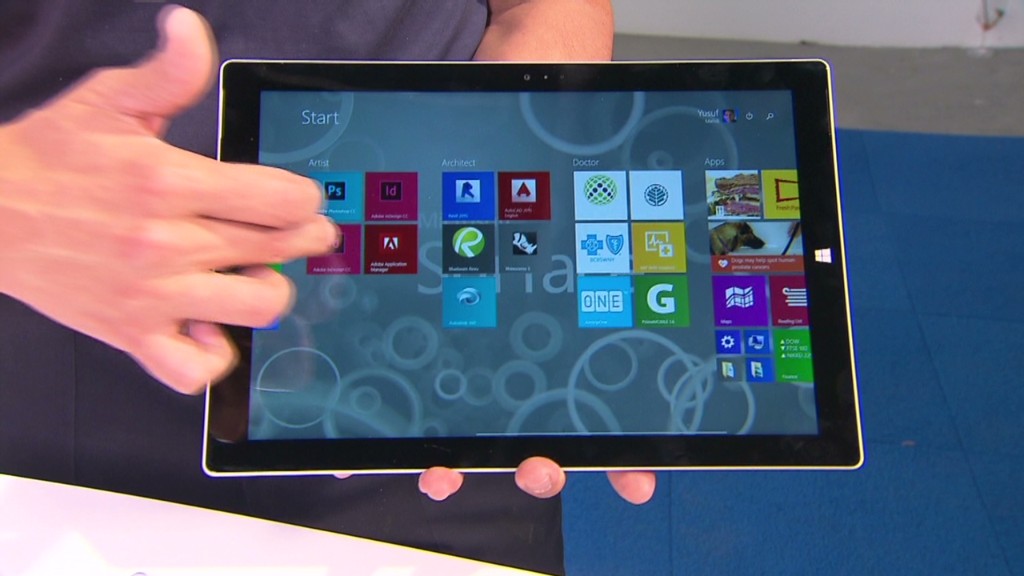 Microsoft on Tuesday introduced the Surface Pro 3, the company's latest attempt to get consumers to buy into its PC-tablet hybrid concept.
The company says it has designed the one device consumers need to be productive and consume media. The Surface Pro 3 is a full-powered PC that has tablet-like weight and size.
"This is the tablet that can replace your laptop," said Panos Panay, head of Microsoft's (MSFT) Surface division, at an event in New York. "Today we take the conflict away, and I'm absolutely sure of it."
The Surface Pro 3 comes with a 12-inch screen -- about an inch and a half bigger than its Surface Pro 2 predecessor -- and it weighs less than the smallest Apple (AAPL) MacBook Air. At 9.1 mm, it's 14% thinner than the Surface Pro 2 and the thinnest product with an Intel (INTC) Core chip on the market. The Surface Pro 3 is roughly the thickness of the iPad 2 -- though it's 18% thicker than the iPad Air.
The tablet PC also got a price reduction. It will start at $799, cheaper than the $999 price point for the Surface Pro 2.
Review: The Surface Pro 3 is a good PC, but it's not an iPad replacement
Microsoft showed off a number of programs designed specifically for the new Surface, including Adobe (ADBE) Photoshop and the Final Draft screenwriting software.
As with previous Surfaces, the device comes with a super-thin keyboard and touchpad mouse, and it works with a stylus pen for freehand note-taking.
Panay noted that 96% of people who own an iPad also own a laptop. But Microsoft has struggled to convince consumers that the Surface is the answer to that problem.
Surface started out as an unmitigated disaster for Microsoft, and the company was forced to write down $900 million worth of inventory due to poor sales a year ago. The Surface has performed better since then, as sales grew by 50% to $500 million last quarter.
Related: Windows 8.1's little changes are a huge improvement
Microsoft was also late to the tablet game, debuting the Surface in late 2012 -- nearly three years after Apple unveiled the iPad.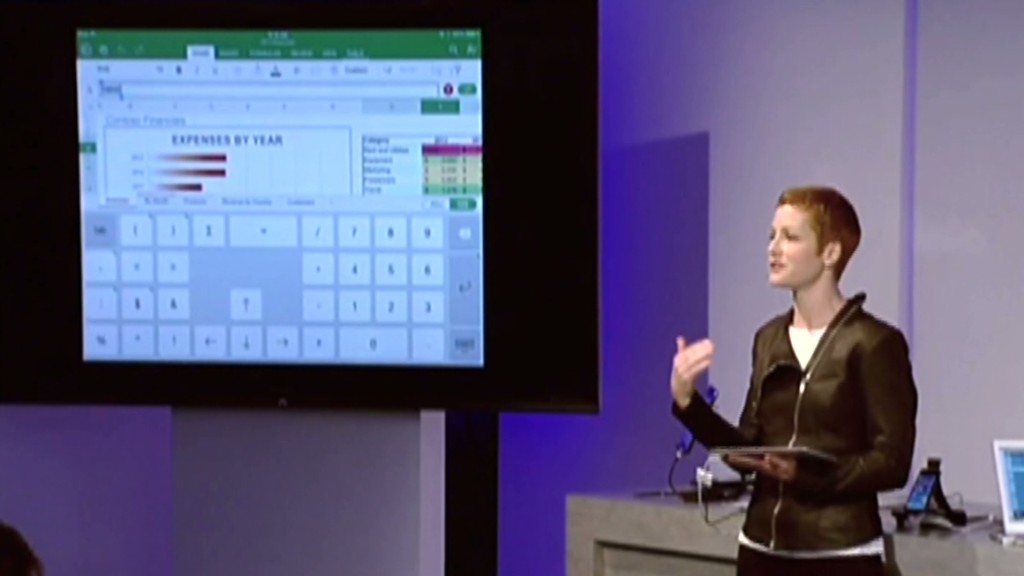 Though the Surface has gotten mixed reviews, its harshest critic is perhaps Apple CEO Tim Cook. In 2012, Cook joked, "You can converge a toaster and a refrigerator, but you know those things are not going to be probably be pleasing to the user."
Microsoft fired back on Tuesday.
"We're not interested in making refrigerators and toasters," said Microsoft CEO Satya Nadella. "Take the best of the tablet and laptop ... that's the device we wanted to create."