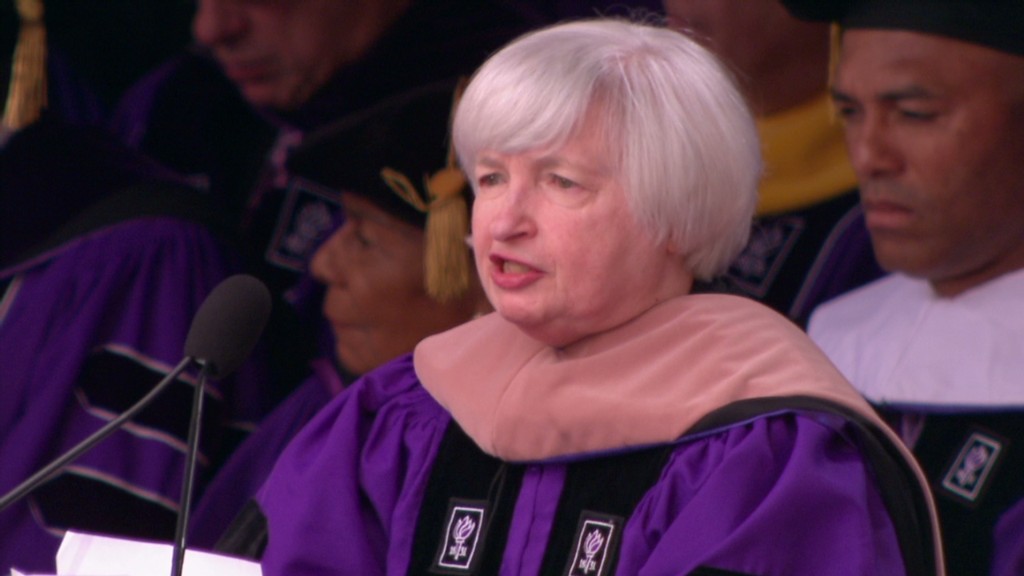 The "House that Ruth Built" was filled with R-E-S-P-E-C-T and roughly 8,000 purple graduation caps Wednesday for New York University's graduation.
The setting is Yankee Stadium. The advice is from one of the most powerful women in the world -- Federal Reserve Chair Janet Yellen. And the faces on stage include "Queen of Soul" Aretha Franklin, U.S. Supreme Court Justice Elena Kagan, and retired New York Yankee Mariano Rivera, the greatest relief pitcher of all time.
Graduation can't get much more inspiring than this.
Related: Bernanke's 10 hilarious tips for Princeton grads
The message: When it comes to being successful, grit and passion might matter more than sheer ability, Yellen told the graduates.
"There is an unfortunate myth that success is mainly determined by something called 'ability,'" Yellen said. Citing psychologist Angela Lee Duckworth, she pointed to "grit", perseverance and passion for your work as some of the most important job skills.
"If there is a job that you feel passionate about, do what you can to pursue that job; if there is a purpose about which you are passionate, dedicate yourself to that purpose," she said.
Related: Class of 2014 snubs Christine Lagarde
For Yellen, that meant dedicating most of her career to work at the Federal Reserve. After starting as an economist there 37 years ago, this year she became the first woman to lead the central bank in its 100-year history.
Pointing to the surroundings, Yellen also spoke of the importance of persevering despite setbacks.
"Yankee Stadium is a natural venue for another lesson: You won't succeed all the time," she said. "Even Ruth, Gehrig and DiMaggio failed most of time when they stepped to the plate. Finding the right path in life, more often than not, involves some missteps."
"My Federal Reserve colleagues and I experienced this as we struggled to address a financial and economic crisis that threatened the global economy," she added.
As part of the ceremony, NYU awarded honorary doctorates to Yellen, Franklin, Rivera, Kagan and New York real estate attorney Martin Edelman. Roughly 8,000 NYU graduates received their degrees.