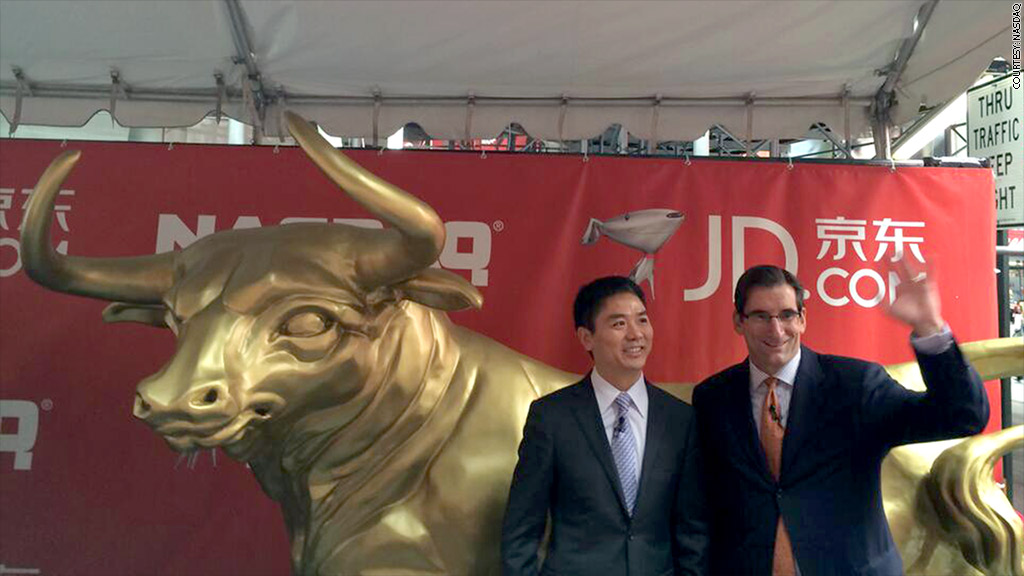 JD.com, a giant Chinese e-commerce company, brought a golden bull to Times Square in New York to celebrate its first day of trading. It turned out to be an apt marketing ploy.
The stock popped 10% in its debut, a move that is viewed as a good sign for Alibaba, the online retailing leader often referred to as the eBay (EBAY)and Amazon (AMZN) of China, that is planning its own IPO later in the summer.
JD.com is the latest in a series of companies that are choosing to list in the United States. The ecommerce site raised just under $1.8 billion in the stock sale. At its most recent price, the company was worth around $28.2 billion.
JD.com (JD) shares began trading on the Nasdaq under the ticker "JD" and priced at $19 a share. There was high demand for the stock, as it initially was planning to price between $16 and $18.
While it draws comparisons to Amazon (AMZN), JD.com is a far smaller company when compared to Amazon's $135.8 billion market cap. But there's plenty of growth potential since JD.com controls 45% of the Chinese direct retail market with just under 36 million active accounts, according to the firm's filing with the Securities and Exchange Commission.
Investors are drawn to JD.com because it's is the second biggest Chinese online retailer behind Alibaba.
Related: If you have read about Alibaba, now's the time to read up.
Chinese IPOs
JD.com is the latest in a number of big Chinese tech IPOs this year. But several of them have fizzled after hot starts. Weibo (WB), the Twitter-like social media site owned by Sina (SINA), is down nearly 10% from where it began trading last month. Jumei International Holding (JMEI), a cosmetics website that debuted last week, is now barely above its IPO price.
Kathleen Smith, a portfolio manager for IPO-focused firm Renaissance Capital, said the bumper crop of Chinese filings comes from harder conditions for listing abroad.
"The U.S. IPO market is seeing a growing number of Chinese IPOs mainly because the mainland China regulator has reduced the number of IPOs approved for issuance in Shanghai, and the Hong Kong IPO market has performed poorly," she wrote.
She noted that big debuts like JD.com and Alibaba later this year may suck money away from other newly trading stocks. Jumei shares feel 7.4% and Webio stock closed 10.9% lower.
Related: Wave of high-profile Chinese stocks debut in US trading.
JD's big sales still seeking profits
A quick look at JD.com's financials shows why investors were so excited Thursday. It had $6.8 billion in sales in 2012, nearly double what it was doing the year before. The first nine months of last year brought in $8 billion.
But the company isn't profitable. It lost $542 million in 2012, a bigger loss than in 2011. JD.com said it lost $343 million in the first three quarters of 2013.
Tencent (TCEHY), the large Chinese company which owns the popular WeChat messaging app and is considered a rival to Alibaba, has a 15% stake in JD.com. Prince Alwaleed of Saudi Arabia also owns a big chunk of shares. Both high-profile shareholders add to the appeal of JD.com.
Now investors have to sit back and wait for more details from Alibaba. It's still not clear what exchange it will list on, what its ticker symbol will be, what it will price its offering at or when it will begin trading.
But if the reception for JD is any indication, demand should be very strong for the online empire created by Jack Ma. Already the word is Alibaba's IPO could be large than Facebook (FB), which raised $16 billion in its debut. That could be good news for Yahoo (YHOO) as well. It owns a more than 20% stake in Alibaba.