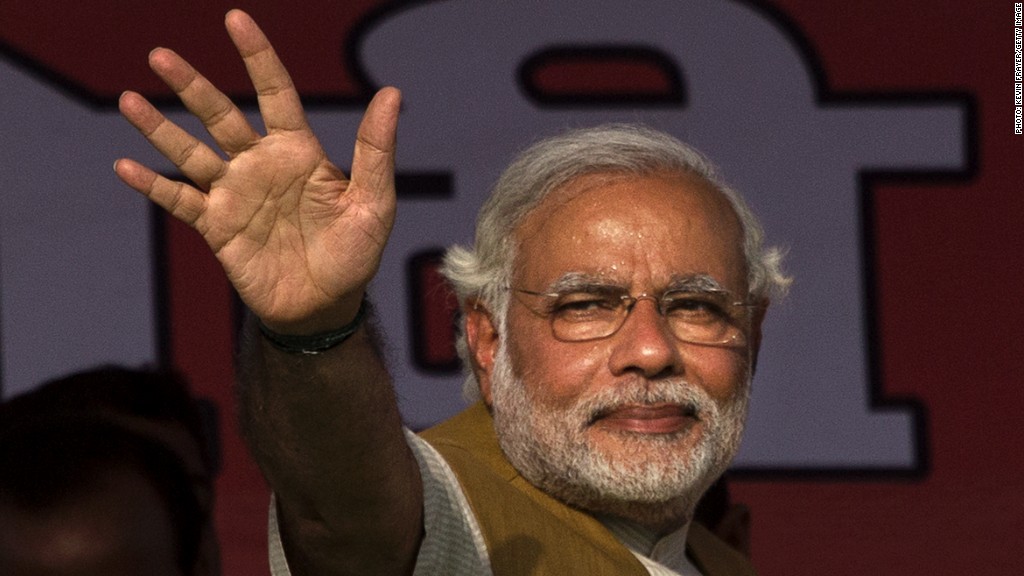 Narendra Modi is being swept into office as India's prime minister on a wave of optimism about his ability to restore the fortunes of Asia's third biggest economy.
But is he the leader to haul India out of its funk, and put the world's second most populous nation back on track to rival China?
Investors think so. The prospect of a government led by Modi has boosted Indian stocks by 15% so far this year. The rupee has responded too, gaining 6% against the dollar after a dismal performance in 2013.
An economic turnaround will be more difficult to execute. It will require a level of political skill and collaboration that has eluded top Indian policymakers for years.
India's growth potential was once mentioned in the same breath as that of China. But the world's biggest democracy has failed to deliver and its economy is just a fifth the size of its Asian rival.
Related: We're itching to break into India
Growth has fallen below 5%, and inflation is now running above 8%. Manufacturing has slowed and the country's fiscal deficit has ballooned.
Structural reforms have fallen foul of political gridlock. Analysts say India needs to simplify its tax code, encourage foreign investment and streamline agricultural production. Modi will have to move fast.
"The markets have high hopes for the new government but the economic reality will eventually replace election euphoria," said IHS analyst Hanna Luchnikava.
Related story: Modi win boosts Indian markets
Modi likes to emphasize his management credentials. He campaigned on a record of low unemployment and high foreign investment in Gujarat, the state he has led since 2001.
He has promised to end policy paralysis, reduce inflation and tackle corruption. He also pledged to establish manufacturing hubs and industrial corridors, improve the tax code and reform the banking sector.
The campaign was so successful that voters gave his Bharatiya Janata Party a majority in the lower house of parliament, sparing Modi the hassle of a coalition. Still, the BJP will face opposition from the Congress Party and other rivals in the upper house.
Related story: What India can learn from China
Modi will also be challenged by members of his own party who would like to remove Reserve Bank of India governor Raghuram Rajan. The former IMF chief economist has helped restore investor confidence by pushing through unpopular interest rate hikes since taking office last September.
Analysts at the Eurasia Group think Modi will try to get some quick wins under his belt by pursuing reforms that can be implemented through executive action.
But in the long term, they're less optimistic about his chances of implementing a more substantial overhaul of the economy.
"Although the BJP's hugely impressive victory means that Modi will be much less dependent on partnerships and alliances than we had envisioned, it does not in and of itself fundamentally change the fractious nature of India's political landscape," the Eurasia Group analysts said.