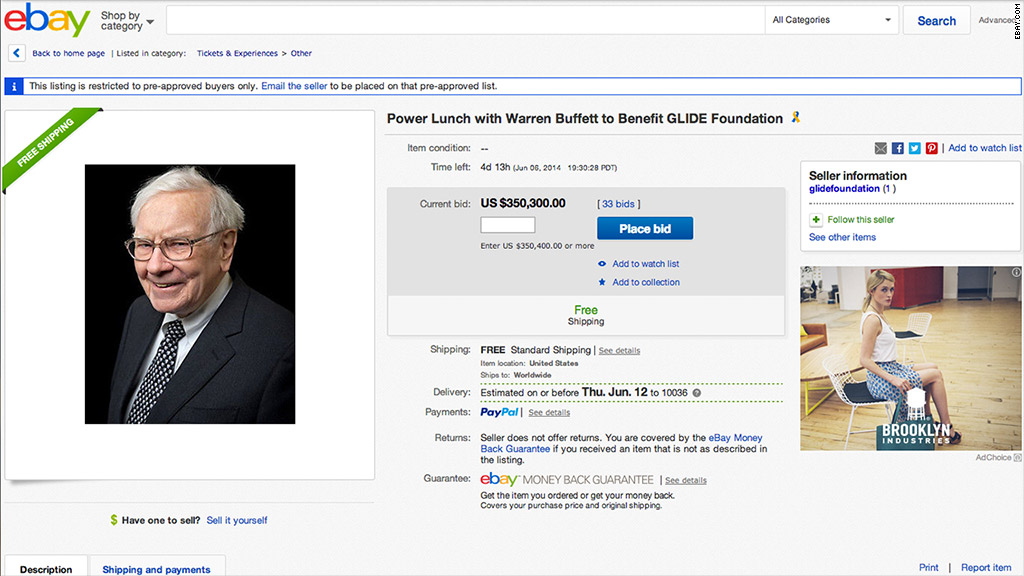 Bidding for the priciest power lunch of the year is now open.
Berkshire Hathaway (BRKA) CEO Warren Buffett offers to break bread once a year with the biggest spender in an eBay (EBAY) auction. All proceeds go to charity.
It's a hot ticket item. Bidding got underway on Sunday night with an opening amount of $25,000. By Monday morning, the lunch was already going for more than $350,000.
Related: Ben Bernanke lunch auctions for $70,500
Last year, the winner paid over $1 million, but that was far less than the record $3.5 million shelled out in 2012. Bidding will close on Friday, June 6, at 10:30 p.m. ET.
Now in its 15th year, the fundraiser will benefit the San Francisco-based GLIDE Foundation.
The annual lunch takes place at New York City steakhouse Smith & Wollensky, and the highest bidder will be allowed to invite up to seven friends. The exact date of the lunch will be agreed upon between Buffett and the winner.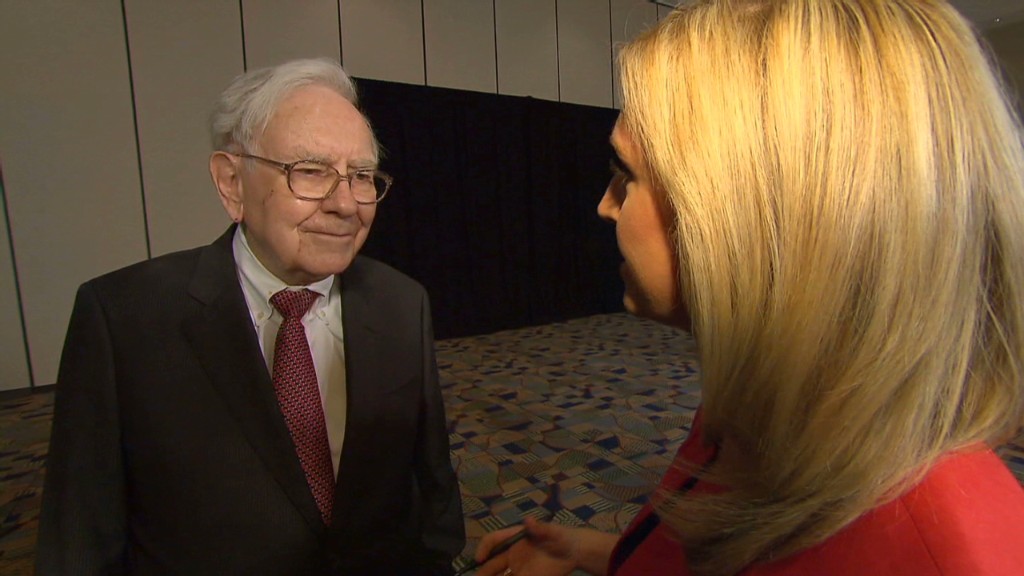 Prior lunch guests claim the one-on-one time with Buffett is worth the price tag.
Known as the Oracle of Omaha, Buffett is one of the most famous investors in the world. Berkshire's annual shareholder meetings attract tens of thousands who want to see him in person. His top holdings as of the first quarter were Wells Fargo (WFC), Coca-Cola (KO), and American Express (AXP).
Related: Berkshire Hathaway shareholder LOVE Buffett
Buffett has long advocated for his charitable endeavors. He started The Giving Pledge in 2010, an effort that has signed up more than 100 billionaires around the globe, who have pledged to donate half of their net worth during their lifetime, or at their death.