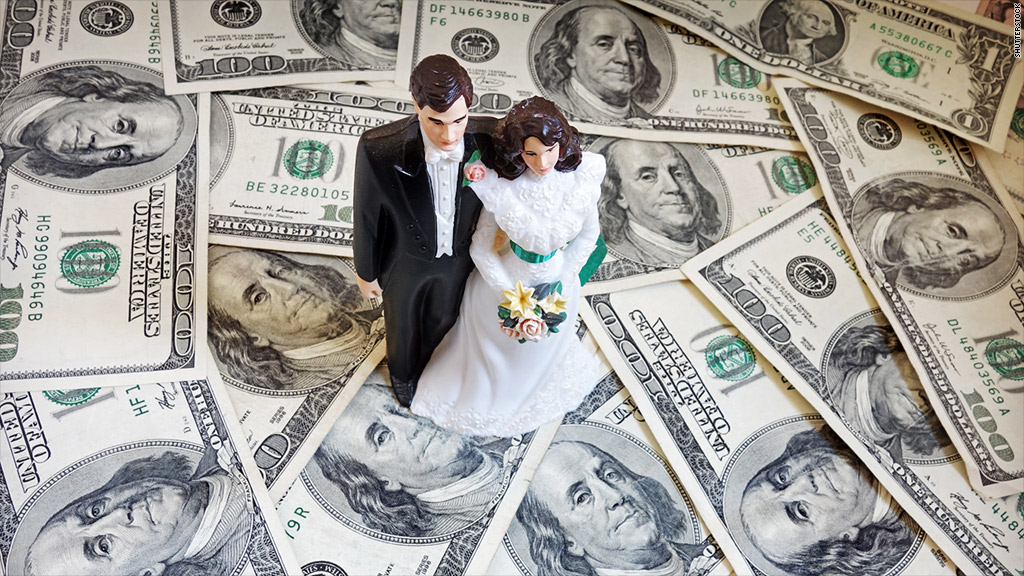 Money has long been a major reason many marriages fall apart. But in the wake of the most recent recession, many couples have learned to tackle their financial issues head on.
Couples who got married in 2008 or later were far more likely to come clean about their credit history before saying 'I do' -- and to continue to discuss their finances into their married years, according to an Experian Consumer Services survey of roughly 1,000 married adults.
"If you have a spouse who lost his or her job that would definitely bring finances and money to the forefront of the family economics," said Becky Frost, consumer education manager at Experian Consumer Services.
Experian found that couples who were married after the recession reported a variety of good behaviors that can help couples avoid money squabbles.
More than 60% of post-recession couples discussed their credit score before getting married, compared to only 35% of pre-recession couples.
More than 80% of post-recession couples discussed financial goals with their spouse at least monthly, compared to 65%.
Post-recession couples said they would discuss a purchase that costs an average of more than $256 with their spouse before making it. In contrast, pre-recession couples would feel comfortable spending more than $1,000 without checking with their partner.
Related: Marriage and money: Our biggest mistake
But just talking once about money is not enough. The most successful couples regularly discuss their finances to ensure they're on the same page, said Pat Seamen, a senior director at the nonprofit National Endowment for Financial Education.
Disclosing your credit history early in a relationship is especially important because it can affect everything from the mortgage interest you will pay as a couple to the car you can afford, she said.
"If you've got pristine credit and your fiancee's credit is not so good, you need to know that because it will have a bearing on how you apply for loans or credit going forward," she said.
Experian found that credit scores had been a source of stress for 21% of married couples surveyed. But those couples who had discussed their scores before getting hitched were far more likely to agree.
Related: Average wedding bill hits $30,000
KEEP MONEY FROM WRECKING YOUR MARRIAGE
Whether you're planning to tie the knot or have been married for years, here are some tips for talking about money with your spouse:
Come clean about your debt: Whether it's hefty student loan debt or a ding on your credit report from an unpaid bill, be honest about your financial situation.
While your credit score won't be combined with your spouse's when you get married, your ability to reach joint financial goals can still be affected by your spouse's score.
Pay attention to joint accounts: Whether it is a credit card or home loan, missed payments on joint accounts can ding both of your credit scores. So if you let your spouse handle the bills, know that his or her missteps could affect your bottom line, too.
Talk during the good and the bad times: Don't just talk about money when you hit a rough patch. If you make it a habit to speak often, you'll be less likely to associate money with conflict.
Plus, it's easier to hash out an action plan when you're both calm.