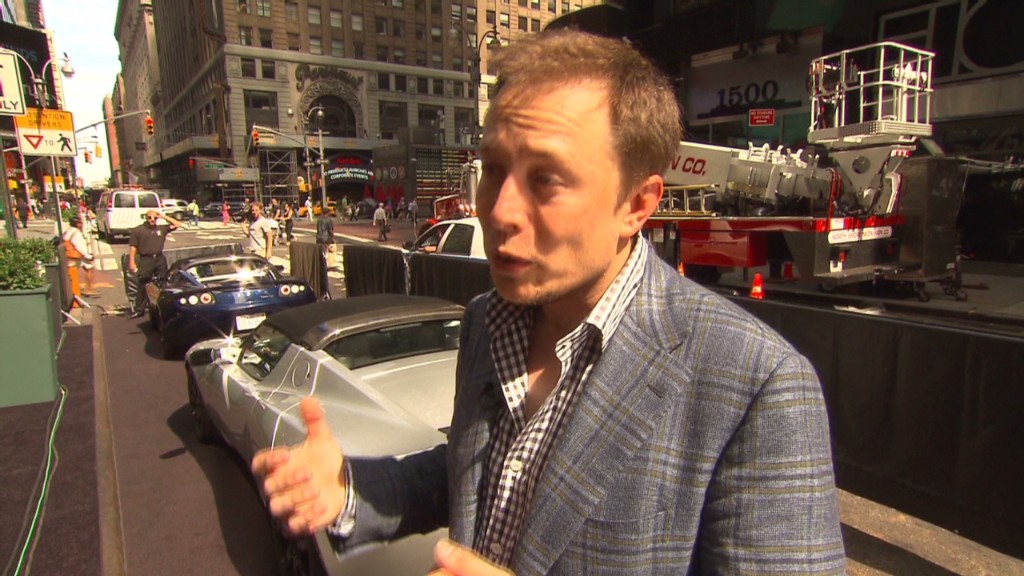 Tesla's CEO isn't going anywhere anytime soon, there are "gigafactory" delays and, oh yeah, Ford Motor Company killed "SEX."
Those were three takeaways from Elon Musk's Q&A session at the company's annual shareholder meeting in Mountain View, Calif., Tuesday.
Tesla's stock has been on a wild ride of late. Since hitting a record high earlier this year, it has fallen about 20% and shareholders were eager to hear the CEO's plans.
Musk said he is committed to staying at the electric car company until it can ramp up production of its third-generation vehicle -- the much anticipated affordable Tesla (TSLA), which would sell for about $35,000 and have a range of about 200 miles.
That's a feat that Musk said could be achieved "somewhere in a 4- or 5-year time frame."
"Nobody is CEO of a company forever. Eventually they carry you out. In my case, it is quite difficult to be CEO of two companies," Musk said referring to his other job as CEO of SpaceX, the rocket manufacturer.
Related: Costs add up for Tesla
As for the company's so called "gigafactory", the $5 billion battery pack facility that will allow Tesla to ramp up production of the "affordable Tesla," Musk said that final site selection will not be made until the end of the year. A company spokesperson said that this had not been disclosed before.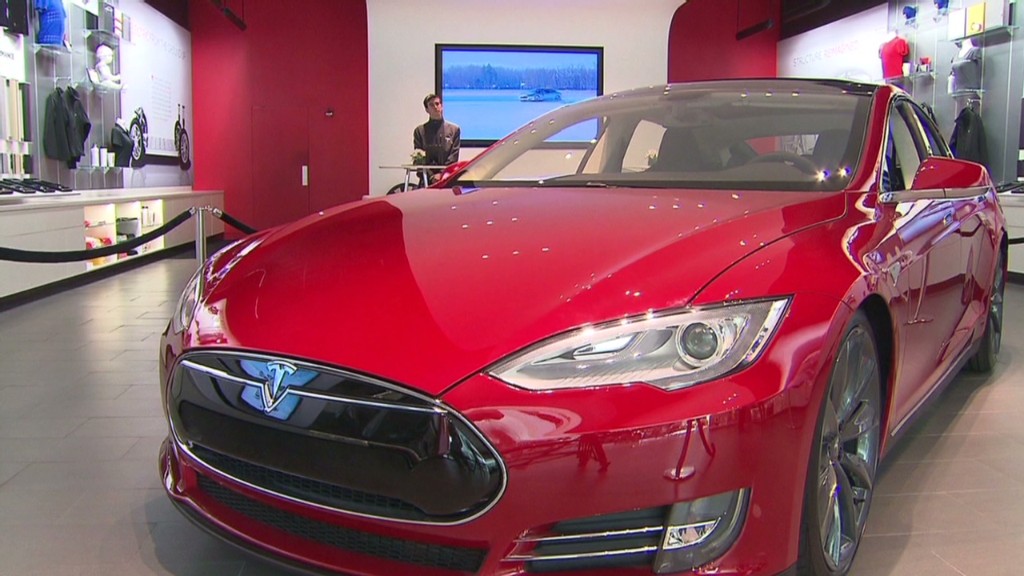 In response to a question about Tesla's apparently abandoned trademark for the Model E, the previously expected name of the third-generation vehicle, Musk took the discussion into somewhat risque territory.
"A friend asked me at a party what are you going to name the third-generation car? Well we have the S and the X," Musk said, "so we might as well make it the E."
Finally, Musk said Ford called him saying it would sue Tesla for using the Model E trademark. Musk continued the story, "And we're like, Ford's killing sex... that's terrible. So, OK fine we won't use the model E."
A Ford (F) spokesman told CNNMoney, "Ford and Tesla entered into a contract in 2010 in which, among other things, Tesla agreed not to register or use Model E. When Tesla later sought to register the Model E trademark, Ford insisted that Tesla abide by the parties' earlier agreement. The matter has been resolved amicably."
Related: Tesla's U.S. sales may be cooling off
Tuesday's meeting ended in an unexpectedly touching way. An eleven-year-old shareholder who said Tesla was his first stock asked Musk if he would give him a tour of the factory floor. Musk, who has five sons of his own said, "Absolutely."