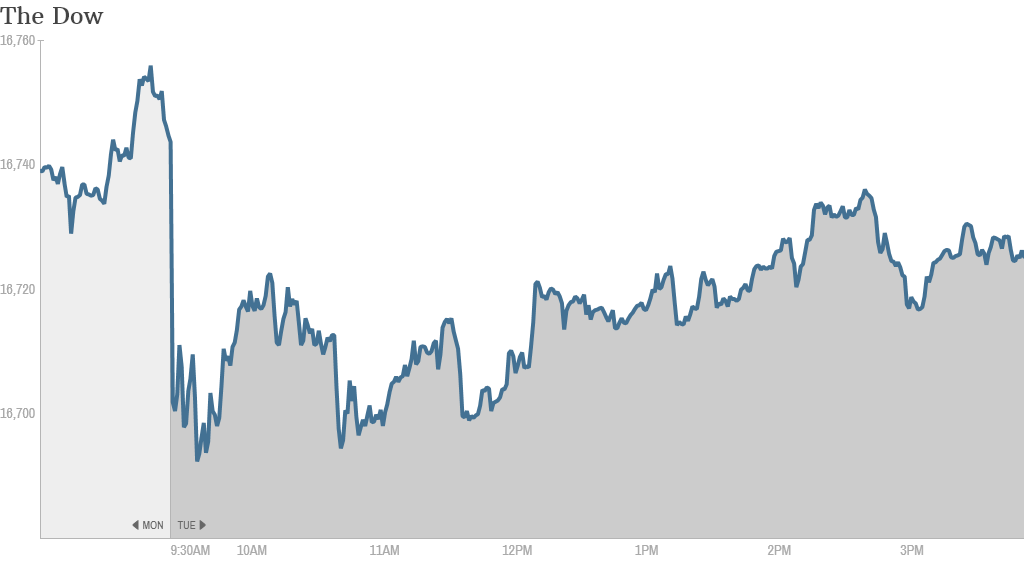 Some days there just isn't enough gas left to get the job done. That was the case Tuesday in the stock market.
Despite an afternoon rally, the S&P 500, Dow Jones Industrial Average and Nasdaq all finished slightly lower. The Dow finished 21 points (0.13%) in the red. The other indexes had even more modest losses.
That means the Dow's record close count for the year remains at six and the S&P's at 15. The S&P, however, is still about 10% away from its inflation-adjusted peak that it hit in January 1999.
Related: Stock records don't look so good when adjusted for inflation.
Some highlights from Tuesday's session:
1. Feast and famine in food stocks: Hillshire Brands (HSH) shares finished just shy of 9.5% higher on news that the food company's board of directors authorized takeover discussions with competing suitors Pilgrim's Pride (PPC) and Tyson Foods (TSN).
Pilgrim's originally offered $45 a share to buy the company, and Tyson's countered with $50 a share. Though Pilgrim's offered $55 a share this morning, Hillshire stock closed above $58 share today, suggesting investors think bids could go higher.
Pilgrim's and Tyson shares were each down more than 2%.
Krispy Kreme (KKD) shares dropped like dough into a deep fryer after reporting earnings that were in line with expectations but sales that were much lower than Wall Street expected to see. The stock fell nearly 15%.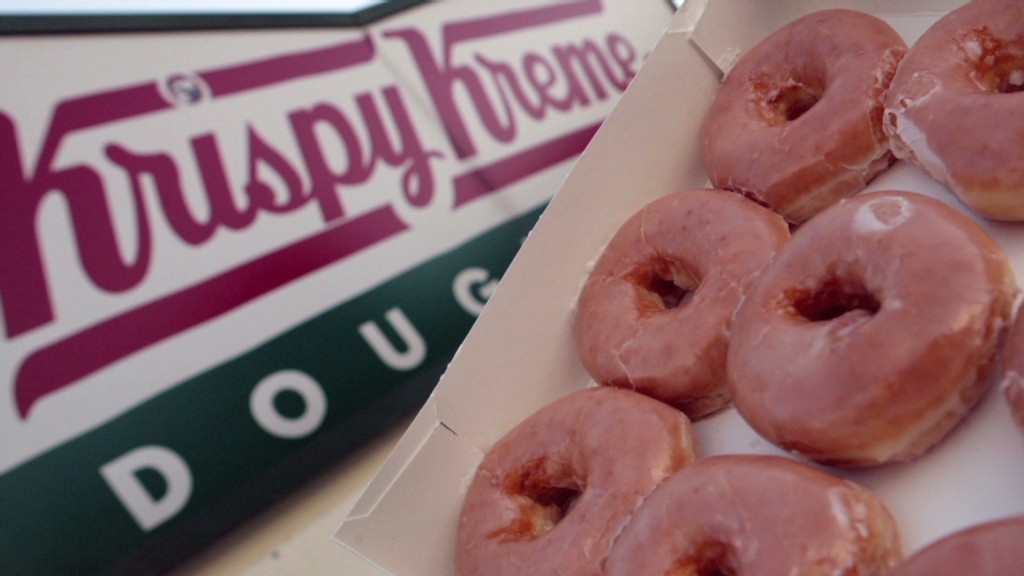 2. Retailers struggle with sales: Quiksilver (ZQK) shares fell as much as 45% this morning after a disastrous quarterly earnings report that showed the surf and beach apparel company losing much more money than analysts anticipated.
Down 41% at the close, the company has shed three fifths of its market valuation this year and is trading at its lowest share price since October 2012. Goldman Sachs, Credit Suisse and others downgraded the stock Tuesday.
"$ZQK The vibe left this company with the old guard. Now Slater gone. Stick a fork in them and look for them at a Walmart near you!!!!" wrote StockTwits user MrX.
Related: Wipeout! Quiksilver stock down more than 40%
Dollar General (DG) shares gained a little less than 4% though the retailer reported an unexpectedly modest quarterly gain in sales and profit that failed to meet expectations. Financial firm Sterne Agee & Leach lowered its annual earnings expectations for the company.
Deutsche Bank, in a note to investors, said it was raising its earnings expectations with the expectation that Dollar General would increase its stock buybacks for the year, raising the widely followed "earnings per share" number having fewer shares available to trade.
3. Tech stocks mixed: Shares in Google (GOOG) were weak, down more than 1.5%, after the Wall Street Journal reported that the tech giant plans to spend over $1 billion on a "fleet of satellites" designed to improve internet access in remote areas.
Apple (AAPL) had a better day at its Worldwide Developers Conference, at least according to Wall Street. Shares are up 1.4%. Yesterday Apple unveiled iOS 8 and a new health and home-related software.
Related: How are Google and Apple faring against the rest of the CNN's Tech30?
4. More signs of a Spring(ing) economy: The Census Bureau said factory orders increased 0.7% in April, a notch higher than expected and a sign that manufacturing output is continuing to improve. It's the third straight month of gains for the lagging indicator, and both orders and inventories are at their highest levels on record.
This comes after yesterday's (twice-revised) manufacturing index numbers that also showed expanded industrial activity in April.
Meanwhile, all the major carmakers are reporting increased auto sales. Even GM (GENERAL MOTO), despite its recall troubles, said it sold 13% more cars last month than it did the same time last year, it's strongest monthly report since 2008. GM, Ford (F) and Toyota (TM) shares were slightly higher in the afternoon.
Investors are watching economic indicators for any unexpectedly sharp changes that could cause the Federal Reserve to alter interest rates or the pace of unwinding its bond-buying program.
5. Stocks overseas: European markets closed lower Tuesday following reports of a lower-than-expected Eurozone Consumer Price Index for May. The European Central Bank meets on Thursday.
Asian markets closed mostly higher.