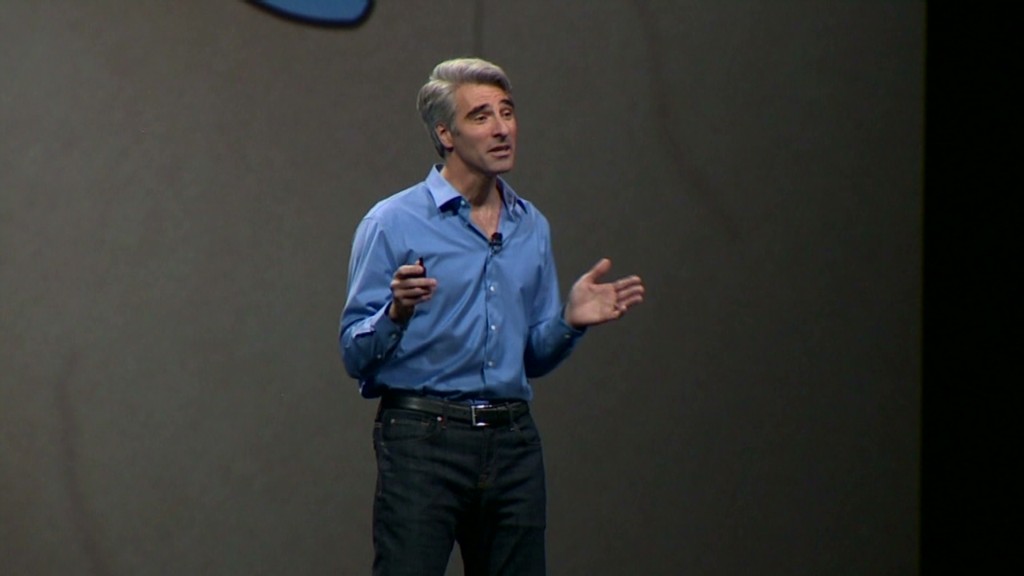 When Steve Jobs passed away in October 2011, Apple lost more than its CEO: It lost the charismatic face of the company.
But Apple (AAPL) has found its voice again in its dynamo engineering chief Craig Federighi.
Federighi spent nearly 1 hour and 17 minutes on stage during Apple's two-hour Worldwide Developers Conference in San Francisco on Monday. CEO Tim Cook called Federighi "Superman," and Federighi joked that Cook was putting him through "some kind of endurance training."
A dynamic presenter, Federighi captivated Apple's audience and fans, who were hanging onto his every word. His excitement about Apple's new Mac, iPhone and iPad features was contagious -- not unlike Steve Jobs' famous enthusiasm.
Related: Nice job, Apple. But I'm not coming back
But unlike Jobs' bombast and snark, Federighi won over the crowd and Apple fans with self-deprecating humor. It's a stark contrast to the serious image Apple often shows.
Federighi likes to mock his thick, blown-out coiffure, referring to himself sometimes as "Hair Force One." On Monday, he showed a video of himself getting a haircut with a chainsaw. He also received an email with a mash-up photo of Apple's bald design chief Jony Ive, featuring Federighi's own hair.
He also cracked jokes about Apple's naming scheme for Mac OS X versions.
Federighi noted that Apple "narrowly averted a major OS X naming crisis" last year when it shifted from cat-themed names like Mountain Lion and Snow Leopard to names based on California locales. Last year's release was called Mavericks in honor of a popular surfing spot.
But Federighi teased that Apple considered OS X Oxnard, OS X Rancho Cucamonga and OS X Weed for this year's version. He added that had "large pockets of support" among Apple's marketing team. OS X Weed quickly became a top trending topic on Twitter a few minutes after he made the joke. (By the way, the new OS X is actually called Yosemite.)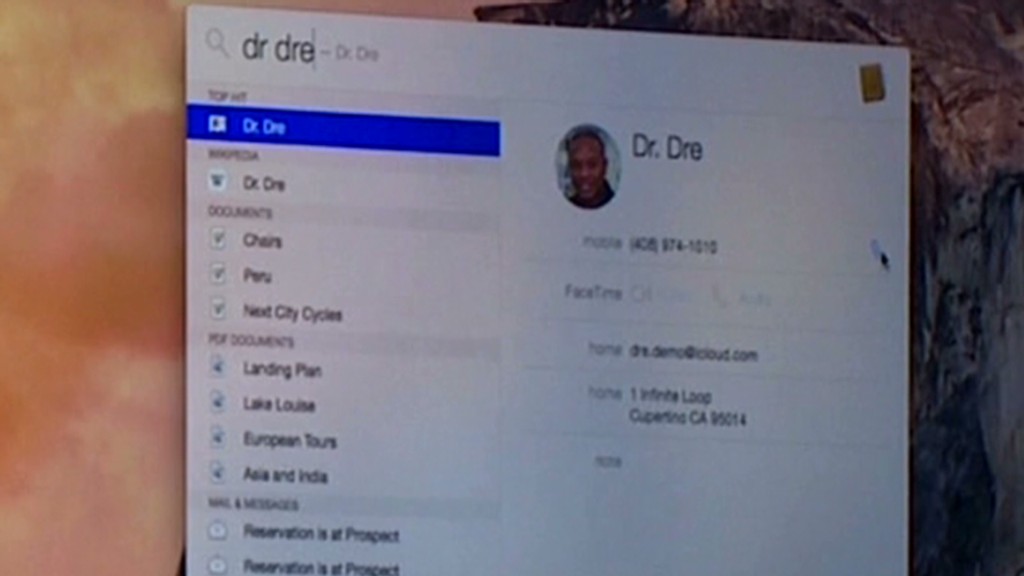 Federighi even poked fun at Apple's notorious passion for design.
"Check out that trash can! That is a gorgeous trash can. You wouldn't believe how much time we spent crafting a trash can."
Related: Apple's HomeKit is safer, but not hack-proof
Apple's carefully crafted "cool" image was also a target for Federighi. Anytime the presentation got the least bit technical, he quickly went into stand-up comedian mode.
"How about that parallel programming joke?" he quipped. "You did not see that coming."
And when discussing the intricacies of Apple's new programming language, Swift, Federighi deadpanned, "You know how many people at home are going, 'What in the heck are these guys talking about?'"
In many ways, Federighi's style is a breath of fresh air for Apple.
Jobs could captivate audiences with what otherwise would have been a boring presentation about gadget updates. Many referred to this ability as the "reality distortion field."
But that distortion field dissolved for a while. New CEO Tim Cook appears reserved on stage, and other Apple executives have failed to resonate. Phil Schiller, Apple's marketing chief, got the biggest reaction in years last June when he introduced the new Mac Pro and said, "Can't innovate anymore, my ass!"
Federighi's first big major appearance at an Apple event was in 2013, when he presented iOS 7 at the 2013 WWDC. He rejoined Apple in 2009 after spending about a decade at SAP's (SAP) Ariba unit. He first came to Apple in 1996 as part of the company's purchase of Jobs' NeXT.
Now if only Apple could give Federighi, Cook, Schiller or Ive a good reason to utter "And one more thing" -- that famous Jobs phrase that he saved for big reveals at the end of Apple events..