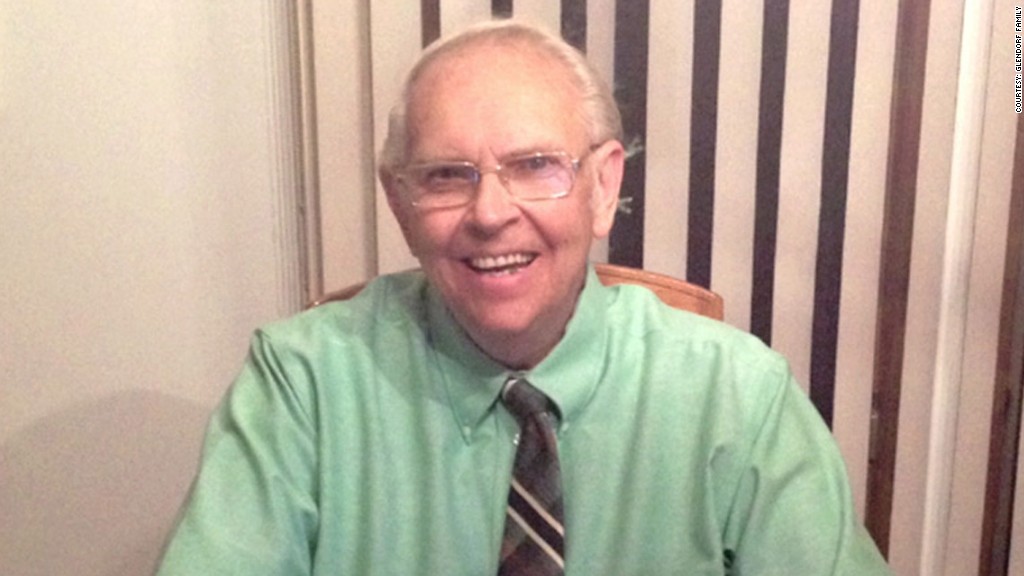 Paul Glandorf rattles off stock ticker symbols the way most people talk about popular TV shows and music.
At age 77, he is anything but a stereotypical Wall Street trader. He lives in Ohio and prefers casual "retiree clothing." (He put on a tie for this photo.) But his returns would make many top investors salivate.
He participated in an investing competition in 2013 where you had to buy five stocks on January 1 and hold them through the end of the year. His portfolio finished the year with a whopping 71% return.
Four of his picks -- LinkedIn (LNKD), 3D Systems (DDD), Fidelity National (FNF) and Valeant Pharmaceuticals (VRX) -- did extremely well. Then there was Lululemon (LULU) -- the yoga apparel retailer whose shares sank more than 20%.
Glandorf took second place in the contest. And he still grumbles about Lululemon.
Learning to invest in retirement: For much of his life, Glandorf didn't have time to think about the stock market.
He was a pipe fitter who went on to start his own successful construction business in Cincinnati, Ohio.
But the closer he edged to retirement, the more he took an interest in how his funds were invested. He started to wonder if he could do better than some of the folks managing his money.
In his early 60s, Glandorf started a stock club. Fifteen people showed up to the first meeting at the pipe fitters' training school in Cincinnati.
"We called the club the Stock Wizards because the majority of the group were the exact opposite," Glandorf says. "You have to laugh at yourself in life."
The investing club is still going, although it now meets at Sycamore Senior Center. Glandorf has become something of a local stock prodigy.
Calling him the "Oracle of Ohio" -- a nod to famed investor Warren Buffett, the Oracle of Omaha -- might not be far off.
Related: Investors LOVE Warren Buffett
'Oracle of Ohio': Glandorf made a 57% return last year with his overall portfolio. So even though it was hard to lose money last year, it's still notable that he did much better than the S&P 500's 30% gain.
Since he took over managing and trading his own funds in 2001, he is clearly doing something right. Glandorf said that he typically invests about $10,000 each in a portfolio of about 75 to 80 stocks. So that means he is putting between $750,000 to $800,000 to work in the market.
"When I invest, I really look at the fundamentals and the technicals of a stock," he explains. "A lot of times I don't even know what the names of the companies are. I just know them by symbol."
His investing philosophy harkens back to his days as a small business owner. He knew he would have to investigate the competition.
The online stock research program MarketSmith is his bedrock. He prefers to buy stocks and hold them for awhile, but he logs on to the site every day to run several screens that generate about a dozen stocks that look good based on the various financial criteria he has developed.
Related: How I saved $1 million or more
Paul's list of stocks: The stocks that pop up on the screen make it into "Paul's list," an email that now goes out to many friends, family and past and current members of the Stock Wizards.
"We've got some fellas that short stocks and play options. The Wizards invest in many different ways. I only invest in one way: I invest in aggressive growth type stocks," he says.
"Usually 80% of my selections make money and 20% are losers," he says. That's been a pretty constant over time, except at the end of 2007.
Predicting the Great Recession: Perhaps his biggest accomplishment as an investor was recognizing America's great financial crisis. He made over 50% in 2007 and then got entirely out of the market, a rarity for him.
"I told everybody that I knew to sell their stocks at the end of 2007," he says. "I was positive the market was going to tank."
Glandorf stays pretty humble about his good fortune, noting that while he timed it right getting out of the market, it's tough to know when to jump back in.
Related: See the economy recovery in 17 charts
Some of the stocks he likes now include: Illumina (ILMN), Alexion Pharmaceuticals (ALXN), Actavis (ACT), and United Rentals (URI). All of these are up more than 20% this year with Illumina up over 50%.
He rattles off the tickers on the phone and conceded that he's not even sure what some of these companies do. But he knows their earnings history and forecasts and things like their price-to-earnings ratios.
Another rule of his: Always invest in equities or cash, no bonds.
The joy of his life these days -- besides his grandchildren -- is teaching others how to invest. While he tries to give advice, he lets people do what they think is best.
"I always tell people to only invest the amount of money they could afford to lose, although I don't think they'll lose much investing the way I do," he says proudly.