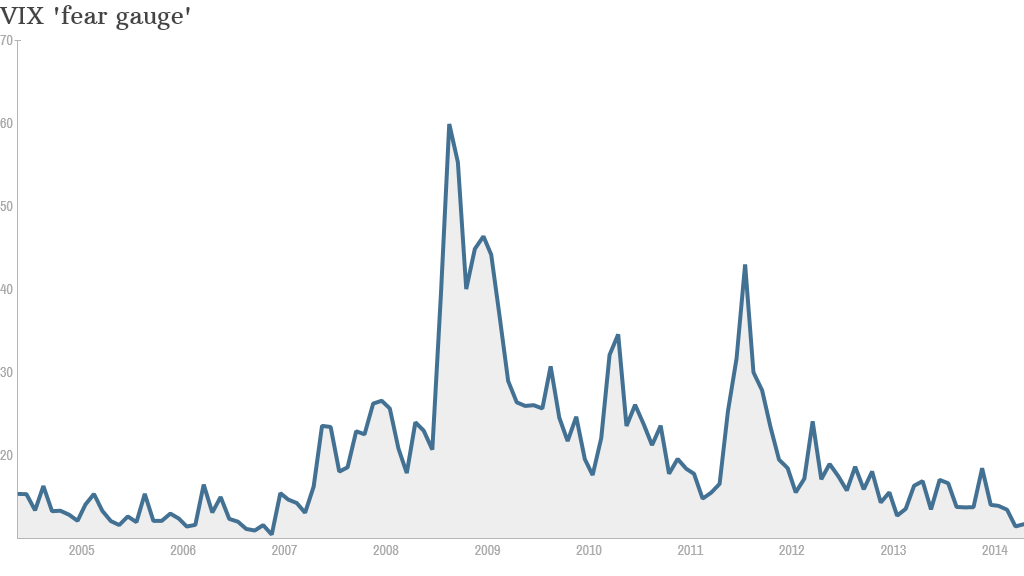 Investors are feeling pretty fearless these days, according to one measure of market sentiment.
The CBOE volatility index, or VIX (VIX), measures investors' expectations for market volatility in the near term.
Often referred to as Wall Street's "fear gauge," the VIX fell last week to its lowest level since before the financial crisis struck.
On Friday, it dipped below 11 for the first time since February 2007. Consider that at this point last year, the index was oscillating between 15 to 17. In June 2009, the VIX was hovering around 30.
What does this mean?
The apparent lack of fear in the market could be a red flag. Stocks have been in a bull market for more than five years, and some worry that investors have become complacent.
In another sign of the bullish tone, CNNMoney's Fear & Greed index, which is based on the VIX and several other measures, is back above the level that indicates "extreme greed" in the market.
Related: The bull market at 5: Not old yet
But others argue that the mood is not as cavalier as it seems.
Dan Greenhaus, chief market strategist at BTIG, said the idea that investors are complacent is "utter and total nonsense." He says there's "no shortage of worries" among the clients of his brokerage firm.
Greenhaus said investors are concerned about Federal Reserve policy, sluggish economic growth and lackluster corporate earnings, to name a few.
In fact, traders are worried enough to be looking for ways to hedge the expected rise in volatility.
Joe Bell, senior equity analyst at Schaeffer's Investment Research, said investors have been stocking up on call options for the VIX, which are derivative contracts designed to pay off when the index rises.
"Yes, volatility is low," he said. "But it's not like no one is talking about how volatility is low -- and they're buying hedges."
Last week, the Dow Jones Industrial Average and the S&P 500 both hit fresh record highs after solid economic news on the jobs front and further stimulus measures from the European Central Bank.
The Dow is a mere 75 points from breaking the 17,000 level. It crossed the 16,000 marker late last year.
Related: Finally! Job market returns to 2008 peak
JJ Kinahan, chief derivatives strategist at TD Ameritrade, said it's not surprising to see the VIX at its current level given the stock market's recent performance.
"We are at all-time highs, so you would expect the VIX to be at the lower end of it's range," he said.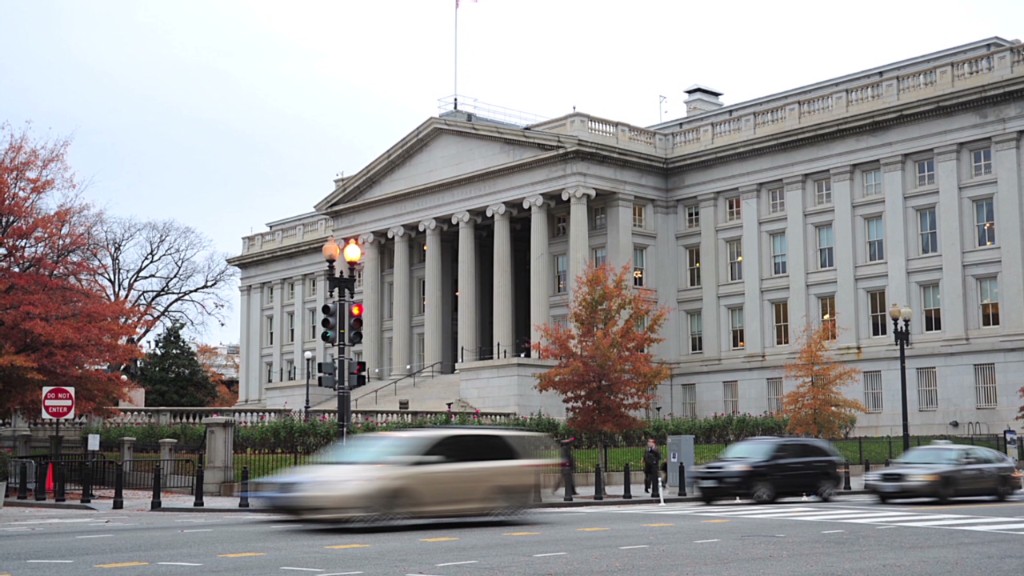 The steady move higher this year has encouraged more investors to put money to work in the stock market, which helps keep a lid on volatility.
In any case, the lull in the VIX may not last much longer.
This week brings the expiration of a slew of derivatives contract, a quarterly phenomenon known as quadruple witching, said Kinahan
"That's when you could see some pressure on the VIX," he said.