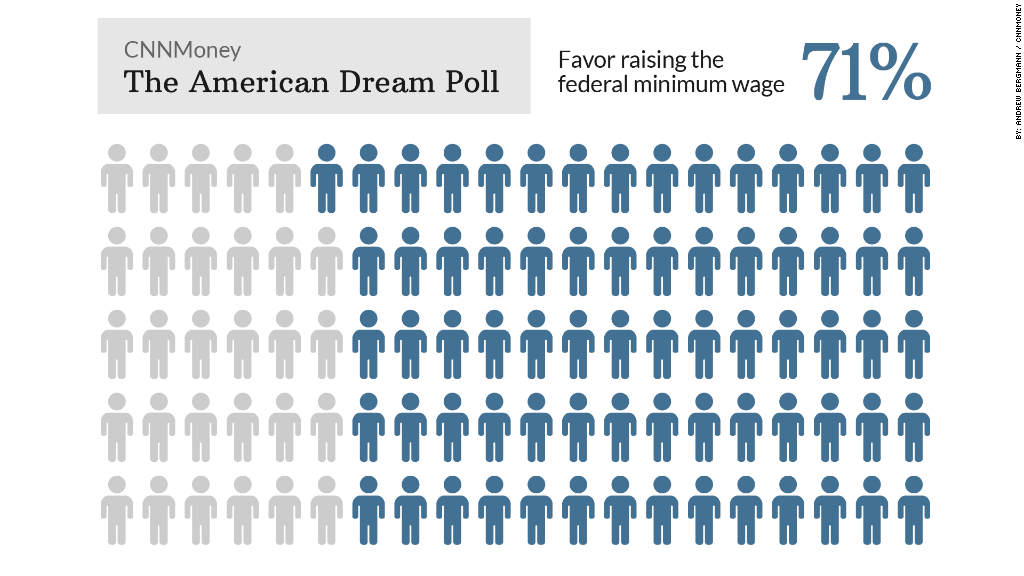 States are doing it. Some major cities are doing it. And now a majority of Americans are hoping Congress will do it.
CNNMoney's American Dream Poll found that 71% of people surveyed favor a hike in the federal minimum wage.
The majority was strongly represented by both men and women. There was stronger support among Democrats -- 90% of those polled said they supported an increase. But 54% of Republicans also agreed that the minimum wage should be raised.
The federal minimum is currently set at $7.25 an hour. With some exceptions, employers must pay workers at least that amount or whatever the minimum wage is in their state or city if it's higher.
When asked how high the minimum wage should be, 36% of those polled said it should be increased to $10.10 an hour -- which is what Senate Democrats and President Obama have proposed.
Another 19% said they would prefer it be increased to something less than $10.10, while 16% said they would like it to be set higher than $10.10.
While Congress remains stalled on the issue, states and cities have taken matters into their own hands.
Just last week, Seattle's city council approved a gradual increase to $15 an hour, which will make it the highest in the nation.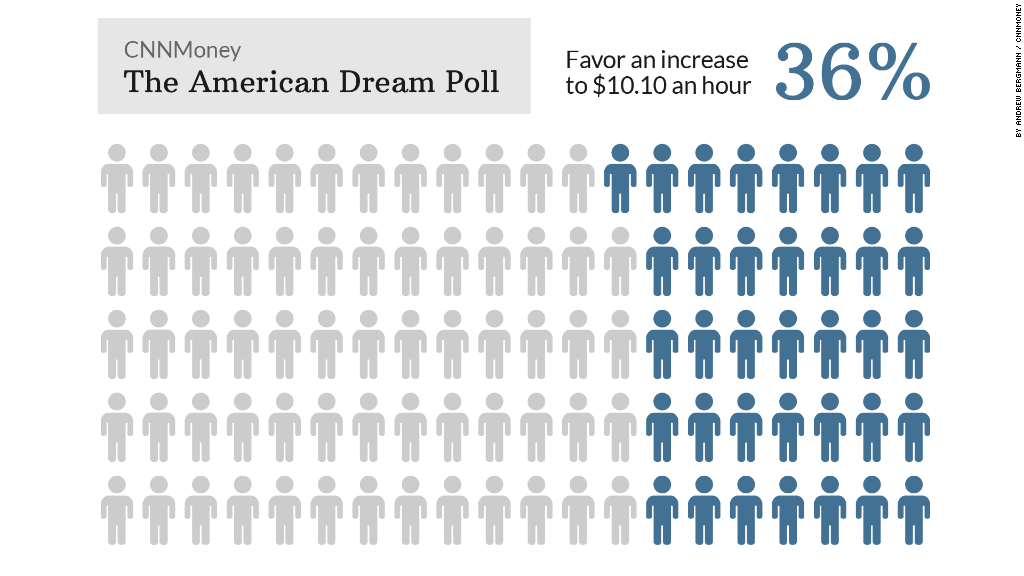 Michigan lawmakers also recently approved a phased-in increase to $9.25 by 2018.
Vermont approved a bill last month that raises its minimum wage to $10.50 by 2018 as well, as did Maryland lawmakers, who chose to raise that state's minimum to $10.10.
Lawmakers in Minnesota, Delaware, West Virginia, Connecticut, New York, California and Hawaii have also approved minimum wage hikes this year or last.
But not all low-income workers will benefit equally from these approved increases. Both state and federal law often permit employers to pay tipped workers, teenage workers and disabled workers subminimum wages.
States that have recently approved a hike in their full minimum wage haven't all increased their subminimum wages in lockstep.
CNNMoney's American Dream Poll comes from telephone interviews with 1,003 adult Americans, conducted by ORC International from May 29 to June 1, 2014. Both landlines and cell phones were included in the sample.
The American Dream is out of reach