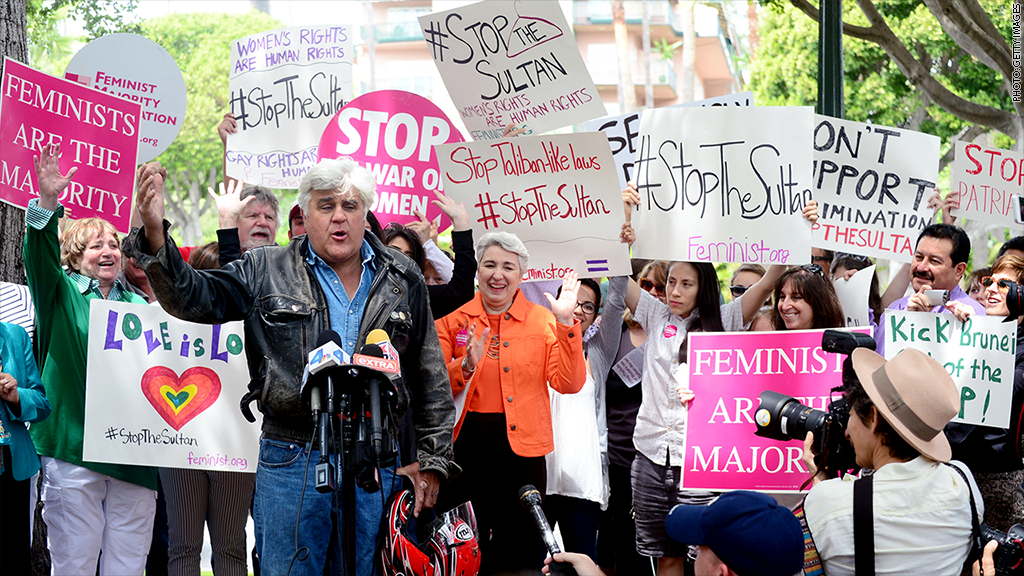 The boycott of the Beverly Hills Hotel is taking a toll on the hotel's bottom line.
The famous haunt of movie stars past and present says the cancellation of events and meetings over the past six weeks has resulted in a significant loss of revenue.
At the same time, the hotel says it is not planning any layoffs and is 'making up' for lost tips and wages for its 650 employees, according to a website set up by the hotel's operator, the Dorchester Collection.
The boycott started in mid-April when LGBT advocacy group Gill Action Fund said it was moving a conference from the hotel because of its owner's policies. That came after the sultan of Brunei, whose investment group controls the Dorchester Collection, imposed Sharia law in his country.
Related: Beverly Hills tell sultan of Brunei to get lost
The Islamic criminal law includes punishments such as flogging, dismemberment and death by stoning for crimes such as rape, adultery and sodomy. The religious laws will operate alongside the existing civil penal code.
Brunei is the first East Asian country to adopt Sharia law.
Related: World's best economies 2013: Brunei
Entertainer Jay Leno and his wife joined other Hollywood protesters at a demonstration outside the hotel in May condemning the sultan's policies. Other celebrities, including Ellen DeGeneres and Richard Branson said they wouldn't patronize any Dorchester properties.
The Beverly Hills City Council also condemned the government of Brunei for what it called its "extreme and inhumane" Sharia laws and urged the sultan to sell ownership of the landmark hotel.
The sultan has owned the hotel since 1987. Neither Dorchester nor other hotel representatives were available for immediate comment.
-- CNN's Michael Martinez and Paul Vercammen contributed