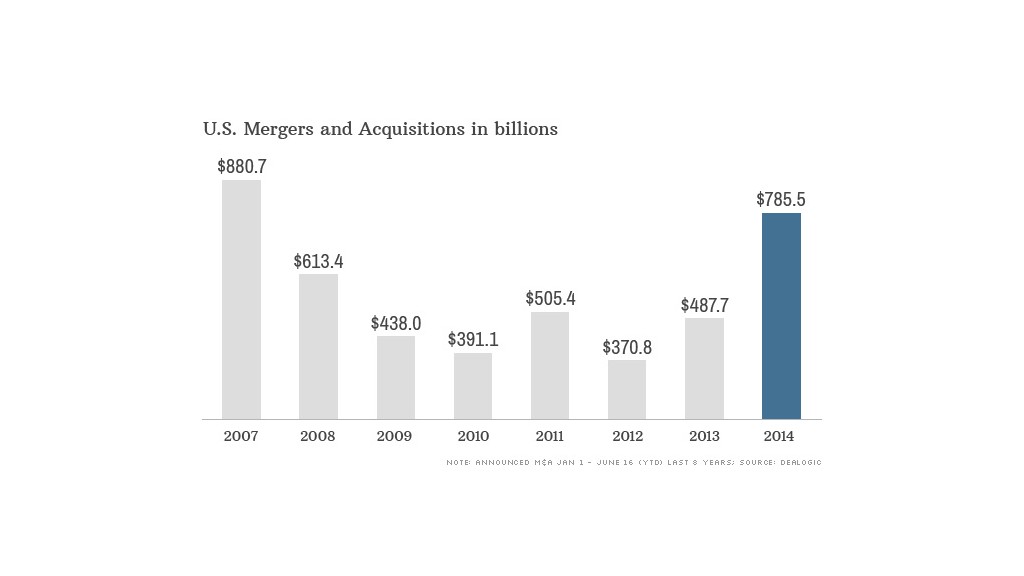 The corporate world is in the midst of a grand shopping spree.
It's only June, but already there has been $786 billion worth of mergers and acquisitions in the United States, according to Dealogic. That's a lot more than the past few years and not far off from the total for all of 2007, the last "big spender" year.
The rush to buy is coming from the massive stock piles of cash many businesses have on hand, and there's little sign the pace will let up any time soon.
Investors are digesting a flurry of deals over the past 24 hours alone that add up to billions in purchases spanning a wide array of industries.
The latest deals include medical device maker Medtronic's (MDT) $42.9 billion acquisition of rival Coviden (COV), telecom giant Level 3 Communications' (LVLT) $5.7 billion purchase of tw telecom (TWTC), Williams Companies (WMB)' $6 billion controlling stake in natural gas driller Access Midstream Partners (ACMP), and SanDisk's (SNDK) $1.1 billion takeover of flash technology company Fusion-io (FIO).
Related: Medtronic buys Covidien for $42.9 billion
"The broader trend here is that companies are taking advantage of their inflated stock prices," says Uri Landesman, President of Platinum Partners in New York, which manages $1.3 billion."Companies are trying to buy growth that they can't get organically."
Historically low interest rates coupled with strong corporate balance sheets -- all that cash on hand -- are also making acquisitions attractive. Companies often borrow heavily to finance deals, and debt is cheap right now.
With cash returning next to nothing, having too much of it lying around isn't necessarily a good thing.
"Cash is burning a proverbial hole in the corporate pocket," says Landesman.
There are a lot of deals this year, and, even more telling, there's a lot of money being spent.
Related: PokerStars firm acquired for $4.9 billion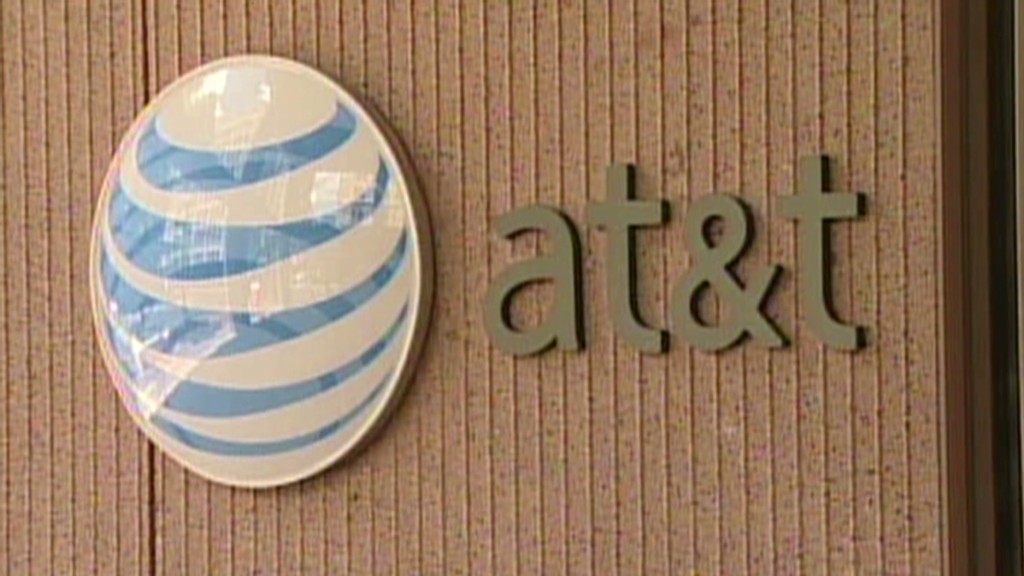 But the fact that the stock market is hovering near records also suggests that takeover targets are not cheap. That means the current deal landscape is looking a bit frothy, and that overpaying for companies is inevitable, according to Landesman.
Last week, meat company Tyson (TSN) increased its all-cash bid for Hillshire (HSH) to $8.55 billion, or $63 a share. That represents about a 70% premium on the pre-bid trading price for Hillshire stock. Tyson was involved in a bidding war with Pilgrim's Pride (PPC), which helped escalate the price.
Landesman points out that company management is less inclined to return cash to shareholders through stock buybacks, because they themselves don't want to buy their own stocks at such high levels.
Still, acquisitions are tricky. Corporate cultures need to mesh, as do revenue and expense synergies. While CEO's often see themselves as empire builders looking to grow their companies by any means necessary, the reality is that successful acquisitions that really help companies long-term are in the minority.
Related: AstraZeneca rejects 'final' offer from Pfizer
The slew of mega deals this year has helped drive the overall market higher by boosting investor confidence, but can they actually deliver the promised returns?
"Believe me, there will be a day of reckoning," Landesman says.